Public Speaking Like a Boss! [STORYTELLING] Masterclass 2021!
Event Information
Refund Policy
Contact the organiser to request a refund.
Eventbrite's fee is nonrefundable.
It is time to breakthrough your barriers to become an authentic Storyteller & Speaker! Featuring Guest: 4 x AUS Memory Champion Tansel Ali.
About this Event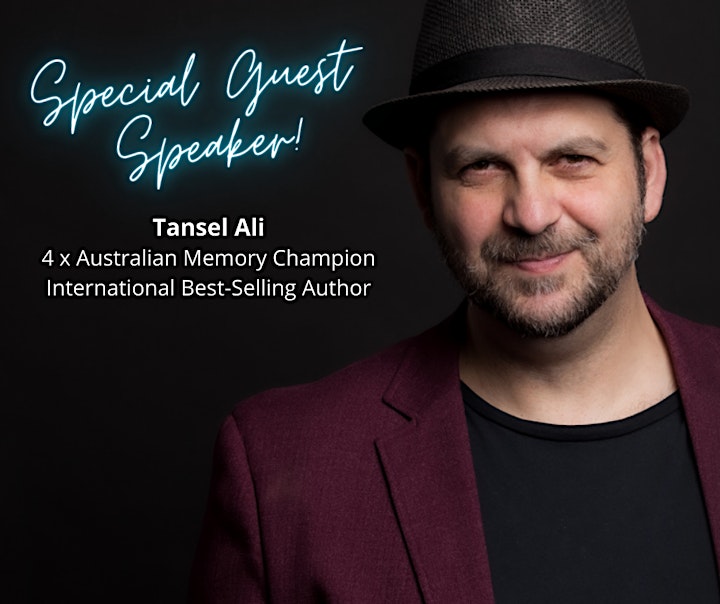 You tell yourself stories everyday. In fact, you are your narrative.
Public Speaking is a Life Skill. The average person speaks anywhere between 7,000 – 20,000 words a day. Though we adopt our ability to speak as a form of communication as a child, many of us struggle to effectively communicate and influence others as an adult, especially when it comes to being effective and authentic storytellers.
Whether you own your own business, work for an organisation, have a family to look after or are currently studying, effective communication is what you need to achieve desirable outcomes - whether in life or business.
In our STORYTELLING Public Speaking Masterclass, we'll explore:
✅ Pro Storytelling strategies to be effective and authentic on and off stage
✅ Storytelling to transform limiting beliefs in your audience and yourself
✅ Pro Mindset and Body Strategies to Handle Fear & Uncertainty
✅ Pro Tips for Writing and Delivering a Speech & Presentation
✅ Pro Storytelling Strategies and Frameworks
✅ How to Become an Impromptu Speaking Success Machine
✅ What Makes a Proactive Mindset for Public Speaking and Communication
✅ How to Engage & Captivate Your Audience
✅ Pro Tips for Effective Communication and Connection
INCLUDING GUEST SPEAKER the 4 x Australian Memory Champion and International Best-Selling Author Tansel Ali.
PLUS there are fun and interactive opportunities to connect with like-minded professionals who wish to consistently improve their public speaking and communication skills personally and professionally. Be a part of an authentic community of leaders passionate about self-development.
~~~~~~~~~~~~~~~~
"I attended and actively participated in one of the most interactive and interesting events I have ever been to. Jody was brilliant- she catered for audience members' different communication styles; she made us really think about the why; she debunked myths; she gave us fantastic tips. I've come away with a great deal of knowledge and a new appreciation for effective public speakers."
- Ambia Scott, Engagement & Project Coordinator at Neighbourhood Watch Victoria
"Jody is also a superwoman! The energy she puts up throughout the session amazes me and she spreads the energy to whoever is with her.
She is passionate about bringing clarity about values and purpose in life. It starts from being genuine and your authentic self, and Jody is a master at unravelling your secrets.
Highly recommend Jody if you are trying to figure out what you are and would like to make an impact talking to people (not limited to public speaking)."
- Vinesh Balan, Founder of Job Hunt 2.0, Recently Interviewed on TV
~~~~~~~~~~~~~~~~
Presenter Jody Dontje
Public Speaking & Emotional Fitness Coach, Tedx Talk Speaker
Jody Dontje is an Australian Impromptu Speaking Champion and a recognised inspiration, changing the lives of individuals globally. Her life mission is to empower high performers to live extraordinary lives by becoming confident speakers and emotionally fit leaders. Jody is a Public Speaking Coach, Fulfilment Mindset Coach, Emotional Intimacy Coach, an International Humanitarian, Tedx Talk Speaker, Qualified Teacher, WFWP Speech Contest Winner and Founder of 2 global empowerment charities.
Jody's Charity Efforts
By saying "yes" to your growth and investing in yourself as part of any of Jody Dontje Coaching's events and services, you are instantly supporting her charity efforts in Nepal and other developing countries.
MORE Epic Testimonials
"Amazing takeaways from Jody Dontje's Public Speaking Masterclass this week. Completely exceeded my expectations. #inspirationalleadership #integrity #honesty #empathy"
- Skye Bennett, Project Management
"Jody has amazing talents with a beautiful soul! Her workshop always full of laughs and positive vibes. I'm feeling really blissful to connect with Jody on this exciting journey. Thank you to help me to reconnect with my inner self. Grace xox"
- Grace Chao, Mother
"Jody's patience, aura and assertiveness certainly fit well with the message that she conveyed. The part that exceeded my expectation is Jody's passion through the way she presented about her "why". She is able to project that very well. As the result, people are natural drawn to her with ease."
- KJ Wong, Sales Coach, Founder of Awake By 5am
***** LIMITED TO 14 SPOTS PER MASTERCLASS! Secure your spot fast. *****
Public Speaking Like a Boss! Masterclasses 2021
*Masterclass #1: Thursday 28th of January 2021 6.15pm – 9.00pm
*Masterclass #2: Thursday 25th of February 2021 6.15pm – 9.00pm
*Masterclass #3: Thursday 18th of March 2021 6.15pm – 9.00pm
*Masterclass #4: TBC
Masterclass #5: TBC
[*NOTE: You do not have to have attended previous masterclasses to attend upcoming masterclasses.]
Be Brave. Be Vulnerable. Be Kind.
Connect with Jody personally
-> Want to activate even more of your potential?
-> Connect with Jody at www.jodydontje.com/connect
www.facebook.com/jodydontjecoaching
~~~~~~~~~~~~~
"Communication - human connection - is the key to personal and career success." - Paul J. Meyer
Remember: Your ability to effectively communicate and connect to others is the number one criteria for success in your business, in your workplace, in your community, in your family and in all areas of your life.
"Life isn't about finding yourself. Life is about creating yourself." - George B. Shaw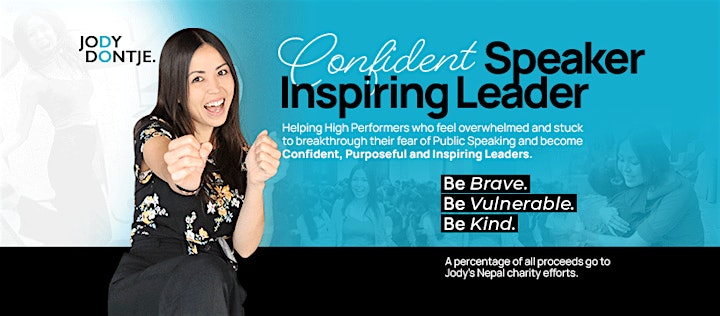 Date and Time
Location
Refund Policy
Contact the organiser to request a refund.
Eventbrite's fee is nonrefundable.