Public Sector Software Quality Forum

Tuesday, 3 March 2015 from 10:00 am to 5:00 pm (AEDT)
Event Details
Thank you to everyone who has registered, see you all on Tuesday!
KJR's Public Sector Technology Forum will provide an avenue to explore and discuss the risks and appropriate mitigation strategies for public sector participants working to embrace and deliver digital change.
Thought-leaders and respected practitioners such as Mark Dando, Digital Business Manager and Paul Fletcher, MP will share insights, lessons and offer the opportunity to learn from their experiences.
Check out the forum video here!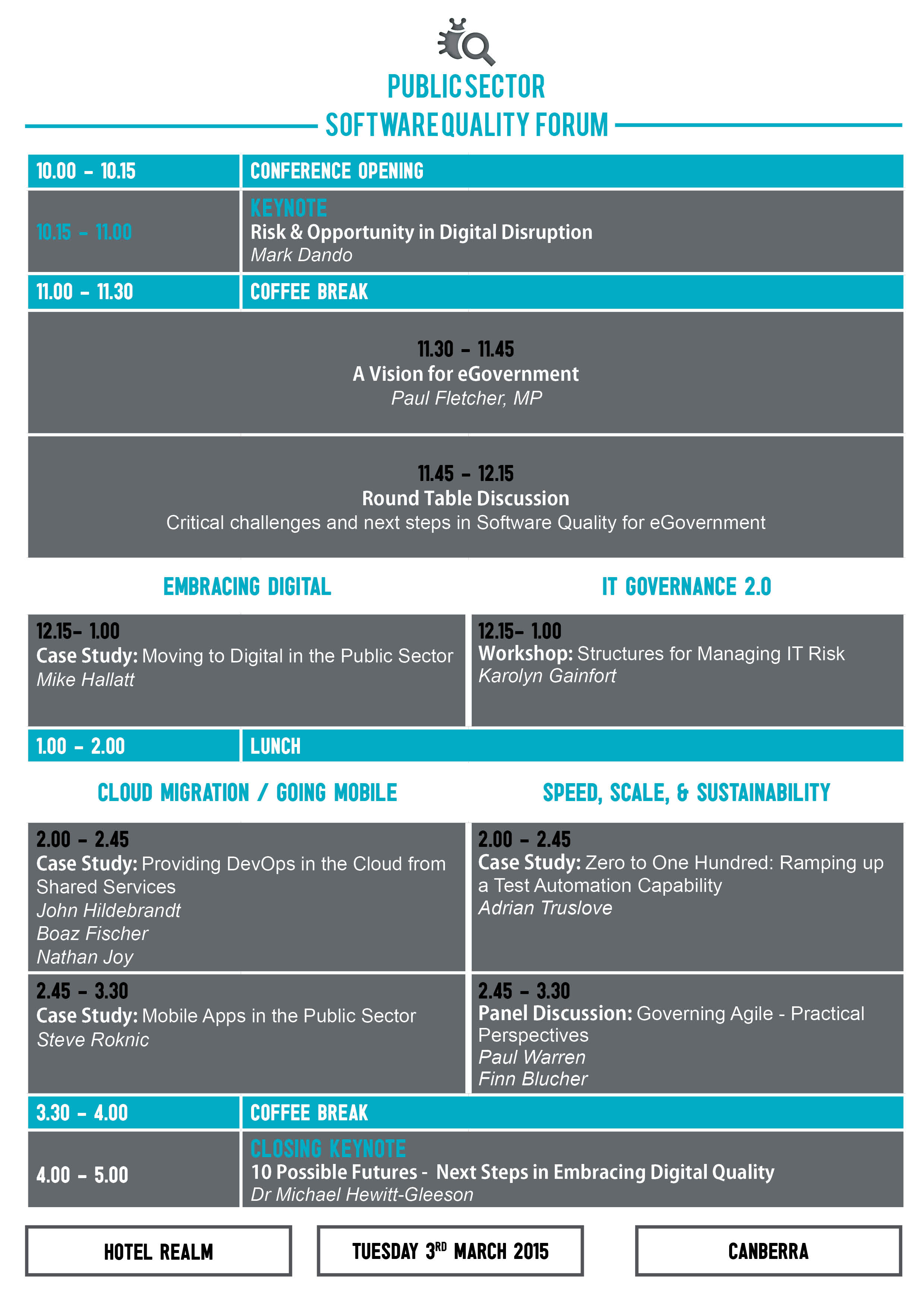 Registration open from 9am
Keynote Speaker - Mark Dando
Mark has held senior roles for some of the largest players in the media space, including most recently as Head of Online & Mobile at the Australian Broadcasting Corporation and Head of Mobile Strategy at Fairfax Media. He advised the UK governments Department of Trade and Industry on their mobile strategy and consulted for British Telecommunications.
Speaker Highlight - Paul Fletcher, MP
Paul Fletcher has served as Member for Bradfield since December 2009 and as Parliamentary Secretary to the Minister for Communications since September 2013.
Before entering Parliament, Paul was Director, Corporate and Regulatory Affairs, at Optus for eight years; established a consulting firm serving the communications sector; and in 2009 his book about broadband, Wired Brown Land was published by UNSW Press.
Earlier in his career Paul was Chief of Staff to the Minister for Communications in the Howard Government, Senator Richard Alston.
He has dual first class honours degrees in law and economics from The University of Sydney and an MBA from Columbia University in New York where he was a Fulbright Scholar.
Closing Keynote Speaker - Dr Michael Hewitt-Gleeson
Dr. Michael Hewitt-Gleeson is a cognitive scientist, author, lecturer and consulting strategist to business and educational organisations throughout the world. He's a co-founder of the School of Thinking with Professor Edward de Bono and is known as 'the father of X10 thinking'.
Click here to read more about the speakers...
---
Software Quality in the Public Sector
Australian citizens and businesses now have some of the highest expectations of technology in the world.
With 81% smartphone penetration and 53% owning a smartphone, tablet and laptop (according to Deloitte Media Survey 2014), the expectation for the ultimate consumers of public sector technology is that they can access when they want, where they want and how they want.
Apropos of the Australian Public Service ICT strategy 2012 – 2015, service delivery of the highest order is now a mandatory objective for government services.
With desire to continually release new, and improved, software solutions that meet and exceed these expectations and requirements, the velocity of software and systems development has increased exponentially. But without due attention paid to the quality of this software and these systems, we run the risk of creating substantial technical debt and service interruption with even greater disruption to the end users who ever-increasingly rely upon these digital platforms.
---
 The prices quoted on this Booking Service are in Australian Dollars. If you choose to pay for your ticket using a foreign credit or debit card or confirm your country of origin, you will be responsible for the exchange rate and you are advised that changes to your ticket or refunds may be affected by such exchange rate.
Have questions about Public Sector Software Quality Forum?
Contact KJR
When & Where

Hotel Realm
18 National Circuit
Canberra, ACT 2600
Australia

Tuesday, 3 March 2015 from 10:00 am to 5:00 pm (AEDT)
Add to my calendar