Public Lecture - Lenticular Dwelling with Ghassan Hage
Description
The idea of co-existing realities and multi- or pluri-realism has become a key theme in the critical anthropological current of thought known as 'the ontological turn'.
Modernity's obsession with mono-existence, from monogamy to monotheism to mono-ethno-nationalism and mono-perspectivism is relativized by examining Amazonian multi-perspectivist ontology.
This has proven helpful to me in thinking the nature of diasporic existence that I have theorized as taking a lenticular form. A lenticular is an image that appears differently depending on how you look at it. Think of the granulated postcards that change images depending on the angle from which they are seen: smiling face/frowning face, Harbour Bridge/Opera House, Jesus/Mary.
In contrast with the single image/reality captured in the common photograph the lenticular surface contains a multiplicity of images/realities that reveal themselves perspectively. It should be stressed that the lenticular surface does not offer one image that looks differently according to how you look at it, it contains many (usually two and sometimes three) images/realities that only come forth from a particular perspective in the process of encountering the surface.
I will use this to reflect on what it means to think of diasporic dwelling as a lenticular process involving oscillation between a multiplicity of realities.
About the Speaker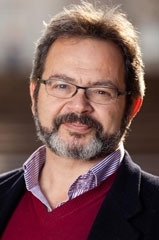 Ghassan Hage is Professor of Anthropology and Social Theory at the University of Melbourne. His work covers critical anthropological theory, the anthropology of migration and the comparative analysis of nationalism, multiculturalism and racism. He has held many visiting professorships around the world including at the University of Copenhagen, the University of Amsterdam, L'École des Hautes Etudes en Sciences Sociales, Paris, and Harvard. His most recent works are Alter-Politics: Critical Anthropology and the Radical Imagination (2015) and Is Racism an Environmental Threat? (2017).