Pruning for the Future presented by Heathcote Winegrowers Association
The Heathcote Winegrowers Association presents - Pruning for the Future.
About this event
Join Heathcote Winegrowers Association for a day of insight and action focusing on trunk disease, vine health and the tools that can be deployed to combat a growing and costly issue facing our industry. Beginning at Colbinabbin Memorial Hall and followed by a field demonstration at Whistling Eagle Vineyard, speakers include the 'flying vine doctor' Dr Richard Smart and renowned pruning specialist and passionate viticulturist Tim Brown
Session 1 - Control of Trunk Diseases in Young and Old Vineyards
Dr. Richard Smart
Dr Richard Smart has four degrees including two Doctorates, and over 56 year's experience in studying vineyards as a scientist, academic and consultant in over 30 countries. Nearing retirement, he follows two passionate interests, the first saving the Australian and International Wine Industry from the ravages of Grapevine Trunk Diseases in the short-term, and from the Climate Crisis in the longer term.
Since he learned the symptoms of trunk disease about 12 years or so ago, he has not been in a vineyard anywhere in the world where he has NOT found trunk disease symptoms! This includes several vineyards in Victoria.
The seminar will answer the following questions:
· Which fungi cause trunk disease (TD) and what are the symptoms in young and old vines?
· Why do we now hear so much about trunk diseases now? What has changed?
· The huge problem in nurseries, and especially the problem in rootstock mother vines, the problem with bench grafting.
· Managing young vines, avoid too much/too little water, and other major stresses like wind.
· Managing TD in young vines, begin trunk renewal to cure TD at first crop, paint/spray pruning wounds
· Sampling for lab analysis
· Managing TD in older vineyards.
· "Cure vines" by trunk renewal, again protect pruning wounds, avoid pruning in wet weather
The field session will demonstrate all symptoms, and also trunk renewal technique.
Session 2 - The Right Cuts - Pruning for Health and Longevity
Tim Brown
Tim started his viticulture career in 1990 at the Victorian cool climate organic vineyard, Virgin Hills in the Macedon Ranges and developed his skills and experience over the next ten seasons working with other producers in the Macedon region then at Lark Hill Canberra wine region. In 2000 he was vineyard manager at Rochford in the Yarra Valley for 5 years.
In 2005 joined Bindi as their first viticultural consultant and he is still involved at Bindi today. His Viticulture consultancy has given him the opportunity to work with many new producers in diverse wine regions throughout Australia and recently in NZ. Much of this work has been in planning and establishing new vineyards that are all planted at higher density and established exclusively using organic farming principles. Tim is Australia's go to man when it comes to the Guyot Poussard pruning technique.
The session will look at year one to production; the critical years for vine longevity.
Attendees will learn how the Poussard technique:
Encourages even sap flow
Facilitates less cuts and therefore less chance of vine disease
Reduces vine trunk disease through better pruning
Regenerates spurs and vines
Contributes to good vine health and therefore good vine yields
--------------------
Morning Tea & Lunch Included
--------------------
This event has been sponsored by Ryset Australia. A Ryset representative will be onsite to answer all your secateur and wound dressing questions.
The new Electrocoup 3015 and Lowe hand secateurs will be demonstrated at Whistling Eagle Vineyard in the afternoon.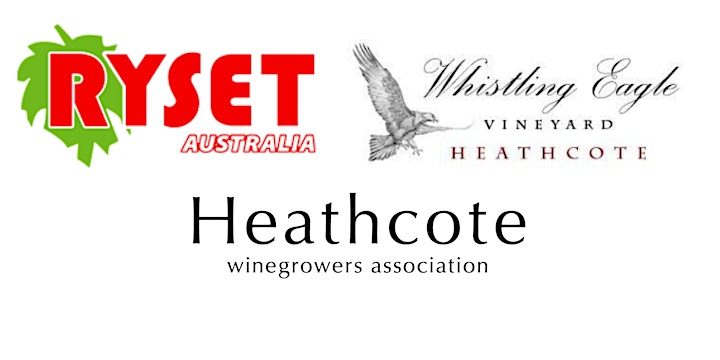 Organiser of Pruning for the Future presented by Heathcote Winegrowers Association