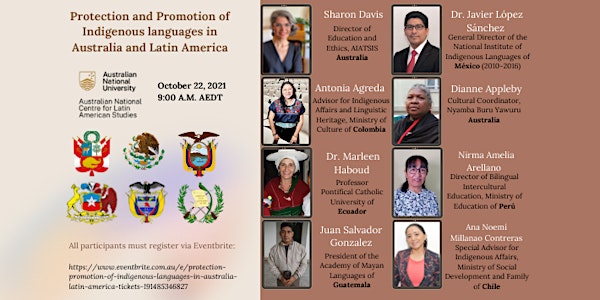 Protection & Promotion of Indigenous Languages in Australia & Latin America
Online webinar on the protection and promotion of indigenous languages in Australia and Latin America.
About this event
In both Australia and Latin America, languages play an essential role in the daily lives of indigenous communities, not only as a tool for communication, education, social integration and development, but also as a repository for their unique identity, cultural history, traditions and memory. However, despite their significant value, languages continue to disappear at an alarming rate. This webinar will consider the status of indigenous languages in Australia, Chile, Colombia, Ecuador, Guatemala, and México, and the challenges of protecting and promoting them - drawing on case studies from Australia and Perú.
Introduction
Noel Campbell - Co-Director, Australian National Centre for Latin American Studies, ANU.
Country Overviews
Australia - Sharon Davis - Director of Education and Ethics, the Australian Institute of Aboriginal and Torres Strait Islander Studies (AIATSIS).
Chile - Ana Noemí Millanao Contreras - Special Advisor for Indigenous Affairs, Ministry of Social Development and Family of Chile.
Colombia - Antonia Agreda - Advisor for Indigenous Affairs and Linguistic Heritage, Ministry of Culture of Colombia.
Ecuador - Dr. Marleen Haboud - Professor at the Pontifical Catholic University of Ecuador.
Guatemala - Juan Salvador Gonzalez - President of the Academy of Mayan Languages of Guatemala.
México - Dr. Javier López Sánchez - General Director of the National Institute of Indigenous Languages of México (2010-2016).
Case Studies
Australia - Dianne Appleby - Cultural Coordinator, Nyamba Buru Yawuru.
Perú - Nirma Amelia Arellano - Director of Bilingual Intercultural Education, the Ministry of Education of Perú.
Concluding remarks
Bruce Gorring - Director, National Indigenous Business Development Hub, First Nations Portfolio, ANU.
Times
Australia (ADST) - 9:00am - Friday the 22nd of October
Guatemala - 4:00pm - Thursday the 21st of October
Ecuador, México, Colombia & Perú - 5:00pm - Thursday the 21st of October
Chile - 7:00pm - Thursday the 21st of October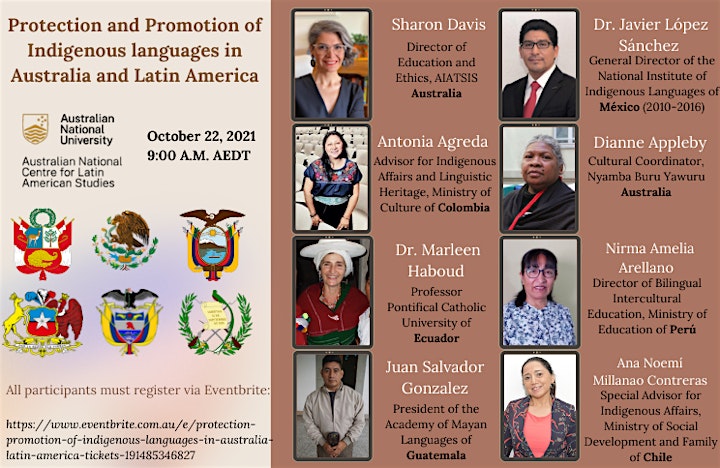 Organiser of Protection & Promotion of Indigenous Languages in Australia & Latin America