Description
3 RED FOLDERS presents a one-of-a-kind 'PROSPECTING MASTERCLASS'
With Bernadette McClelland (3 Red Folders, AUS) and Larry Levine (The Social Sales Academy, USA)
How would you like to spend a morning with both of us? Because we can't wait to spend it with you!!
As presenters, our style is similar but different, relaxed and transparent and what lights both of us up is sharing and helping salespeople play a bigger game. So we can't wait to share our learnings with you.
This fireside chat, this masterclass, will be unlike any other and a great way to kickstart your week straight after your Monday morning sales meeting.
One of the biggest chokeholds salespeople have today is how to market themselves when they're already sitting behind the 8 ball as salespeople, especially in the minds of the buyer.

It's overthinking how they're going to get their voice heard above all the noise in a competitive and overcrowded market place.

It's getting all caught up in what they 'should' be doing from a 'strategic' perspective when it doesn't align with 'who' they are as a normal, everyday person.
Couple all of this with the biggest bugbear that buyers have – valueless repetition! They hear and see the 'same old' approach from hundreds of competitors, and it's no wonder salespeople hear nothing but crickets after those prospecting calls, or are not getting any calls returned, at all.
Join two respected industry resources as they share with you an interactive, experiment based masterclass on how to get more of you to the business table.
Increase the success you have with your prospecting calls, in a values aligned and authentic way so that you, too, can play a bigger game and get those results that matter the most.
Register here, now, if you want to learn more of:
How not to approach a prospect the same as everyone else

How to generate more bsuiness than you know what to do with - literally!

How to relax more and not overthink that introductory first call

How to mirror what you do off-line well and bring it on-line

How not to appear desperate, unprepared and nervous

How to position yourself as a respected industry resource (RIR)

How to tap into what makes you worthy of success

How to differentiate between different decision makers and influencers
Your investment of $79.00 will include refreshments and your questions answered.
Parking nearby and close to public transport, as well!
---
Bernadette McClelland
Bernadette McClelland has been referred to as APAC's Leading Female Speaker on B2B sales performance and personal leadership. She successfully operates at the intersection of Sales Strategy, Psychology and Science which makes her approach unique enough to help her clients achieve up to 70% success rate in prospecting success.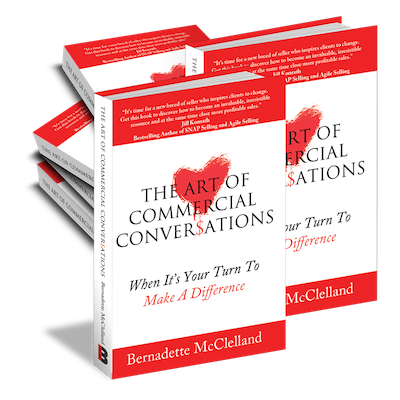 Having been invited to keynote at Europe's largest event for sales professionals 'Sales Innovation Expo' in London, closing speaker for the popular 'Rev It Up' Conference in Boston, inspirational speaker on 'resilience' at VIVID Sydney, recipient of Top Sales Blog globally in 2015/2016 through Top Sales World magazine and regularly sharing her insights and ideas across the USA, the UK, India, Bangkok, France, NZ and Australia, she is poised to make this event even more educational, entertaining and inspirational.
With a successful career in senior sales in Fortune 500 companies such as Xerox, Kodak and CA, she now sits on the team for Top Sales World out of London, is the co-founder of the Australasian Sales Masterminds, elevating sales leadership capabilities and recently been asked to coach MBA students from Harvard University on selling in today's environment.
Her speaking inspires change in her audiences whether they be corporate sales teams, associations, emerging leaders, entrepreneurs, or women's groups. And her belief is that anyone at any time, at any stage in life can achieve unprecedented business and personal growth by 'amplifying their human potential'.
Her passion and decision to consciously make a difference is based on her philosophy of: 'It's not just about getting the deal, it's about being the real deal'.
---
Larry Levine
With 30 years of in-the-field sales experience all within the office technology industry, Larry knows what it takes to be successful. He has successfully sold office technology, document management and managed services to customers ranging from up-and-down the street accounts to Fortune 500 companies, all in the Los Angeles marketplace.
With the help of a life coach and mentor, Larry became fascinated with personal branding and social networking and how this relates inside the sales process. In 2010, Larry started experimenting with the use of LinkedIn within his sales process and prospecting efforts. During this time, Larry learned from trial and error what works and what doesn't. In the fall of 2013, he became a corporate major account rep for a Japanese OEM in Los Angeles, California, one of the most competitive markets in the United States. Larry walked into a zero-base opportunity with zero current customers, using the foundation of LinkedIn, social strategies and his sales strategies, booked over $1.3 million in new sales in 2014 and left behind a $1.6-million pipeline for the next rep to develop.
Larry now coaches and inspires sales leaders and their teams to do what he did. Since 2015, Larry has coached both quota-busting tenured reps, major account reps as well as sales reps beginning their careers. Both appreciate the practical, relevant and "street–savvy" nature of his coaching.
He is also the author of the soon to be released book 'Selling From The Heart'.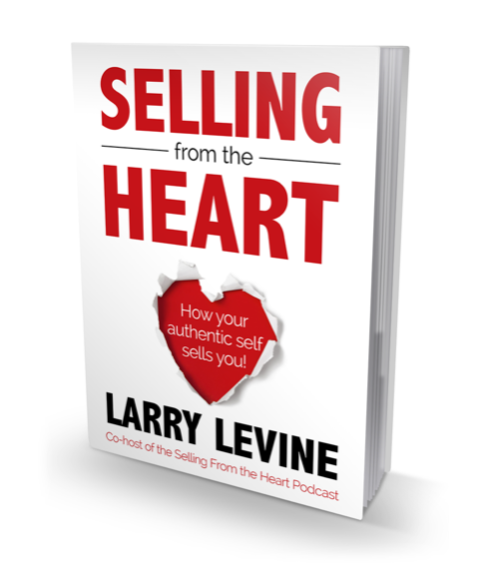 "I want you to get results. This is why I am passionate about doing this the right way, the genuine way, the authentic way as I speak from the heart!"
JOIN US.....Learn a ton of new ideas, have a load of fun and give yourself the gift of competitive edginess!!