Description
Prophetic Workshop with Kamal Jassal - Hearing God's Voice and Stirring up the Prophetic
We are delighted to have Kamal Jassal facilitate this practical workshop on learning more about the prophetic and hearing God's voice!
The prophetic training comprises of 2 main parts – Hearing God's Voice and Stirring up the Prophetic, and will include topics such as:
Discovering the power of hearing God's voice, learning the different ways Holy Spirit communicates to you and how to process what He is saying

Laying the right foundation for operating in the prophetic

Knowing the wisdom of having safeguards in place when ministering prophetically

Gaining confidence in weighing up and sharing a prophetic word for individuals and for your church
Note: There will be prophetic activations throughout the course that will be done in a safe and supervised manner.
About Kamal Jassal
Kamal Jassal is part of the Family of Ministries at David McCracken Ministries, with David McCracken being her Apostolic Oversight as well as her spiritual father and mentor.
She is a strong teacher, accurate and insightful as she ministers in the prophetic. Kamal strongly believes in the prophetic being an integral part of a believer's life - all are called to live a prophetic life, hearing God's voice for themselves and others.
She has a passion to bring a foundational teaching and impartation that will help build healthy prophetic ministry in church life, as well as to empower Christians to hear from God.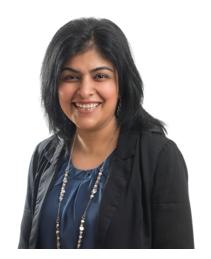 Endorsement: Kamal ministered in our church powerfully and confidently but with gentleness and sweetness of spirit. She is very accurate in personal prophecy and carries the Prophet's anointing but has remained humble. She also spent time with our children's ministry that has left an impact we are still enjoying months later. Kamal submits to church leadership and is honouring, personable and very easy to connect with. She travels with her husband Sanjiv and together they are a lovely and Godly couple who impacted our church. I highly recommend and endorse Kamal. Ps Philip McCourt – Senior Minister, Riviera Christian Centre, Bairnsdale VIC
Who should attend:-
Anyone who want's to discover and learn more about hearing God's voice

Anyone who wants to learn how to minister prophetically

Open to everyone
What is included:-
Session Handouts

Tea and Coffee along with Morning Tea

A light Lunch