About this Event
Come and meet many of Finvest's SYDNEY clients, who have purchased property and built successful property portfolios in high capital growth hotspots - MELBOURNE wide - for over 5 years now. Melbourne Property is typically 30% cheaper than its SYDNEY based comparable suburbs.
Learn do's, dont's & what's hot for 2020 & how you can get into the market; step by step, fee-free.
Have You Thought Of Creating Wealth Through Property Investment?
Finvest believe that our clients are the heroes, many achieving 3 properties in 3 years. We are privileged to have built a reputation over 19 years with Melbourne's specialists in all areas through residential property.
Finvest know that people are proof of the incredible unlimited fee-free support we offer to our clients. These events transparently provide exclusive case studies and the 'how to's' from successful property investors of various backgrounds (Tradies, Entrepreneurs & C-Level Executives) and experience levels.
Alongside the will; the way through to successfully holding property is to survive varying conditions in the market. The session is a relaxed opportunity to listen to industry professionals on how they got started and created wealth with Property Investment, over some light refreshments.
There will be no selling at this event.
Meet, greet and celebrate with clients who have already started their investment journeys, and access Finvest's team of industry leading professional service providers in accounting, banking, financial planning and property services.
Spaces are strictly limited. If you're interested, please register your ticket today! We always run out of spaces, registrations will close a week before the event.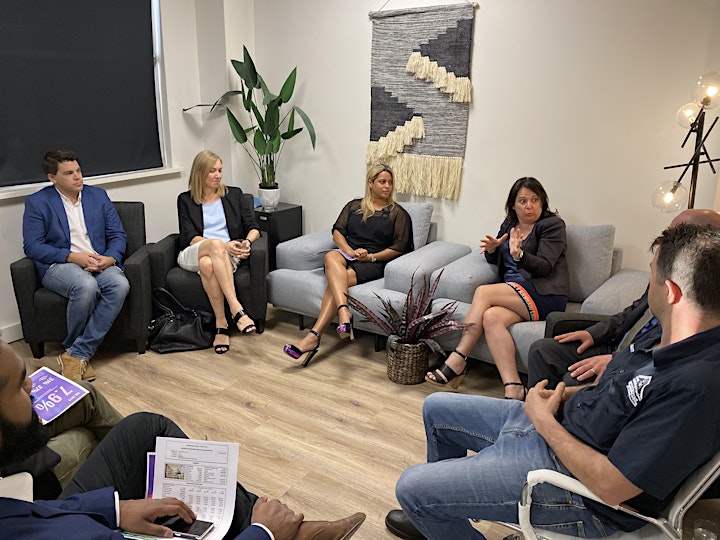 Who is this event for?
-People who are interested in investing in the property market
-People looking to use self-managed super funds to invest in property
-People looking to create wealth from property investment
-People looking to expand their property portfolios
-People looking to start their property journey
What you will gain from the event:
-Live case studies from successful investors - in Victoria AND New South Wales - about how they got started and created wealth with property investment, following the guidance and blueprints of Finvest industry leading professionals.
-A panel of professionals; briefly covering various parts of the industry in a short fifteen minute perspective: three speakers covering different core aspects of property investment
- Networking with like-minded individuals
Speakers:
Lisa Harris – Founder and creator of Finvest Property Investment
Heath Brunn - BRP Finance
Marcel Collignon - C2 Super - Accounting
Post Note:
There will be no property selling at this event. We're here to educate and empower you for successful property investment.
This event is capped with limited numbers, and will continue as invitation only as an ongoing series covering various investment topics.