About this Event
Become a savvy property investor by buying the right property in the right area. The biggest real estate mistake is to start looking at properties first without thorough research and key decision criteria. In this seminar you'll learn the best tactics and tools to find the right property to buy. You'll learn how to select a property for cashflow and capital gain and the sorts of properties that can accelerate your wealth. Never buy a lemon again.
What's included:
• Discover how to assess a property's potential
• Learn 6 key research criteria to decide if a property is worth considering
• Learn how to prepare a rough feaso to see if there is a potential profit
• Apply a detailed feasibiiity to 2 property investing strategies
• Seminar Workbook
.• Due Diligence Checklist
• Feasibility Spreadsheet.
If you've ever dreamed about a richer life, and wondered if it's really possible to become financially free then this event is a MUST!
You will be blown away by Mary's journey of success. Learn how this very normal, everyday person, just like you, managed to achieve extraordinary results in life and become financially free because she used the right system, process and tools when buying property.
Discover the right system, process and tools when buying property to that you don't end up with a lemon that doesn't make you money. You want your property to be a money making machine so you don't have to work so hard for it!
Are you ready to be inspired, build your own wealth, and become financially FREE!
Limited tickets available until sold out
Tuesday 23 July 2019 6.30 PM - 9 PMPrice $60
The 7 Effect Training Centre527 Cross Road, Plympton, South Australia
This is not just another property education program by a bunch of property sales people. This is a program delivered to you by an ordinary person who has transformed her life from a crazy corporate job to now earning double her executive salary because she saw the power of education, thinking big and joint ventures. What's different is that Mary gives you the good, the bad and the ugly of property investing and shares her real life stories so that you can learn from her experience.
Every person has the same potential to take charge of the financial situation but not everyone will get there.
If you want your dream of becoming wealthy to be a reality it takes education and action.So if you are looking for:
More flexibility in your lifeThe choice to work not because you have to but because you want toThe ability to contribute to your family and the communityMore confidence and more returns in property investingWays to accelerate your wealth through property
…… Then let Mary share with you the process and tools she has used to become a successful property investor.
It's time to stop dreaming and take action so that you can live abundantly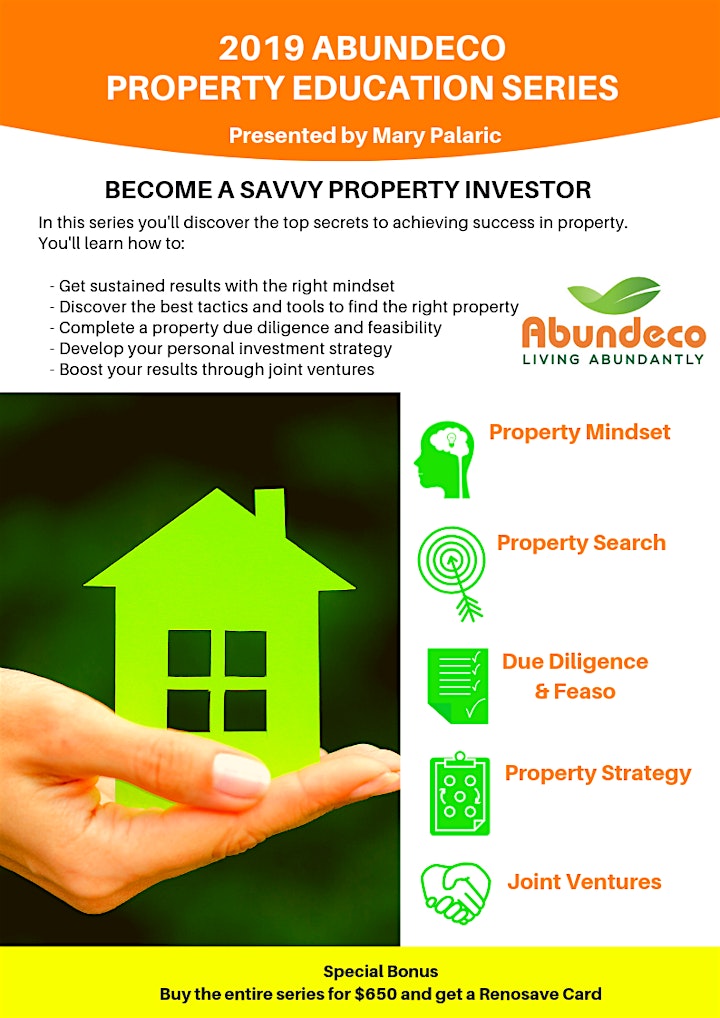 Other Courses in the Abundeco Education Program 2019
2019 Master Class Program
In these master classes, Mary deep dives into the strategies that have made her a professional property investor and developer. Learn to take your investments up a level with advanced investment strategies and joint ventures.
Like to learn more? Book into 2 Intensive Abundeco Property Master Classes
Property Investing Strategy $297
Date: Saturday 14 September 2019 9 am to 4.30 pm
Many people have intentions of investing in property to secure their future. Then they get stuck! Overwhelm, analysis paralysis, confusion and fear kick in. Join Mary in this seminar where you'll gain clarity on your property investment strategy that matches your goals and timelines. Get ready to launch with a game plan.
Property Joint Ventures $297
Date: Saturday 26 October 2019 9 am to 4.30 pm
Learn about the power of joint ventures and how to invest with other people's money through joint venture agreements. Mary showcases her approach, learning from real case studies and shares her tips on how to make a joint venture succeed.
Buy both Masterclasses for $500 (Total Value $1980)