Location
CommonGround
Yellow Box Road
Seymour, Victoria 3660
Australia
Description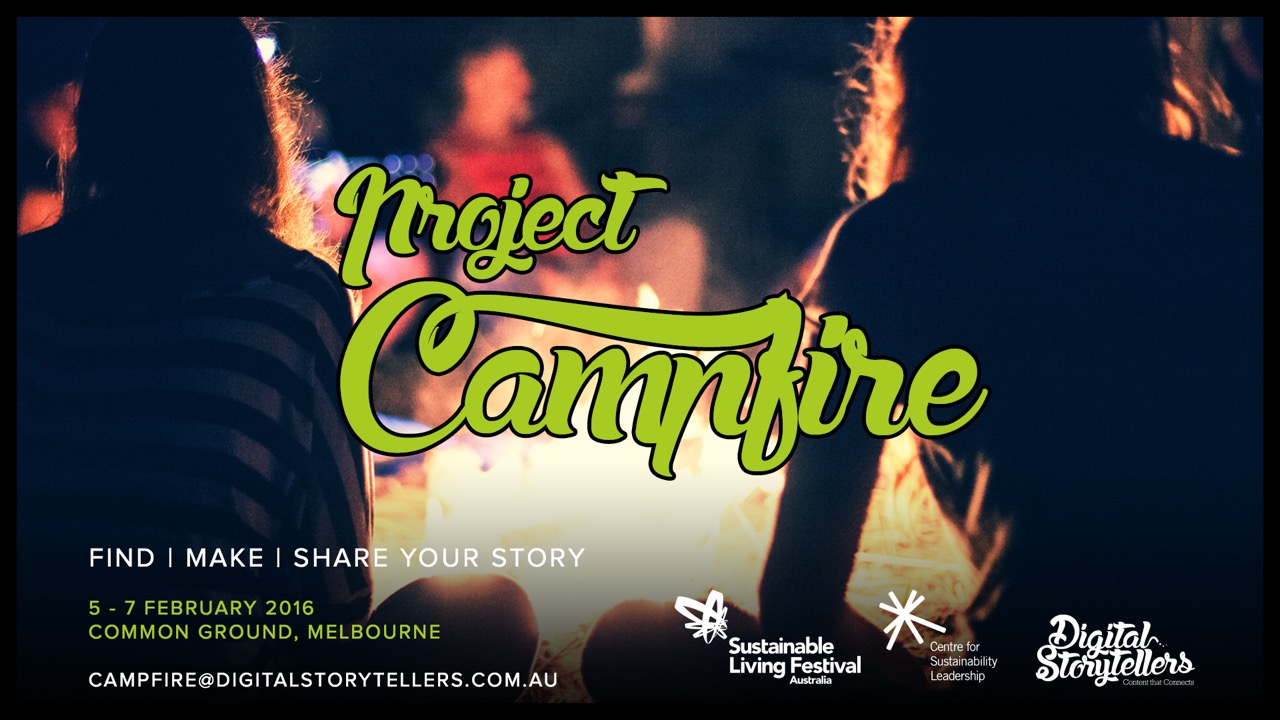 Are you ready to unlock your inner storyteller?
Join the passionate team from Digital Storytellers for an immersive 3 day storytelling experience to Find, Make and Share your story of positive impact. We'll deep-dive in storycraft to help you gain clarity on your audience, get you hands-on with the latest lean production technologies and teach you our 10 laws of rapid post-production. Surrounded by the beauty of Common Ground permaculture farm, we'll be treated throughout the weekend to a rolling smorgasbord of tasty organic food.
You'll also connect with like-minded campaigners, learn the 'Story Canvas' brainstorming tool, get hands on experience with available technology (plus some awesomely affordable film-making toys).

Whether you're an aspiring filmmaker or changemaker, you'll leave this bootcamp with a big smile and all the tools & skills to manifest your impact story. Start creating more powerful stories that will shift audience perceptions and behaviours, scale your campaign and help you change the world.
Project Campfire: Common Ground, Melbourne - February 2016.
Your Impact Storytelling journey begins here!

**SCROLL DOWN FOR A DETAILED PROGRAM OF EVENTS**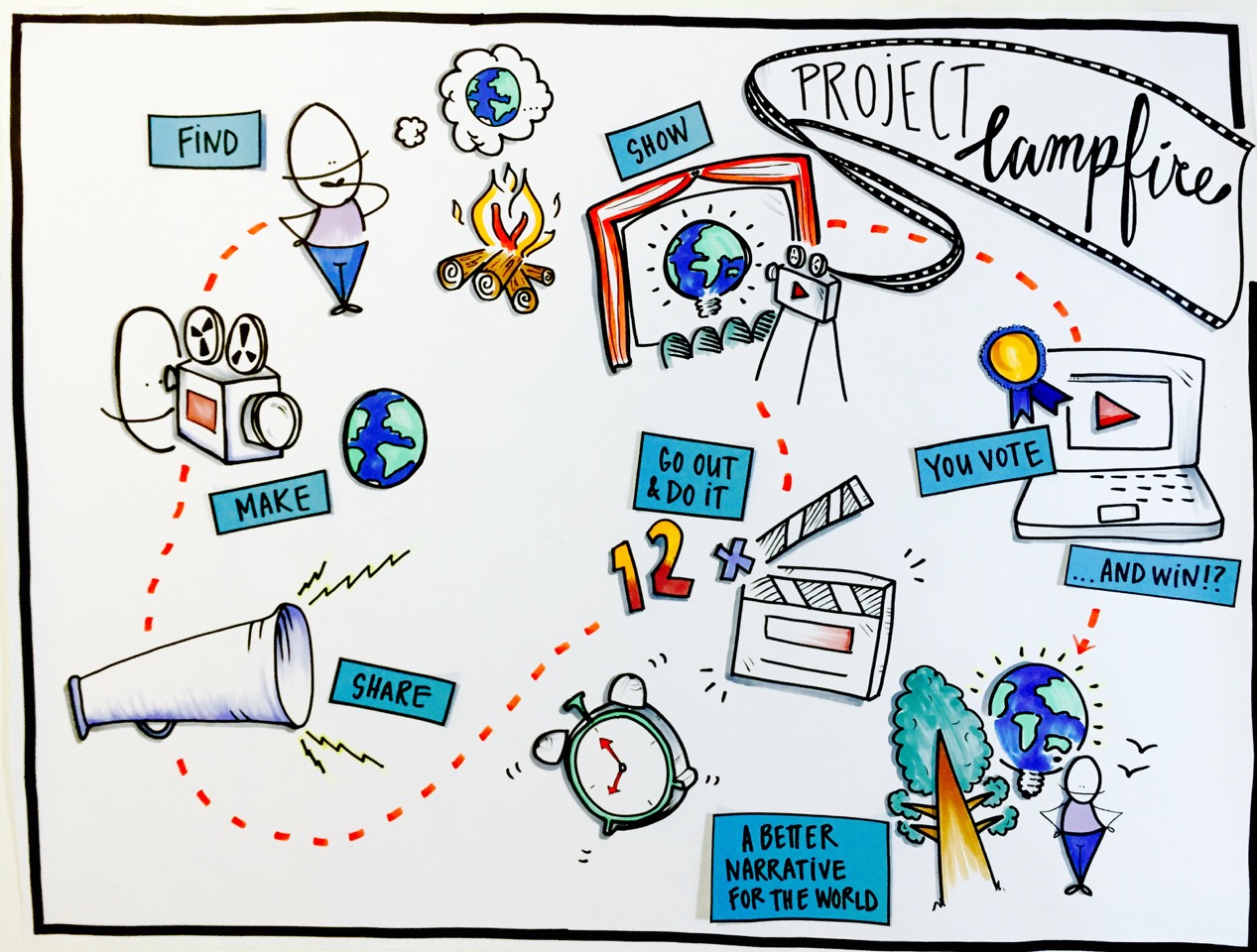 ** PROJECT CAMPFIRE: MELBOURNE - PROGRAM**
4 Feb - Day 1: ARRIVAL @ COMMONGROUND & WELCOME DINNER
Welcome to Project Campfire: Melbourne!
We'll be converging at leisure at Common Ground farm in the afternoon. Rock-up before 5pm when we will be welcomed and have a little exploration of the permaculture farm. After gathering together we'll sit around the longtable enjoying delicious locally-foraged woodfired pizzas & talk story.
5 Feb - Day 2: FIND & MAKE YOUR IMPACT STORY
After an early morning stretch & yummy breakie, you'll get familiar with Digital Storyteller's 'Story Canvas', a resource that makes storytelling more simple, fun and impactful. Don't forget to bring along your personal projects to co-workshop. We'll be using a simple story about a community-driven project at CommonGround to demonstrate the tools and techniques required for capturing a great story.
Then after lunch we'll move into production mode with the Make Your Story session. By mapping out our film shoot, we'll place all the pebbles upstream to make the most of our co-operative storytelling experience. Be prepared to get very hands on with filming interviews, overlay and some very special shots such as timelapsing the magical Commonground sunset.
6 Feb - Day 3: POST-MAGIC - EDIT YOUR IMPACT STORY
It's time to shift things up a gear into the Post-Production mode of Make Your Story. We'll get hands-on with importing and editing our footage into a short, sharp and shareable story. Plenty of time out for workshopping your own material or perhaps some more exploring and relaxing at CommonGround.
7 Feb - Day 4: SHARE YOUR IMPACT STORY
We'll wind up Project Campfire: Melbourne with the 'Share Your Story' session. As a general rule, 60% of your effort should go into sharing and scaling stories rather than treating your campaign as an afterthought. As we wrap-up the morning session & Project Campfire, we'll be in time for a delicious grand finale lunch.
The afternoon is free to workshop your story, and draw on the group collaborative experience to bring your own story to life. Lots of time for Q&A with the Digital Storytellers crew as well. Afterwards, you are free to explore more of the locale, or make your way home as you please. Yay, it's a wrap!
PROJECT CAMPFIRE: MELBOURNE - IN 2016, WHAT STORY WILL YOU TELL?
About the Venue - Commonground

Picture courtesy of Commonground
Commonground is located near Seymour in Mitchell Shire, just over an hour's drive or train trip north of Melbourne (15 minutes from Seymour by car). The tranquil bush setting, sustainable design and homely feel make it ideal for community based, social action and environment groups to hold workshops, share ideas and plan for the future.
Commonground will be providing vegetarian organic catering, sourced directly from their permaculture farm.
The Wedge the main venue at Commonground which is an earth constructed solar passive design and can accommodate a maximum of 28 guests spread over 10 rooms. All bedding is supplied. Shared bathrooms are distributed throughout the building, so there's no queues for the shower! The bedrooms at Commonground were named after people who were instrumental in creating or inspiring Commonground.
**LIMITED PLACES NOW AVAILABLE - REGISTRATIONS CLOSE FEBRUARY 1**


FAQs
What should I bring?

Bring along any video or sound recording equipment that you have access to and would like to use in the future. e.g. mobile phones, DSLR cameras, microphones. The aim behind campfire is to get you using equipment that is accessible. If you don't have any - that's fine! We'll bring along some spares for you to experiment with so that you can get a feel for how you might develop your kit in the future.
All kitchen & bedding needs supplied by CommonGround - just bring walking shoes, hat, soap, towel, your toothbrush & enjoy!
What are my transport/parking options getting to the event?
Commonground is easily accessible by road and rail.
Where can I contact the organiser with any questions?
campfire@digitalstorytellers.com.au
** This program is subject to amendments or cancellation in cases of extreme weather or circumstances. Those who book will be notified as soon as possible and completely refunded.**
Additional photography courtesy Mike Crowhurst.