Description
***TICKETS ARE STILL AVAILABLE FROM THE CORNER HOTEL HERE***
The Music, David Roy Williams, Welkin Entertainment & Wild Thing Presents
Progfest 2018 - Melbourne
Featuring: Leprous (Norway), Voyager, AlithiA, Orsome Welles, Toehider, Meniscus, Branch Arterial, Dyssidia, Acolyte, Enlight, Fierce Mild & Logic Defies Logic


---
PROGFEST: A festival that celebrates all things progressive is back for 2018!
Progfest 2018 has expanded to include all three east coast capital cities, hitting Sydney and Brisbane along with returning to Melbourne, following its December 2016 sold out edition!
Featuring progressive bands of all styles and genres, from prog, post, psychedelic, art rock, metal and everything in between, PROGFEST is about showcasing bands that think for themselves; bands who rather than following the latest trends, have decided to challenge themselves musically and create music with depth and vision.
The 2018 line up of Progfest looks to be their strongest yet with Norway's LEPROUS confirmed to headline all 3 Progfest festivals, plus headline their own sideshows in Perth and Adelaide!
Stepping out of the shadows, Leprous have come into their own this year, performing to packed crowds on their European tour with Devin Townsend and becoming the 'must see' act of the Euro summer season. The band released their new album Malina in August this year to critical global praise and have crafted songs that are both catchy and progressive. Featuring sophisticated and intricate textures that are woven around sublime harmonies and rolling post rock rhythms.
Joining Leprous are some of Australia's finest acts including:
VOYAGER: Perth prog masters Voyager are one of the nations most recognised prog bands around the world. With 6 albums under their wings and constant appearances at global festivals such as ProgPower USA, ProgPower Europe, Hammersonic and Euroblast, supporting the likes of Opeth & Deftones plus multiple national tours of their own, Voyager have their live act honed to perfection.
ALITHIA: Melbourne's tribal space rockers AlithiA are about to embark on a 29-date European tour supporting Leprous (Norway) and Agent Fresco (Iceland). Imagine floating through the cosmos, out of body and out of mind on a space trip shaped by mutant riffs, driven by tribal percussion and a shamanistic feel.
ORSOME WELLES: This Melbourne experimental creative defy classification. Merging progressive music with an early 20th century panache, pounding grooves, intricate instrumentality and raw uncaged power. Their avant-garde live show is a must see!
TOEHIDER: Melbourne's world-acclaimed singer/instrumentalist Michael Mills and his band of merry men, aka the prog power trio Toehider, bring their unmissable show to Progfest on the back of their latest release GOOD. Featuring Mills' unmistakable, otherworldly voice and signature bizarre storytelling lyrics, stadium-worthy guitar melodies and driving classic rock rhythms, Toehider is a prog cult classic known the world over, with prominent admirers such as James LaBrie (Dream Theater), Devin Townsend and Aryeon!
MENISCUS: These Sydney instrumental post rockers seamlessly blend guitar-driven ambient soundscapes, hard-rock, electronic and psychedelic music with a striking visual element to their live performances that has captivated audiences since the bands inception in 2005.
BRANCH ARTERIAL: Following near life-ending experiences for two of their members, Branch Arterial have risen from the ashes to release their strongest album yet Beyond The Border. A unique and distinctive sound derived from the desire to push musical boundaries, don't miss one of Australia's most spine tingling onstage performances.
DYSSIDIA: Adelaide's foremost progressive metal act have crafted a unique sound amongst their peers. Their breathtaking motifs and intricate rhythms have lead to them sharing the stage with the kings of the global progressive scene.
ACOLYTE: Melbourne's Acolyte bring plenty of theatre to their prog rock sound. The band's classically trained front woman Morgan-Leigh Brown's distinctive, soaring vocals blend seamlessly with the bands effect-driven rhythms and analogue keyboards. All underpinned by chunky riffs and surrounded in ambient layers. Their 2016 debut album was critically praised and received several prestigious award nominations.
ENLIGHT: Enlight's mix of progressive, jazz, metal, pop, folk and post-rock surround Rachael Graham's dreamy yet intense vocals perfectly. As if they were written just for them. With 5-part vocal harmonies, acoustic sections and odd time signatures, Melbourne's Enlight describe their sounds as 'music that glows in the dark'.
FIERCE MILD: Fierce Mild have been described as a synthesis of David Lynch & The Drones. The Melbourne based group draw from cinema, visual art and Australian history, as much as any musical influences, to craft their intricate brand of Post-Electro Cinematic Art Rock. On stage with an electric cello, horror movie projections and dreamscape sounds. Audiences are left utterly speechless.
LOGIC DEFIES LOGIC: Melbourne based Logic Defies Logicreally do defy logic. Their experimental, progressive, psychadelic, funky, metallic music sounds like Faith No More, Van Halen, Pantera and Opeth all at the same time!


---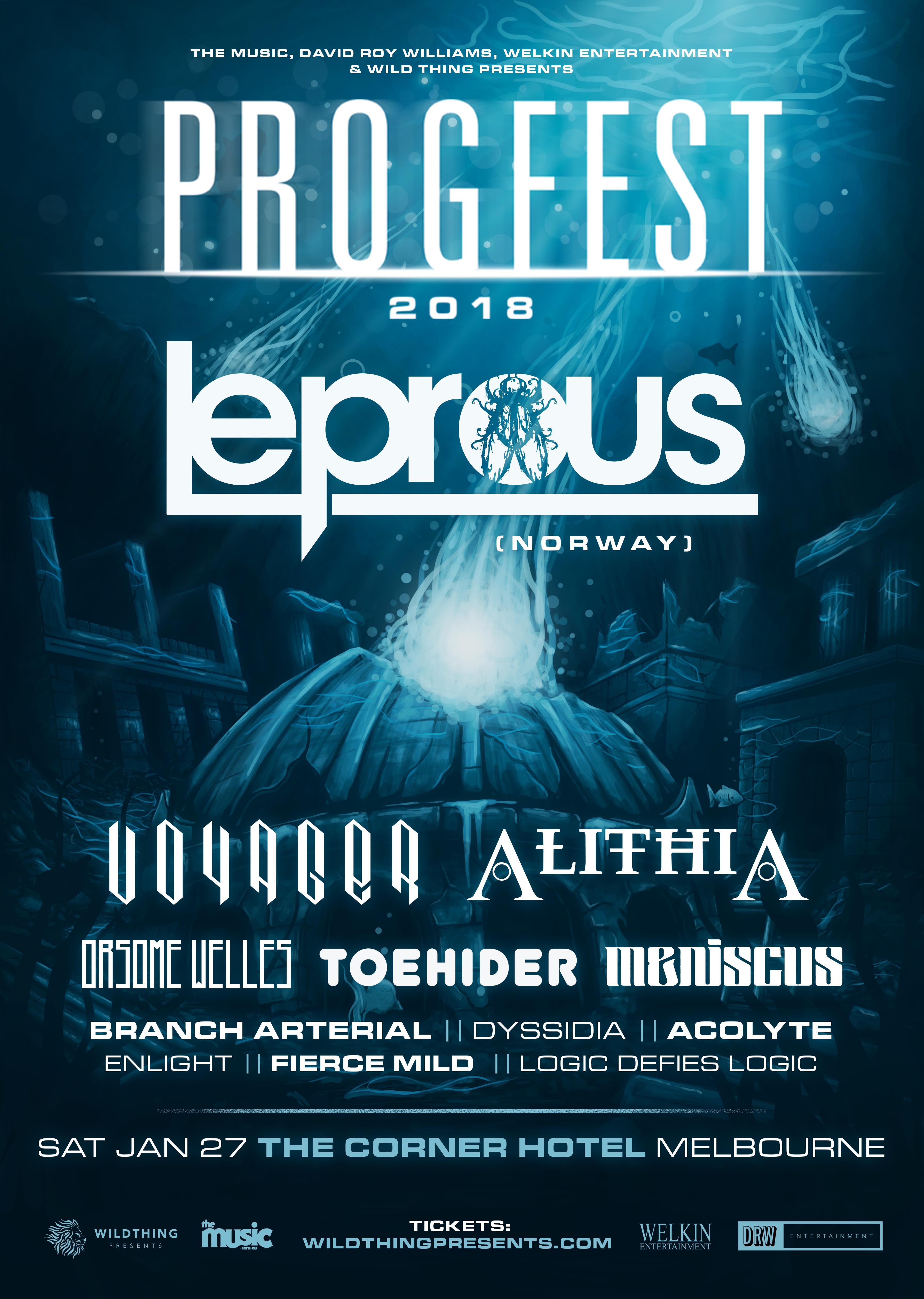 Organiser of Progfest 2018 - Melbourne | Feat. Leprous (Norway)