Description
***TICKETS ARE STILL AVAILABLE FROM OZTIX***
***PLEASE CLICK HERE TO BE REDIRECTED TO THE OZTIX WEBSITE***
***LEPROUS | VIP MEET & GREETS CAN BE PURCHASED HERE***
The Music, David Roy Williams, Welkin Entertainment & Wild Thing Presents
Progfest 2018 - Brisbane
Featuring: Leprous (Norway), Voyager, AlithiA, Osaka Punch, Orsome Welles, Opus Of A Machine, Dyssidia, Kodiak Empire, Balloons Kill Babies & He Danced Ivy


---
PROGFEST: A festival that celebrates all things progressive is back for 2018!
Progfest 2018 has expanded to include all three east coast capital cities, hitting Sydney and Brisbane along with returning to Melbourne, following its December 2016 sold out edition!
Featuring progressive bands of all styles and genres, from prog, post, psychedelic, art rock, metal and everything in between, PROGFEST is about showcasing bands that think for themselves; bands who rather than following the latest trends, have decided to challenge themselves musically and create music with depth and vision.
The 2018 line up of Progfest looks to be their strongest yet with Norway's LEPROUS confirmed to headline all 3 Progfest festivals, plus headline their own sideshows in Perth and Adelaide!
Stepping out of the shadows, Leprous have come into their own this year, performing to packed crowds on their European tour with Devin Townsend and becoming the 'must see' act of the Euro summer season. The band released their new album Malina in August this year to critical global praise and have crafted songs that are both catchy and progressive. Featuring sophisticated and intricate textures that are woven around sublime harmonies and rolling post rock rhythms.
Joining Leprous are some of Australia's finest acts including:
VOYAGER: Perth prog masters Voyager are one of the nations most recognised prog bands around the world. With 6 albums under their wings and constant appearances at global festivals such as ProgPower USA, ProgPower Europe, Hammersonic and Euroblast, supporting the likes of Opeth & Deftones plus multiple national tours of their own, Voyager have their live act honed to perfection.
ALITHIA: Melbourne's tribal space rockers AlithiA are about to embark on a 29-date European tour supporting Leprous (Norway) and Agent Fresco (Iceland). Imagine floating through the cosmos, out of body and out of mind on a space trip shaped by mutant riffs, driven by tribal percussion and a shamanistic feel.
OSAKA PUNCH: These Brisbane genre benders deliver a tonne of groove and extremity in equal measures. Their virtuosic high energy show has forged them a reputation as one of Australia's most wildly entertaining live acts. The group's distinctive fusion of funk jams, jazz chops and a rock ethos sets them apart from most heavy acts, and allows an element of humour and satire in an otherwise very serious scene.
ORSOME WELLES: This Melbourne experimental creative defy classification. Merging progressive music with an early 20th century panache, pounding grooves, intricate instrumentality and raw uncaged power. Their avant-garde live show is a must see!
OPUS OF A MACHINE: Brisbane's Opus Of A Machine meld mechanical precision with electronic aesthetics to stunning effect. Intricate progressive passages give way to anthemic, fist pumping metal with a pop sensibility that has captivated live music fans everywhere. Headed by ex-Caligula's Horse axeman Zac Greensill, Opus Of A Machine are a force to be reckoned with.
DYSSIDIA: Adelaide's foremost progressive metal act have crafted a unique sound amongst their peers. Their breathtaking motifs and intricate rhythms have lead to them sharing the stage with the kings of the global progressive scene.
KODIAK EMPIRE: Brisbane five-piece Kodiak Empire blend prog rock, post rock and metal and add dashes of technical flair to create a sound that gives them a wide appeal across the alternative music realm. One moment chaotic, the next a steady back beat, they combine the unpredictable with the predictable and leave audiences breathless.
BALLOONS KILL BABIES: Brisbane three piece Balloons Kill Babies create a sound that's much bigger than it looks on paper. Psychedelic inspired instrumental escapism that merges metal crunch and post rock atmosphere into a cinematic experience. BKB are one of the most prominent instrumental progressive bands in the country.
HE DANCED IVY: Imagine if you will, Incubus sitting down to have tea with Jeff Buckley, when all of a sudden, Soundgarden burst into the room. Confused, Queens of the Stone Age tried to calm the situation, before being struck over the head by Violent Soho. Smashing Pumpkins smashed pumpkins, and halloween was ruined. That's Brisbane's, He Danced Ivy.


---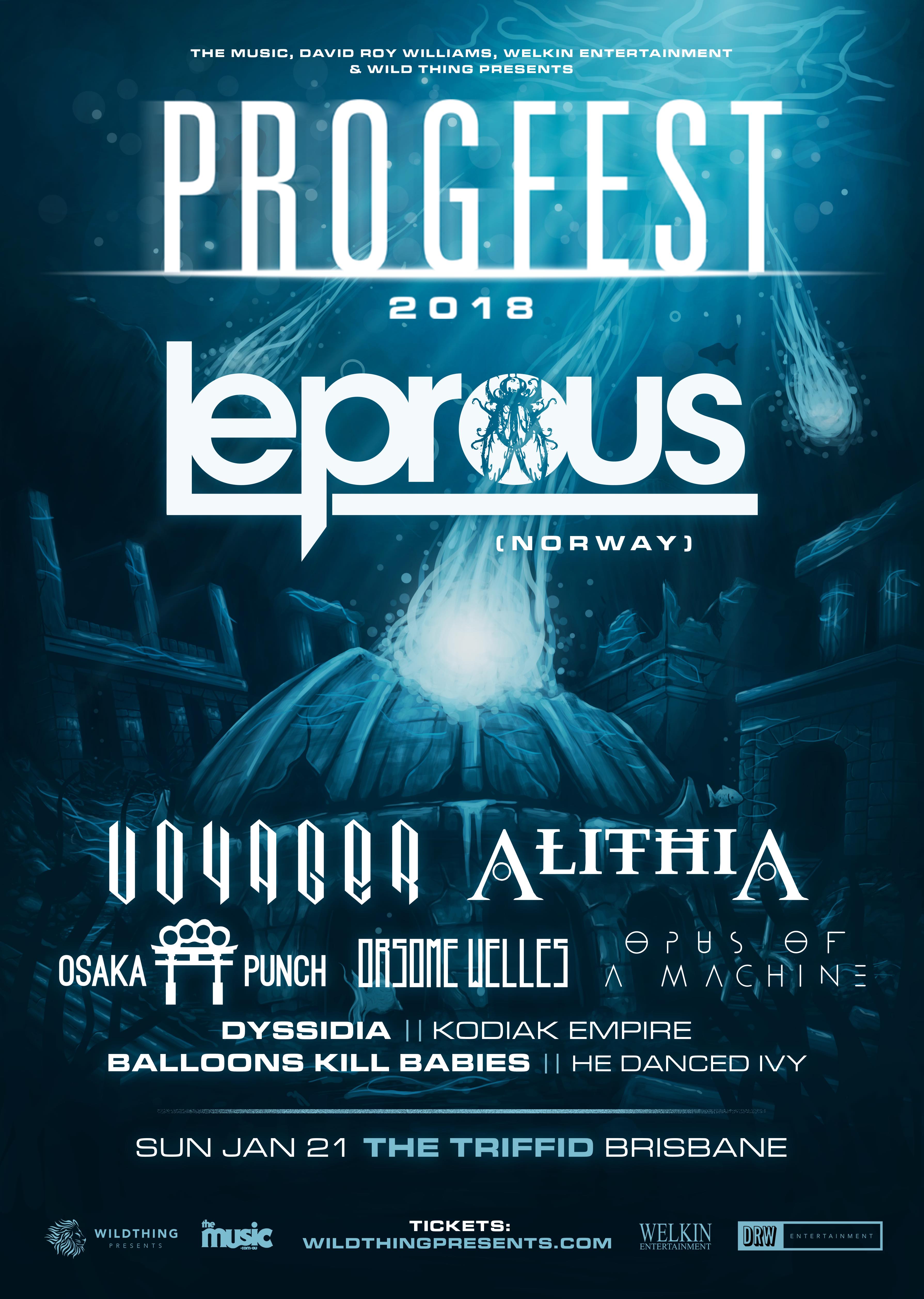 Organiser of Progfest 2018 - Brisbane | Feat. Leprous (Norway)