Professor Leslie Greenberg - Annual Melissa Harte Memorial Lecture
Event Information
Refund policy
Refunds up to 30 days before event
Eventbrite's fee is nonrefundable.
Annual Melissa Harte Memorial Lecture: "Keeping the Focus Internal: Body, Emotion and Meaning" - Presented by Professor Leslie Greenberg
About this event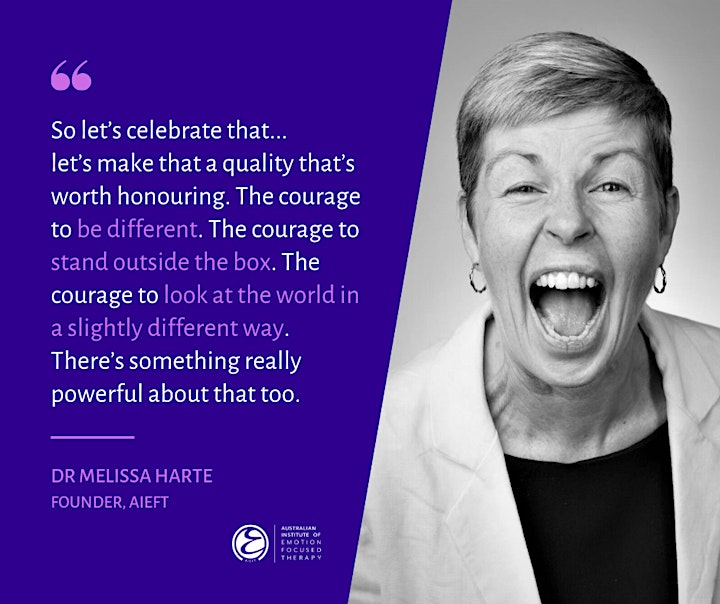 *Please Note* that your ticket will state that the date and time of this event is Friday, February 4th at 8am. This is the time for those registered who are based in Victoria or New South Wales, Australia. For Australian participants in Queensland, South Australia, the Northern Territory or Western Australia, please adjust to the time relevant to your state when Victoria and NSW are in daylight savings time.
The corresponding time zone information for international participants is listed below.
International Dates & Times:
Thursday 3 February 2022 - 1600hrs (EST)
Thursday 3 February 2022 - 2100hrs (GMT)
Friday 4 February 2022 - 0800hrs (AEDT)
Should you need clarification for your specific location, this website may be of assistance: https://www.timeanddate.com/worldclock/converter.html. Please compare Melbourne, Australia at 8am on February 4th 2022 against your location for an accurate start time.
Fee: AU$20.00 plus optional donation
All proceeds will be donated to the Australian Indigenous Psychologists Association to help support emerging First Nation psychologists.
The Annual Memorial Melissa Harte Lecture has been established to honour the work of Dr Melissa Harte and pay tribute to her contribution to the world of Person Centred Experiential and Emotion Focused Therapy. The inaugural lecture will mark the one year anniversary of Melissa's passing and will be presented by Professor Leslie Greenberg.
Professor Leslie Greenberg is a Canadian psychologist, born in Johannesburg, South Africa, and is one of the originators and primary developers of Emotion-Focused Therapy for individuals and couples. Professor Greenberg is a professor emeritus of psychology at York University in Toronto, and also director of the Emotion-Focused Therapy Clinic in Toronto. Professor Greenberg's research has addressed questions regarding empathy, psychotherapy process, the therapeutic alliance, and emotion in human functioning.
In this talk Professor Leslie Greenberg will look at the age old question of how do people change. He will discuss how focusing promotes awareness, symbolization and bodily felt shift, and how expressing creates emotional arousal, physiological and neurochemical change. Professor Greenberg will also focus on the pre-linguistic nature of meaning. Amygdala-based emotion actually gives personal meaning to both language-based narratives and perceptual/sensory experience but language is necessary to make meaning explicitly clear to self and other. Melissa, in her task analysis of processing emotional pain, was integrating work with all these processes.
Vale Dr Melissa Harte
Dr Melissa Harte (1959-2021), Clinical and Counselling Psychologist, was an extraordinary human with an enormous heart and boundless energy for her work. She dedicated her professional life to improving psychological services in Australia through her involvement with the Australian Psychological Society, research in Emotion Focused Therapy and the foundation of the Australian Institute of Emotion Focused Therapy. Melissa developed her model, the Extended Focusing Task, for resolving emotional injuries and trauma which is detailed in her book Processing Emotional Pain using Emotion Focused Therapy.
Melissa left an enormous legacy having transformed the lives of many through her therapeutic work, supervision and training, and having established and inspired a community of Emotion Focused Practitioners in her home town of Melbourne, Australia. Melissa will also be remembered for her enthusiastic participation in the international arena of psychotherapy. She would be absolutely thrilled that emerging Australian indigenous psychologists will receive support as a result of this event.
Date and time
Location
Refund policy
Refunds up to 30 days before event
Eventbrite's fee is nonrefundable.
Organiser of Professor Leslie Greenberg - Annual Melissa Harte Memorial Lecture