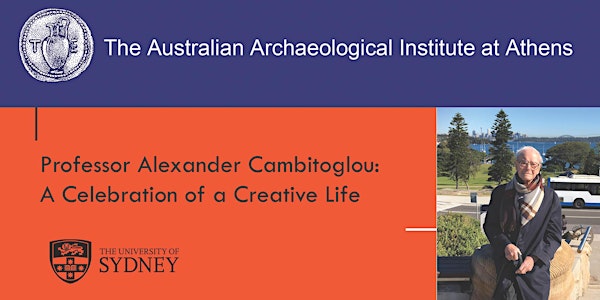 Professor Alexander Cambitoglou: A celebration of a life
Location
MacLaurin Hall (A14D)
The Quadrangle
The University of Sydney
Camperdown, NSW 2006
Australia
Professor Alexander Cambitoglou (15 February 1922 - 29 November 2019) A Celebration of a Creative Life.
About this event
Dear special guest,
Professor Alexander Cambitoglou was a visionary academic who fundamentally shaped the discipline of classical archaeology in Australia. 
Professor Cambitoglou moved to the University of Sydney in 1961 after a distinguished overseas career. He was appointed the Foundation Arthur and Renee George Professor of Classical Archaeology in 1978, and held the position until his retirement in 1989.
From 1963 to 2000 he served as Honorary Curator of the Nicholson Museum, transforming the museum from a teaching collection to a world class University Museum. In 1967, he inaugurated the first Australian excavations in Greece, and maintained teaching excavations there throughout his tenure at the University of Sydney.
Professor Cambitoglou pioneered public engagement with university research culminating in the creation of the Australian Archaeological Institute at Athens in 1980, a national organization linking Greece and Australia.
Professor Cambitoglou was awarded the Order of Australia in 1987 in recognition of his services to archaeology and international relations, and the Order of the Phoenix by the Greek government in 1998.
Professor Cambitoglou passed away on 29 November 2019 at the age of 97.
In recognition of Professor Cambitoglou's significant contributions, the University of Sydney and the AAIA invite you to join us for this special tribute event.
Kind regards,
Dr Stavros Paspalas
Director, Australian Archaeological Institute at Athens
Professor Stephen Garton
Former Provost and former Senior Deputy Vice-Chancellor, The University of Sydney