The Centre for Excellence in Rural Sexual Health (CERSH) presents their 2021 Professional Development Day/Conference.
About this event
This exciting online forum is designed to showcase current evidence-based practice in relation to sexual health promotion with priority populations. It would be of interest to workers in the clinical, health promotion, education, youth and related fields and decision makers.
Check out our fantastic agenda for the day below.
Agenda: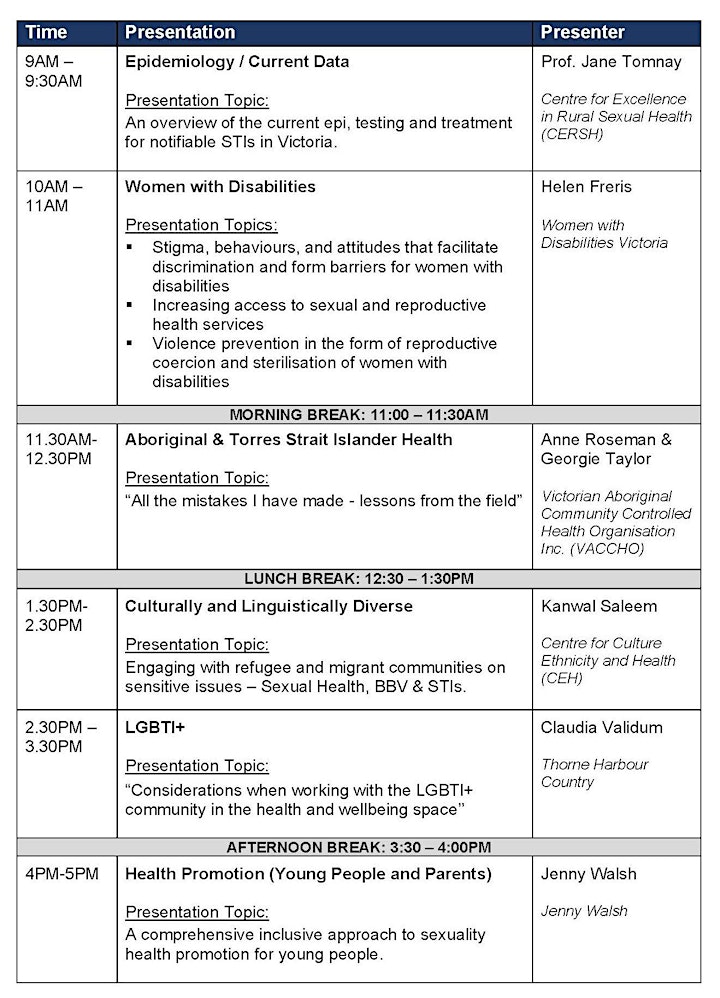 Want to know more about our conference speakers? Check out some information about them below:
Professor Jane Tomnay (CERSH):
Professor Jane Tomnay has worked in sexual health for 30 years, most of her working life has been in public health focused on partner notification and rural sexual health where she has provided direct clinical care to clients, advice informing public policy, published in peer reviewed academic journals and overseen the strategic development of rural programs.
Jane has been the Director, Centre for Excellence in Rural Sexual Health at the University of Melbourne since 2009. Jane was a Registered Nurse and has a Master of Health Science and a PhD in Public Health. Jane was a member of the WHO HIV Testing Services Guideline Development Group in 2018 and 2019 and has worked in the WHO Southeast Asia and Pacific region as a consultant for HIV Partner Services and HIV Testing Services. She was awarded the Australasian Sexual Health Association Distinguished Services Award in 2019, was the President of the Australian and New Zealand Association of Nurses in AIDS Care between 2008 – 2011 and is the immediate past President of the Sexual Health Society of Victoria.
Helen Freris (Women with Disabilities Victoria):
Helen has a professional background in community services, with qualifications in social work, community sector management and family dispute resolution. As health services program manager with Women with Disabilities Victoria, she oversees projects to support disability inclusive PVAW within the women's health service sector and build greater inclusion in health practice. Prior to joining Women with Disabilities Victoria, she held the role of National Services Manager with International Social Service Australia, delivering social work services for families separated across national borders. She also currently serve as director of Blind Citizens Australia.
Anne Roseman (VACCHO):
Anne is the state-wide Sexual Health and Blood Borne Virus Coordinator for the Victorian Aboriginal Community Controlled Health Organisation VACCHO, the peak body for Aboriginal Health.
With a background in psychology and community development, Anne has a depth of experience that spans mental health, youth health, disability, drug and alcohol and primary care sectors. In service delivery, Anne has worked as a youth counsellor, sexual health/BBV educator in schools, custodial and vocational settings and coordinated a needle exchange program. As an Aboriginal ally, Anne supports the work Aboriginal Community Controlled Organisations across Victoria in sexual health and blood borne viruses. This includes state-wide advocacy, training, support, CQI, linkage to data and research for emerging BBV/STI. A systems thinker, Anne is a passionate advocate for strength-based change led by the Aboriginal Community Controlled sector with self-determination as the key driver for change.
Georgie Taylor (VACCHO):
Georgie Taylor is an Aboriginal Health Practitioner (AHP) based at Gunditjmara Aboriginal Cooperative in Warrnambool in South Western Victoria. Georgie has diverse skills and extensive experience across multiple portfolios in Aboriginal Health including as an AHP clinical specialist in the Medical Clinic, NDIS Coordinator, and Health Promotion Coordinator. Georgie has been highly effective in engaging her community with culturally safe sexual health care and has worked with young people in schools, community outreach programs, including sexual health checks in health assessments.
In 2019 Georgie received the National Aboriginal Community Controlled Health Organisation (NACCHO) Aboriginal Health Practitioner of the Year Award in recognition of her 21 years of excellence serving her community. She has presented at numerous events, most recently with master's in public health students with Melbourne Sexual Health Centre in 2021.
Kanwal Saleem (CEH):
Kanwal Saleem (pronouns she/her) is a Community Engagement and Projects Officer at the Centre for Culture Ethnicity and Health. She coordinates the Multicultural Community Action Network (M-CAN), a program of Multicultural Health and Support Service at CEH.She is an overseas trained doctor and completed her Master of Public Health from the University of Melbourne, specialising in sexual health promotion. She is passionate about providing comprehensive, inclusive, and accessible sexual health information to all. She loves to talk about all things health and anything that people shy away from talking and regard as "taboo."
Claudia Validum (Thorne Harbour Country):
Claudia Validum is the Program Manager for Thorne Harbour Country, part of Thorne Harbour Health, the peak organisation for LGBTI+ health and wellbeing in Victoria. As the manager for the regional Victorian service, Claudia has initiated many community initiatives. Her seventeen-year background in project management for the not-for-profit sector has seen her manage services in the homeless, refugees and asylum seekers, mental health services, young offenders, PLHIV and sexual health for the LGBTI+ community. She has been part of the Thorne Harbour Health Client Services Leadership team for four years.
Jenny Walsh (Jenny Walsh):
Jenny Walsh teaches families and professionals how to teach and talk about growing up, sex and relationships, consent, safety and pleasure. She is currently advising the Australian curriculum authority ACARA on addressing 'consent' education from F-10. Her resources include The Practical Guide to Love, Sex and Relationships for Years 7-10; the Victorian F-6 RSE program Catching On Early; Catholic Education Office Ballarat F-10 resource Fullness of Life for All in response to the Victorian Government child safety reforms.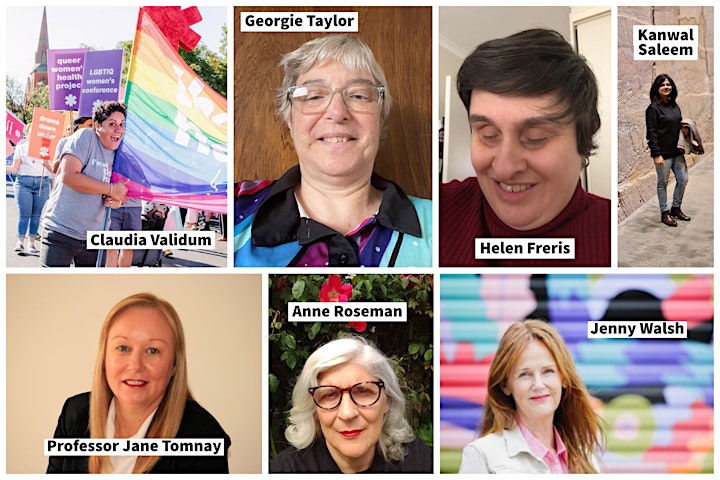 If you are having trouble accessing the webinar link, please access directly via the below links:
Webinar Registration Link: https://unimelb.zoom.us/webinar/register/WN_BJxg6-lpQ9uX4ThKcpniAA
Webinar Access: https://unimelb.zoom.us/s/83995364517?pwd=VG5wK3YzUWJuczYyUGl4YVFockZudz09
Webinar ID: 839 9536 4517
Password: 525233
Please contact the CERSH Centre Coordinator - Johanna Kyriakou, with any questions on the below details:
E: cersh-admin@unimelb.edu.au
P: 0435 251 155
Organiser of Professional Development Day/Conference
The Centre for Excellence in Rural Sexual Health (CERSH) is funded by the Department of Health and Human Services Victoria through a service agreement with The University of Melbourne, to work across the Hume and Loddon Mallee regions. Our team is led by Associate Professor Jane Tomnay, with staff based at the Department of Rural Health - Wangaratta campus and La Trobe University - Bendigo campus.