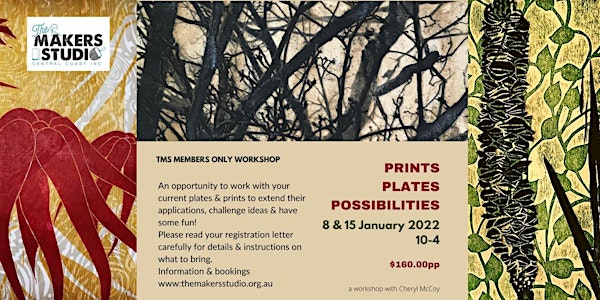 Prints Plates Possibilities - with Cheryl McCoy - 8 &15 January 2022
How to mix & match plates & prints and think outside the square - members only workshop.
About this event
PRINTS - PLATES - POSSIBILITIES
Thank you for registering for The Makers Studio Members workshop Prints – Plates – Possibilities being held over two Saturdays 8 & 15 January, 2022. This will be a small group so that participants have ample opportunity to ask questions and tryout new ideas on how to mix & match plates & prints, and think outside the square!
Ever wondered what you could do with your one-off prints & plates? Well, this workshop offers an opportunity to explore & experiment with your existing plates, prints and drawings to challenge the way in which you might combine ideas and applications. For example, we will discuss and learn how to apply chine colle in different ways, overprinting, offsetting, masking, stencilling & layering. We will also discuss, if time permits, printing on textiles and using thread to stitch into your work. The possibilities are endless.
Date: 8 &15 January, 2022
Time: 10:00am to 4:00pm
Venue: The Makers Studio (East Gosford), 8 Russell Drysdale St. East Gosford
What participants need to bring:
• Printmaking plates (lino, acetate, woodblock, aluminium)
• Prints created from these plates or prints from Gelli Plates
• Scrap pieces of lino, woodblock, acetate
• Eco dyed papers or textiles (if you have some)
• Scrap pieces of calico, voile, cotton lawn, or silk (if you have some)
• Embroidery threads (if you have some)
• Art Journal (important for you to take notes to reference what you do as each person will have a different experience & I am sure you will want to repeat these processes)
What will be supplied:
• Printmaking tools
• Chine colle papers
• Printmaking paper x 1 sheet
• Inks & presses
• Brayers & intaglio applicators
• Aprons
• Scrap pieces of aluminium (.5mm)
A limited number of colours will be available. If you wish to use specific colours it might be helpful if you bring them along with you on the day. We will be using oil/rubber based inks.
This is an opportunity to suspend your expectations, have fun and learn some different ways to apply what you already know.
Please bring your lunch, wear closed in shoes, tea and coffee supplied.
Warm regards
The Makers Studio Central Coast Inc.
E: info@themakersstudio.org.au
COVID restrictions may dictate whether a mask is required you will be advised closer to the date. The Makers also has a QR Code that must used to register you on arrival.
Organiser of Prints Plates Possibilities - with Cheryl McCoy - 8 &15 January 2022