About this Event
Bacon lovers rejoice. We have an announcement to make!
You're invited to the Primo All-Day Breakfast in Bed Café, running January 17th and 18th.
At Primo, we believe everyone should wake up happy with Australia's favourite bacon. And we know it's not always easy to indulge with breakfast in bed. Life gets in the way.
So we decided to create a pop-up café in which you can relax and enjoy a gourmet bacon brekkie, delivered to you in bed, whilst you sport your very own bacon pyjamas. And you'll get to take them home at the end.
Before you tuck into a life-changing breakfast, we're bringing home the bacon…literally. You'll relax with a bacon-scented essential oils massage and face mask, whilst listening to the soothing sounds of sizzling bacon. From there, we'll give you your own limited-edition take-home pair of bacon pyjamas so you can spend every morning waking up happy.
Hungry yet? We're starving!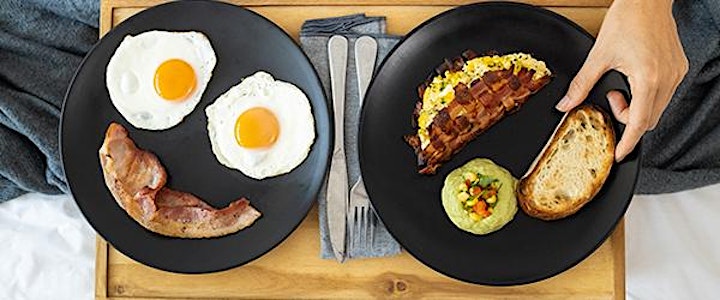 You'll get to choose from one of four mouth-watering dishes:
PRIMO BACON SMILE: Bacon, two fried-free range eggs with a crispy hash brown and fresh toast.
PRIMO BREAKFAST WEAVE BACON TACO: Taco-ing bacon to a whole new level. See what we did there? A taco shell made entirely out of bacon with melt-in-your-mouth scrambled eggs tucked inside.
PRIMO MAPLE BACON WAFFLE: Maple bacon crumble, maple syrup with caramelised bacon ice cream.
PRIMO SCOTCH EGGS: A bacon-wrapped scotch egg with bacon jam and a side of smokey bacon aioli.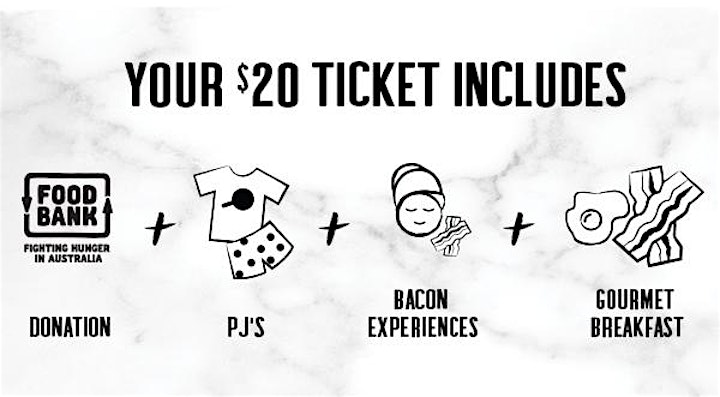 Keep your friends close and your bacon closer. Tickets are purchased in pairs so you can share a bed with a friend for the experience. Or if you really want to treat yourself, you can book a bed just for yourself.
Don't go bacon our hearts. Get a ticket. They're on sale now. And best of all, 100% of proceeds go to help the Foodbank bushfire appeal.
Tickets are available for the following sittings:
Friday 17th January:
7:00am - 8:00am
11:00am - 12:00pm
1:00pm - 2:00pm
5:30pm - 6:30pm
7:30pm - 8:30pm
Saturday 18th January:
7:00am - 8:00am
9:00am - 10:00am
11:00am - 12:00pm
1:00pm - 2:00pm
3:00pm - 4:00pm
5:00pm - 6:00pm
Children under 13 are not permitted at this event.