Teachers and Librarians are invited to hear Emily and Nova talk about their new novel and explore Agency and Honesty in Middle Grade books
About this event
Our Book Chat for Primary School Teachers and Librarians are very popular: packed with bookish goodness for time poor people. We've had such a strong response and they've grown wonderfully over the last three years!
We're very excited that for Term 2's session we we'll host TWO superb authors, Emily Gale and Nova Weetman as they discuss their new co-authored book, Elsewhere Girls as well as the importance of agency and honesty in middle grade!
Don't worry, there'll be time for questions after the chat!
Following the discussion, Michael will bring us up to speed on key new releases, point out upcoming titles to keep on your radar and generally share recommendations over great Lit-Circle reads.  This has proven to be a valuable segment to those trying to keep their avid reading students up to date, or engage their less enthusiastic readers.
This will be a hybrid event:
we have a (COVID-safe) limited number of tickets available for those wanting to join us in the shop in real life: drinks and nibbles will be provided.
*ACCESSIBILY DISCLAIMER* Book Chat will be held in our meeting room which is up a very steep flight of steps. Please consider if this is right for you. If not, we will be livestreaming for who cannot join in person for distance or any accessibly reason.
or
LIVE STREAM the event! Appropriate links will be emailed to ticket holders.
A certificate of attendance can be provided for professional development purposes if required.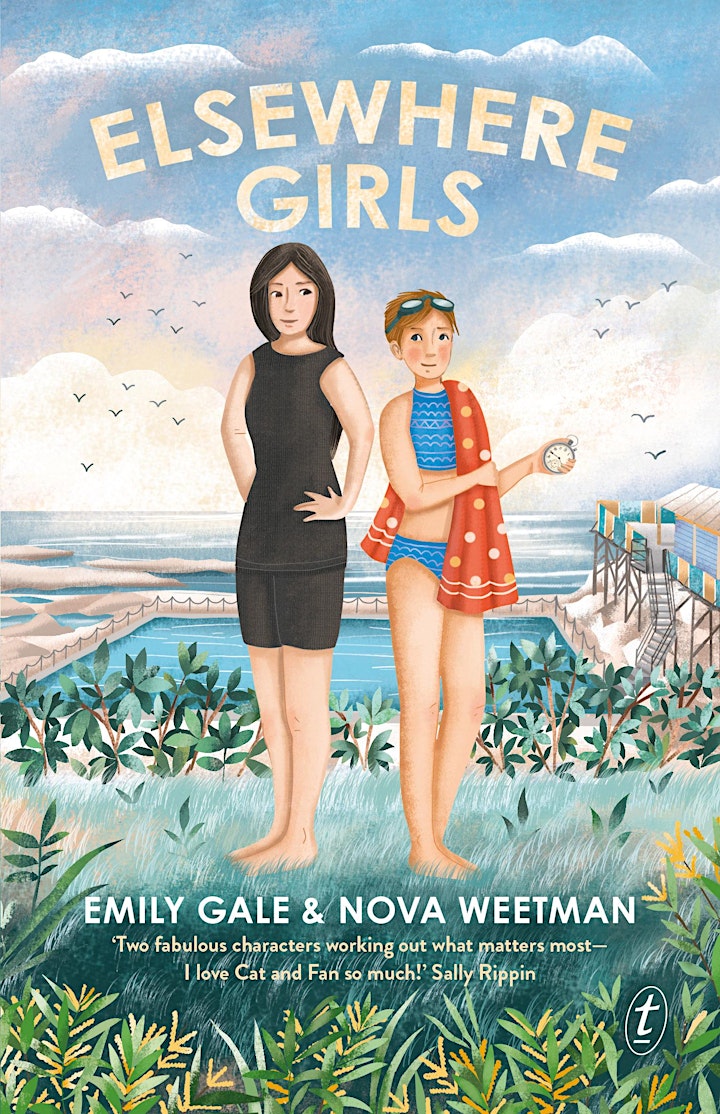 About the book:
It's midnight and I'm alone in the kitchen eating a cold potato scallop. Coach O'Call would say something like, 'That's not what I expect from a scholarship girl!' because I have to be up for squad training in five hours and I'm not supposed to go near potato scallops, and—oh, yeah—it's my fifth.
Cat has recently started at a new school on a sports scholarship, and she's feeling the pressure of early morning training sessions and the need for total commitment. Fanny loves to swim and she lives for racing, but family chores and low expectations for girls make it very hard for her to fit in even the occasional training session.
Cat and Fanny have never met. They both live in the same Sydney suburb, but in different worlds, or at least different times: Cat in current-day Sydney, and Fanny in 1908. But one day, time slips and they swap places.
As each girl lives the other's life, with all the challenges and confusion it presents, she comes to appreciate and understand herself and the role of swimming in her own life.
Narrated in alternating chapters by Cat and Fanny, Elsewhere Girls is a moving and funny story of two girls with a deep connection, one based on the Australian Olympic champion, Fanny Durack. It's a fresh and engaging exploration of the challenges and pressures for young women growing up in the past and today.
There are TEACHERS NOTES available.
About The Authors:
Emily Gale has been involved in the children's book industry for twenty years. Her books include Eliza Boom's Diary, Girl, Aloud, Steal My Sunshine and The Other Side of Summer and its companion novel I Am Out with Lanterns.
Nova Weetman has written thirteen books for young adults and children. Her middle grade books include the much-loved novels The Secrets We Keep, The Secrets We Share and Sick Bay.
Organiser of Primary Book Chat with Emily Gale & Nova Weetman