Description
Aside from doing, tapping into OPE (other people's experience) is the great way we learn and grow.
Having mentors and belonging to peer groups are the most powerful ways that I know of to fully benefit from OPE.
I am excited to announce that the inaugral peer group who will undertake my personal and business accelerator program will be begininng in Ballarat very soon.
I am conducting this short preview workshop of the program for possible participants.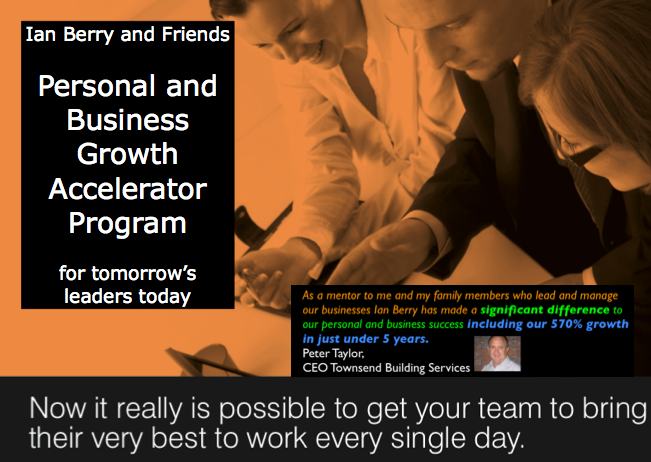 You can download an overview of the program here.
Napoleon Hill was onto something very special when he coined the term 'master-mind' in his now famous book Think And Grow Rich, which was originally published in 1937.
Being a part of a group of people mutually committed to each others' success is a powerful force.
You'll meet others on the 25th who, should you decide to participate in the program, will become your performance partners over the next year.
"Finding a peer group and working with them, intentionally and on a regular schedule, might be the single biggest boost your career can experience."
 says Seth Godin
Should you be unable to attend this preview event I welcome your telephone call to 0418 807 898 if you'd like to discuss any aspect of the program.
Thank you and best wishes.
Ian Berry
Organiser of Preview workshop Ian Berry's Personal and Business Accelerator Program
Hello I'm Ian Berry, Possibility Activist, Mentoring with heart for leaders with heart since 1990. Plans on a page pioneer. I can help you to advance your heart-leadership meaning you'll have a unique way to thrive in your busines without sacrificing your personal life.
Your people can make or break your business.
I've been helping leaders to grow their businesses by getting the best out of their people for more than thirty years.
In that time, the business owners and leaders I've worked with have continuously improved how they work and discovered that their people do better work when they feel fully supported.
I've had the privilege of working with more than 1000 business owners and leaders, women and men, in over 40 countries. 
Leaders like Sarah, who was frustrated by 30% employee turnover and with my help turned the problem around and reduced the number to 15%.
You can read more examples of how I've worked with people like Sarah and you to transform their businesses and reach their goals at the testimonials/case studies link at my website.
From 1974 - 1991 I enjoyed a very successful corporate finance career including leading a 100million business unit. I held Branch, Regional, and State manager roles in three Australian states receiving numerous awards for his leadership, development of people, and results. 
Since 1991 I've played active roles on the boards of eight diverse organisations and have been instrumental in their sustainable and profitable growth, with one of these organisations (Townsend Building Services) achieving 570% growth in just under 5 years.
My clients include leaders from AVIS/Budget Western Victoria, AXA Asia Pacific, Ballarat Grammar, Ballarat Regional Industries, Bendigo Bank, Bombardier, Cavehill Creek, EMI, Eureka Concrete, Gallagher Bassett, Haymes Paint, Jones Lang LaSalle, Metro Trains, Plan Australia, Oxfam Shop, Queenslanders Credit Union, Singapore Chinese Chamber of Commerce and Industry, and Smurfit Kappa UK, to name just a few.