Presentation: Vortex driven thin film processing under flow
Description
Centre for NanoScale Science and Technology, College of Science and Technology, Flinders University, Adelaide, Australia
The presentation will highlight the fundamentals and applications of the vortex fluidic device (VFD) which generates intense shear within dynamic thin films in an inclined rapidly rotating tube. The applications are diverse, with high green chemistry credentials, from small molecule and materials synthesis, including the remarkable ability to slice carbon nanotubes, fold proteins enhance enzymatic reactions, and control the self assembly of fullerenes and liposomes. The VFD is a microfluidic platform with the films typically < 500 mm thick, and the processing is not limited to diffusion control. Reaction rates and yields can be dramatically increased relative to conventional batch processing, as well as gaining access to new products and processes. This relates to the unique conditions imparted in the dynamic thin film in the device, including a vibronic response in the form of Faraday waves, high shear stress and micromixing, and increased heat and mass transfer. The VFD can operate under confined mode, for processing of volumes down to ca 200 mL, or under continuous flow where jet feeds deliver reagents at the bottom of the tube or at strategic positions along the tube, such that scalability is addressed at the inception of the science.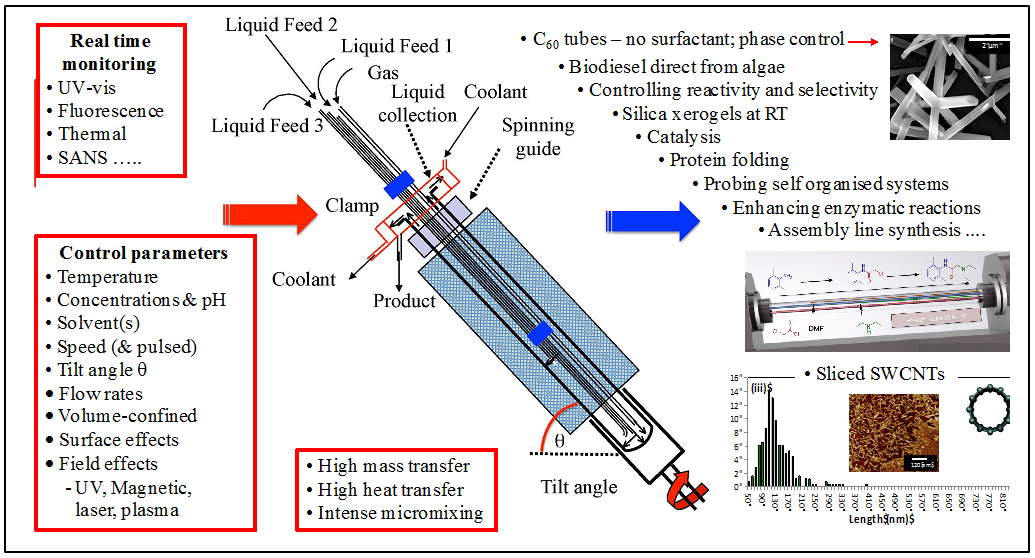 1 Yasmin, L.; Chen, X.; Stubbs, K. A.; Raston, C. L. Scientific Reports, 2013, 3, 2282, and Britton J., Stubbs K., Weiss G., Raston C., Chem Eur J, 2017. DOI: 10.1002/chem.201701702
2 Vimalanathan, K. et al., Scientific Reports, 2016, 6, 22865.
3 Yuan, T. Z.et al., ChemBioChem, 2015, 16, 393
4 Britton, J. et al. Angew. Chem. Int Ed., 2016, 55, 11387.
5 Britton, J. et al.., Angew. Chem. Int Ed., 2017, 56, 2296.
6 K. Vimalanathan et al., Angew. Chem. Int. Ed. 2017, 56, DOI: 10.1002/anie.201608673.