Preparing students for a connected future: Jim Groom
Description
Deakin University presents: An integrated Domain: preparing students for a connected future
Presented by Jim Groom, Deakin University invites you to attend an open talk at Melbourne Burwood Campus.
---
Monday 24th July
12:30pm to 1:30pm - Talk: An integrated Domain: preparing students for a connected future
Location: Burwood Corporate Centre, Level 2, BC Building, Melbourne Burwood Campus or via Virtual Meeting Point. Report to reception for room information.
Visions of the future are often framed by the technologies that shape them. In 2017: the spectre of artificial intelligence, the rise of robots, virtual worlds, and the existential question of self in an increasingly distributed and fragmented reality are vibrant themes in popular culture.
How do we manage these changes culturally and how do we prepare students to engage in an increasingly complex future?
Are we teaching people to interrogate the way news is presented on social media?
Are we teaching students to understand the basic infrastructure of the internet?
Are we beginning to examine the ever-changing fault lines of the reality that is framed for us on the web?
This talk will examine one small project called Domain of One's Own happening at various universities and colleges in North America, Great Britain and Australia that empowers faculty, students and staff to both manage and control their online digital presence through an integrated online domain.
An initiative that frames education as fundamental to preparing an entire generation for the shifting notions of identity and reality that that will everywhere shape our connected future.
Attendance via Virtual Meeting Point 39314
Your videoconference dialling instruction (external):
URI dialling (SIP or H.323):
39314@deakin.edu.au
IP dialling:
Dial 139.132.19.31 wait for prompt, then select ##39314#
ISDN and telephone (mobile and landline) direct dialling:
(+613) 52239314
To connect using Deakin Web Guest, click the link (or copy it into your calendar or email invitation)
https://guest.vidconf.deakin.edu.au:9443/call/39314@vidconf.deakin.edu.au
---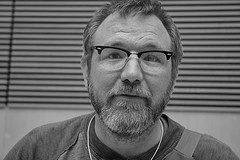 ---
Jim Groom is the former director of the Division of Teaching and Learning Technologies and adjunct professor at the University of Mary Washington in Fredericksburg, Virginia, and co-founder of Reclaim Hosting, an independent web hosting company focused on the higher education community.
He helped spearhead an initiative at the University of Mary Washington called A Domain of One's Own that, starting in Fall 2013, gave all incoming Freshman their own domain and web hosting account. He has been working for almost twenty years in education with a consistent focus on the development of teaching and learning in higher education. In 2006 he started the web-based educational publishing platform ELS Blogs for the English Linguistics and Speech department at UMW. This pilot project led to the development of UMW Blogs in 2007 which has since become an enterprise level academic publishing platform. In 2010 he re-imagined the Computer Science 106 course on Digital Storytelling at UMW as an open, online community referred to as ds106—an experiment in teaching and learning on the web that is still going strong and has been celebrated internationally as a compelling community-based approach to online learning.
Learn more about Jim Groom's projects at http://jimgroom.net