Event Information
Refund Policy
Contact the organiser to request a refund.
Eventbrite's fee is nonrefundable.
Scrum Master Training with FREE Jira & Confluence (Clear PSM, PSPO certifications and also Scrum Master interviews)
About this Event
I'm conducting another batch of Practical Scrum Master Training with FREE Jira & Confluence. 15 sessions, 15 days from 15Nov, which will help you to clear PSM, PSPO certifications and also Scrum Master interviews
Details and reviews here:
https://www.linkedin.com/posts/lakshminarayana-nune-36ba78106_productowner-scrum-jira-activity-6727174477509201920-cVwX
Pls reach me on +61412516364 (whatsapp) if interested
Objectives
 Build the skills which will help you in taking up scrum master role which is in high demand across the world
 Solid understanding of Agile values & principles throughout the course
 Learn most successful Agile frame work "Scrum" in depth with real time scenarios and numerous examples
 Ready to take Professional Scrum Master (PSM) certification directly from Scrum.Org
 Hands-on experience in learning & practicing high demand Atlassian tools - 
Jira (No.1 tool used by Agile teams) & Confluence
 Bring transparency for your teams and organizations with advanced visual dashboards
 Gear up for interviews and succeed
Course Content
Scrum Framework
1. Waterfall methodology and its disadvantages
2. Overview of Agile
3. Agile Manifesto, four values and twelve principles in detail
4. Benefits of Agile, various frameworks
5. Scrum framework overview – 3 pillars, 5 values, Roles, Events & Artifacts
6. Product Owner role, responsibilities & stakeholders
7. Skills required for successful Product Owner
8. Cross functional development teams – roles and responsibilities
9. Scrum Master role in coaching product owner, teams and Organization
10. Building product road map in Confluence
11. Understand concepts of Features, Epics, User Stories & Acceptance criteria
12. Techniques for writing effective user stories, including INVEST criteria
13. Practice Epic and Story writing in Jira
14. Agile Estimation techniques – Cone of uncertainty, Relative estimations, creating baseline, Planning poker , T-shirt sizing, Affinity estimation, Industry practices
15. Product backlog & concept of DEEP
16. Definition of Ready and Definition of Done
17. Product backlog refinement in scrum
18. Sprint planning (why, what and how) , Sprint goal, Sprint backlog
19. Daily-standup
20. Sprint Review or Demo – Stakeholder interaction and feedback
21. Sprint retrospective in detail
22. Various fun retrospections & innovation games for continuous improvement
23. How to measure team agile maturity
24. Guidance to get Professional Scrum Mater (PSM1) certification from
Scrum.org (150 USD exam fee, most valued, life time validity)
25. Free mock tests to pass PSM
26. Mock interview (Q & A)
Jira
1. Agile management tools, JIRA, Jira installation, Project creation
2. Epic and story creation
3. Linking of stories with Epics
4. Importance of each and every filed under Issue
5. Creation of components and Releases along with Issue linking
6. Product backlog refinement in Jira
7. Sprint planning (What & How) in Jira
8. Tracking of issues throughout the sprint
9. Raising impediments and dependencies with other issues
10. How to clone, comment, sub task, label, link, log work in Issue
11. Sprint closure
12. Understanding Sprint report, velocity chart, Burn down chart
13. Basic search in Jira
14. Advanced search in Jira using Jira Query Language (JQL), multiple real time examples
15. Creation of filters, permissions & notifications (advanced)
16. Creation of effective automated dashboards using various Gadgets (Pie, Sprint health, two dimensional, burn down, various metrics etc.)
Confluence
1. what is Confluence, why do we need
2. Space and page creation
3. Editing page, various features under edit
4. Various page activities
5. Mapping of business requirements with Jira team activities in a single snapshot
6. Fetching information from Jira to Confluence
7. Creating retrospections, File list, Meeting notes
8. Displaying Jira reports on Confluence page
Services & Support from Trainer
1. Interactive classes on mobile and device compatible online platform
2. Material & recording will be shared with in 24Hrs of the class
3. Training on Jira & confluence with practice in free cloud version
4. Theory, pragmatic and real-world scenarios are explained using Gliffy pictures
5. Exercises for students to practice in Jira cloud instance
6. Guidance to get PSM certification
Role of Scrum Master: https://drive.google.com/file/d/1r50KjSiha6Rk6QnQmjP2ZTnLsmf5AgJs/view?usp=sharing
Feedback/Reviews:
https://www.facebook.com/Lakshmisagileinpractice/reviews
https://www.urbanpro.com/melbourne/lakshminarayana-nune/reviews/7562731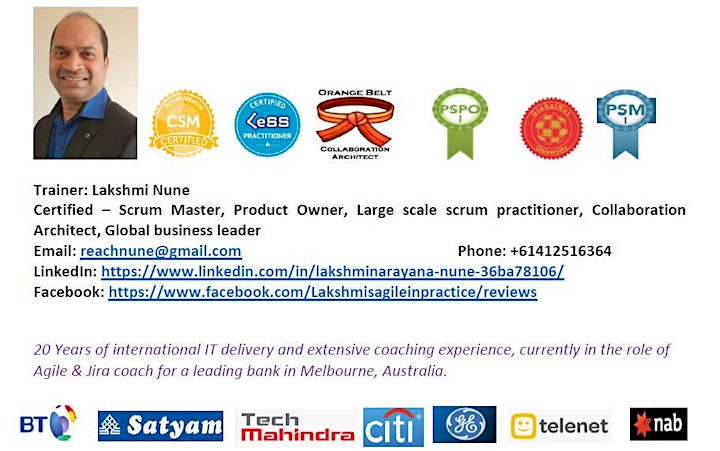 Date and Time
Location
Refund Policy
Contact the organiser to request a refund.
Eventbrite's fee is nonrefundable.