Power to the Girls Information Session - Training for Female Athletes
This information session will provide valuable information for girls & women training as athletes & help get the best out of their bodies.
About this event
Join SportsCare Physiotherapist Georgia Clayden, Advanced Sports Dietitian Alicia Edge, and local and former elite female athletes for an information session and Q&A panel covering:
Nutrition,
Physiotherapy and injury prevention,
Strength and conditioning,
And more for girls and women training and competing as athletes.
Details:
Date: Saturday 24 July 2021
Time: 11am – 1pm
Location: SportsCare and Physiotherapy Woolley Street (Dickson)
Cost: $20 per ticket
Spaces are limited, so book your spot to avoid missing out.
Learn more about the Power to the Girls Information Session on SportsCare's website.
This session is targeted at female athletes aged 14-23 years but older athletes, parents, guardians, and coaches are welcome to attend.
About the Presenters
Georgia Clayden - Physiotherapist
Georgia Clayden is a qualified Physiotherapist who has worked in clinical practice for over 3 years. She has had significant experience in high performance sports as both an athlete and Physiotherapist, working with rugby union, volleyball, netball, AFL, and other sporting teams over her career. She has represented the ACT in AFL, cross country running, netball, and volleyball.
Alicia Edge - Nutritionist
Alicia Edge is an Advanced Sports Dietitian and co-founder of the performance nutrition tech solution, Compeat Nutrition. Since graduating in 2008 , she has been working with athletes from a range of disciplines to improve their nutrition and performance in private practice and with national sporting organisations such as the AIS, and as a private consultant.
Our Q&A Panellists
Georgia will be joined by a panel of local and former elite athletes, including Angharad Llewellyn (triathlon), Gracie Elvin (cycling), and Keely Small (athletics).
Angharad Llewellyn
Angharad played a variety of sports as a kid and teenager but got involved in triathlon at age 22. She raced at three age group world championships, claiming silver in 2018 and crowned World Champion in 2019. Angharad took her professional licence at the end of 2019 and started racing elite continental cups in 2020. Outside of sport, she has completed a Bachelor of Engineering (Honours) and Bachelor of Science and is currently working in client-side project management.
Gracie Elvin
Gracie was a professional cyclist for over 12 years, competing mostly in road cycling but also spending a few early years in her career in cross-country mountain biking. She represented Australia in 8 different World Championships, at the 2014 Glasgow and 2018 Gold Coast Commonwealth Games, and at the 2016 Rio Olympics. Gracie also studied part-time at the University of Canberra throughout her career and has almost completed her Bachelor of Applied Science, where she is majoring in Human Nutrition and Physiology. She has a passion for holistic athlete management and was able to apply her experience and education to her own training throughout her career. Now she has retired, Gracie wants to help female athletes in all aspects of performance and health.
Keely Small
Keely is an Australian 800m and 1500m runner who has represented Australia at the 2018 Commonwealth Games and is a Youth Olympic Games gold medallist. Keely is based in Canberra studying a Bachelor of Science at the University of Canberra while working part-time.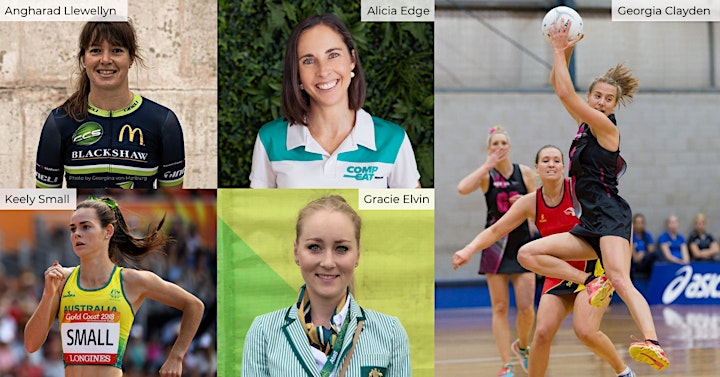 Organiser of Power to the Girls Information Session - Training for Female Athletes