Description
THIS EVENT IS SOLD OUT - If you're desperate, there may be a few peeps STANDING room only @ The Door (and if someone doesn't show up as often happens, then you can take their seat).
Selling out for the second time in Canberra, Sophie deLightful dazzled and delighted audiences in March for the debut of her "Power Pussies" show. Now, due to popular demand, she returns on 23 June to see out the financial year with a BANG!
Bringing an imitable posse of pussies once again, this Melbourne cabaret star will raise the roof and cause a ruckus exploring what being a Power Pussy is all about. Stay tuned for announcements of who will share the floor with Miss deLightful over the coming months. Expect powerhouse vocals, fierce purrrrrlesque and edgy vaudeville that will make you question everything you thought about power and pussies!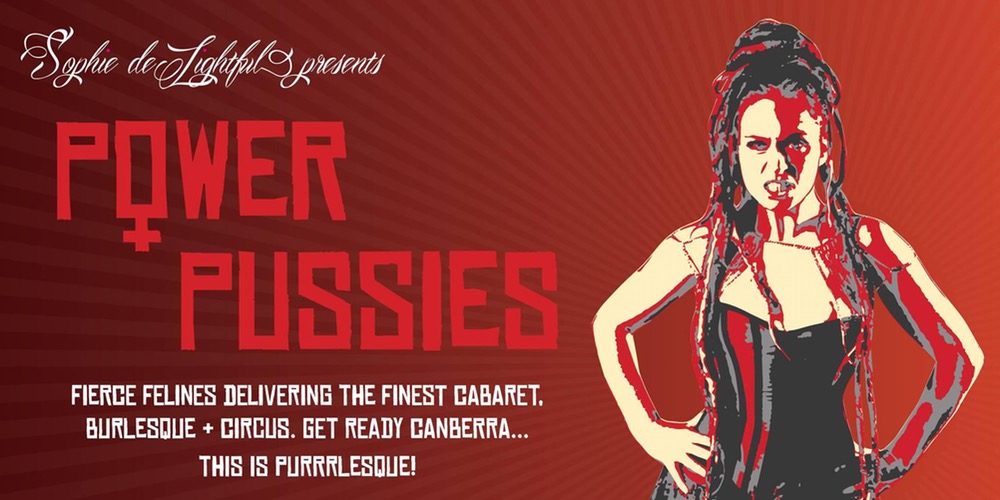 PLEASE NOTE IMPORTANT SHOW TIMES:
Doors: 5pm
Show: 8pm-10pm
** Let your inner Power Pussy SHINE with sparkles, sequins and sexy outfits **
Both Sophie deLightful hosted shows "Childhood Dreams & Fairytale Queens" and the debut of "Power Pussies" SOLD OUT so don't delay in getting your hands on a limited Early Pussy ticket.
EARLY PUSSY TIX $20 + Eventbrite fees (until 2am Mon 5 June) / FABULOUS PUSSY TIX $25 online and at the door (subject to availability).