| | |
| --- | --- |
| Potts Cross Bar Hop (1) Thursday 13th October | |
Event Details
THIS EVENT IS NOW SOLD OUT!
Tickets still available for Potts Cross Bar Hop (2) on the same date
We are very excited to announce two dining walk events as part of this year's Good Food Month on the Village Food Adventures programme! One is a newbie for us and one is a repeat of a recent success

So come and join us on one or both events during the month of October and toast this town's wonderful love of food, cocktails and good times!
Join us for a fun night of high-end cocktails, fine wine and craft beer with matching tasting plates, at three of the best small bars and restaurants in our hood. Discover subterranean treasure on William Street, a 50's style diner with Spanish on it's mind and a Kellett Street Saloon with class.Get a history lesson along the way and celebrate what Potts Point and Kings Cross have to offer.
Malbec ( Mendoza ) or Vermentino )organic)
Cester White Diner signature charcuterie board

Young Henry's Newtowner
Pork Sliders

TPK G&T w/ pink grapefruit, juniper berries, lemon or Champagne & Strawberries Martini
Bittballen & Kaassouffle - delicious Dutch snacks - tying back to the European theme of the bar.

Bitterballen are a Dutch meat-based snack, typically containing a mixture of beef or veal, beef broth, butter, flour, parsley, salt and pepper.

Kaassoufflé - a Dutch snack of melted cheese inside a thin dough-based wrap which has been breaded and then fried.
Guide | Maree Sheehan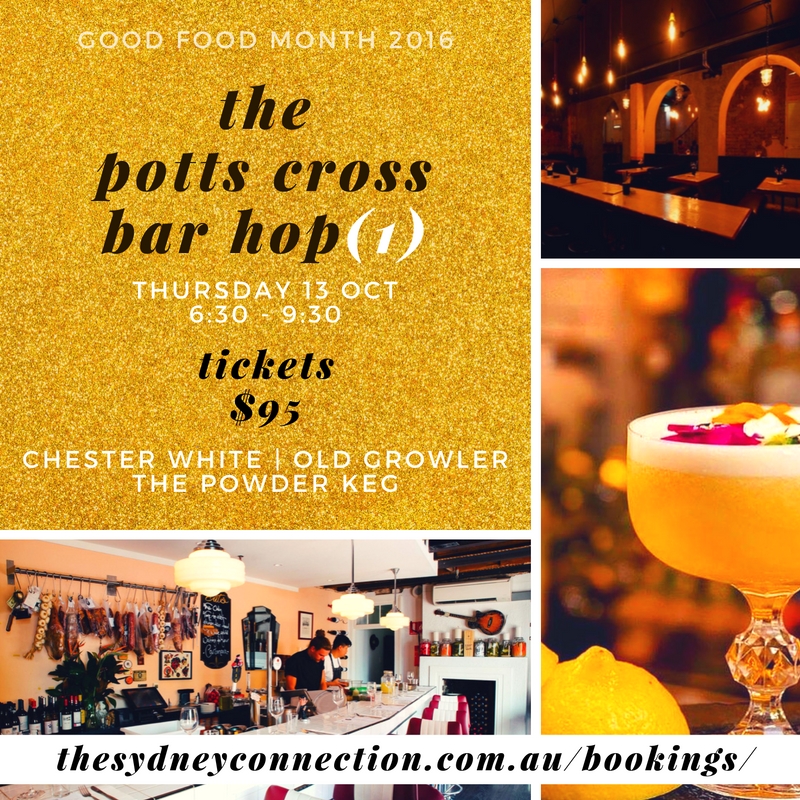 ABOUT US
The Sydney Connection curates private dining walks around our favourite inner city precincts of Surry Hills Darlinghurst and Potts Point on a daily basis. Accompanied by a well-connected guide, our walks are aimed at visitors and Sydneysiders who want to go 'where the locals go' for inspiring food, good service and cool interiors.
Wine & dine with a local!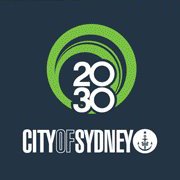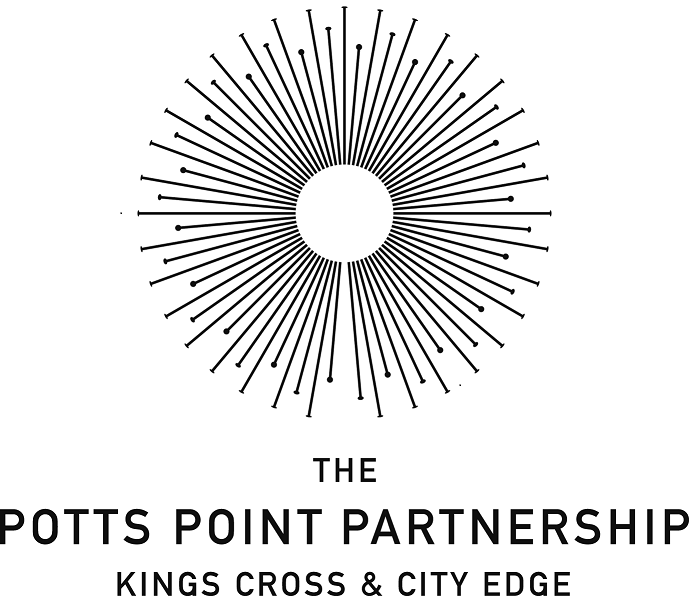 FAQs
Are there ID requirements or an age limit to enter the event? Because we are visiting licensed drinking establishments our wine & dine with a local walks are only for 18+ aged guests.
Are you able to cater for special dietary needs? Yes as long as you tick the appropriate box in the bookings form we are able to cater for most dietary requests including: vegetarian, allergies, gluten intolerance and dairy intolerance.
Are you able to create a walk suitable for disabled guests? Certainly - as long you let us know in advance - we can choose flat terrain and easy acess venues for disabled guests. Just be mindful that the distance between venues can be between 5 -15 minutes of travel so guest will need to be able to manage this distance comfortably especially if part of a larger group.
What should I wear? Although Sydney is a casual & relaxed city we encourage our guests to dress for dinner as we will be dining in some pretty snazzy places. However if you have lost your luggage or are just traveling light we will understand if you turn up just wearing your best Zara outfit or smart jeans and a shirt.
What shoes should I wear? Leave the Lady Gaga heels at home as we will be walking between venues so comfy shoes are best!
What is included in the booking price?
All set-menu food & beverages.

Any extra beverages - alcoholic or non-alcoholic - need to paid for separately from the bill.

The wonderful company and entertainment of your Guide Maree Sheehan.

Some local knowledge and history along the way
Where can I contact the organiser with any other questions? Please email us at maree@thesydneyconnection.com.au with any queries or refer to our website FAQ 

Save
Save
Save
Save
Save
Save
Save
Save
Save
Save
Save
Save
Save
Save
Save
Save
Save
Save
Save
Save
Save
Save
Save
Save
Save
<span style="border-radius: 2px; text-indent: 20px; width: auto; padding: 0px 4px 0px 0px; text-align: center; font: bold 11px/20px 'Helvetica Neue',Helvetica,sans-serif; color: #ffffff; background: #bd081c url('data:image/svg+xml;base64,PHN2ZyB4bWxucz0iaHR0cDovL3d3dy53My5vcmcvMjAwMC9zdmciIGhlaWdodD0iMzBweCIgd2lkdGg9IjMwcHgiIHZpZXdCb3g9Ii0xIC0xIDMxIDMxIj48Zz48cGF0aCBkPSJNMjkuNDQ5LDE0LjY2MiBDMjkuNDQ5LDIyLjcyMiAyMi44NjgsMjkuMjU2IDE0Ljc1LDI5LjI1NiBDNi42MzIsMjkuMjU2IDAuMDUxLDIyLjcyMiAwLjA1MSwxNC42NjIgQzAuMDUxLDYuNjAxIDYuNjMyLDAuMDY3IDE0Ljc1LDAuMDY3IEMyMi44NjgsMC4wNjcgMjkuNDQ5LDYuNjAxIDI5LjQ0OSwxNC42NjIiIGZpbGw9IiNmZmYiIHN0cm9rZT0iI2ZmZiIgc3Ryb2tlLXdpZHRoPSIxIj48L3BhdGg+PHBhdGggZD0iTTE0LjczMywxLjY4NiBDNy41MTYsMS42ODYgMS42NjUsNy40OTUgMS42NjUsMTQuNjYyIEMxLjY2NSwyMC4xNTkgNS4xMDksMjQuODU0IDkuOTcsMjYuNzQ0IEM5Ljg1NiwyNS43MTggOS43NTMsMjQuMTQzIDEwLjAxNiwyMy4wMjIgQzEwLjI1MywyMi4wMSAxMS41NDgsMTYuNTcyIDExLjU0OCwxNi41NzIgQzExLjU0OCwxNi41NzIgMTEuMTU3LDE1Ljc5NSAxMS4xNTcsMTQuNjQ2IEMxMS4xNTcsMTIuODQyIDEyLjIxMSwxMS40OTUgMTMuNTIyLDExLjQ5NSBDMTQuNjM3LDExLjQ5NSAxNS4xNzUsMTIuMzI2IDE1LjE3NSwxMy4zMjMgQzE1LjE3NSwxNC40MzYgMTQuNDYyLDE2LjEgMTQuMDkzLDE3LjY0MyBDMTMuNzg1LDE4L
When & Where

Chester White
3 Orwell St
Kings Cross
Sydney, NSW 2011
Australia

Organiser
The Sydney Connection
Maree Sheehan started The Sydney Connection in January 2013.
As a well-connected Potts Point local with a great network of small bars and restaurants Maree has  built on her knowledge resulting in strong relationships with restaurateurs in inner-city Sydney.
Enabling her to create VIP experiences for her guests and ensure a consistently excellent and unique dining experience.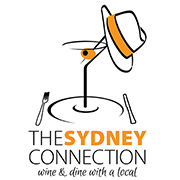 Save
Save
Save
Save
Save
Save
Save
Save
Save
Save
Save
Save
Save
Save
Save
Save
Save
Save
Potts Cross Bar Hop (1) Thursday 13th October