Join the conversation around psychedelic-assisted psychotherapies in Australia today and discus the need for innovation in treatment.
About this event
Presented by The Positivity Institute and Mind Medicine Australia, join Dr Suzy Green, Tania de Jong AM and Nigel Denning at AEDT 6:00pm on March 30th in virtual conversation as they take a look at the state of play of psychedelic-assisted psychotherapies in Australia today and why innovation in treatment is needed now more than ever.
Pre-Covid, 1 in 5 people in Australia were suffering from a mental illness. At least 1 in 8 adults, 1 in 4 older adults in 1 in 30 children are on anti-depressant medications currently, and often without disclosure of potential side effects.
There has been no innovation in existing treatments for 5 decades.
The lack of effective treatments has most certainly contributed to Australia's devastating mental health statistics, which position Australia as second worst amongst all OECD nations, only ahead of Iceland. As a result of the Covid-19 pandemic many more Australians are experiencing anxiety, trauma, addiction, depression, loneliness and social isolation, and suicide rates could significantly increase in the absence of innovation in treatments.
In the quest for new treatment options for mental illness, attention is being paid to the potential role of psychedelic medicines as adjuncts to psychotherapy for a wide array of conditions, including depression, anxiety, post-traumatic stress disorder and some addictions. Trials are also underway for dementia, Parkinson's, strokes, cluster headaches, OCD and eating disorders. A proactive approach to broadening the treatment options available for people who have a mental illness is desperately needed.
This candid conversation presented by The Positivity Institute and Mind Medicine Australia will provide an engaging and educational update incorporating new learnings, science and data about innovative, safe and effective treatments being used in a practical clinical setting. It will also provide information on how to access the TGA's SAS-B pathway for psilocybin and MDMA assisted therapies for treatment-resistant patients on a case-by-case basis.
REGISTER FOR FREE TODAY.
Presenters:
Tania de Jong AM, Co-Founder and Executive Director Mind Medicine Australia, Creativity Australia, Creative Universe and The Song Room
Nigel Denning, Director Mind Medicine Institute and Course Leader CPAT Course for Mind Medicine Australia
Dr Suzy Green, Founder and CEO of The Positivity Institute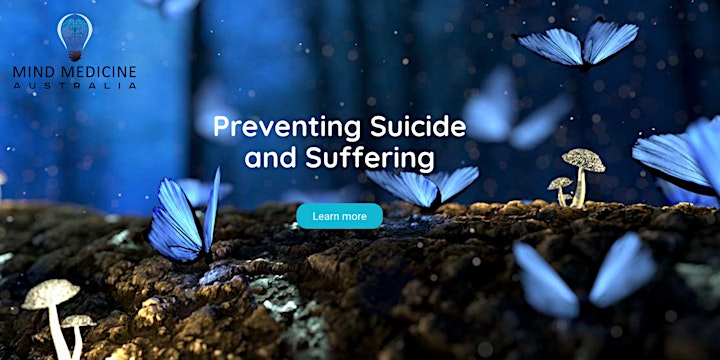 Visit: www.mindmedicine.org.au and thepositivityinstitute.com.au/pi_events