Al Siraat College are very excited to host this special Reconciliation Week Event & Screening of BEFORE 1770 at PRACC
About this event
POSTPONED DUE TO COVID19 LOCKDOWN RESTRICTIONS
This year we are even more determined to educate ourselves, our families a, students, and our communities in better understanding the experiences of Indigenous communities and stand alongside First Peoples for Reconciliation.
Join us for this special Reconciliation Week Event as a part of the Interfaith Youth Forum Project, hosted by Al Siraat College in collaboration with Whittlesea Interfaith Network, City of Whittlesea, St Monicas College, Bubup Wilam Child & Family Centre and Victoria Police. The Interfaith Youth Forum project is proudly funded & supported by the Victoria Government.
Reconciliation Week Event & BEFORE 1770 Screening @ PRACC
Date: Monday 31st May
Venue: Plenty Ranges Arts & Convention Centre - 35 Ferres Blv, South Morang
Eucalypt Room, Yan Yean Theatre & Lakeview Room
Time: 10:30am to 2:30pm
EVENT SCHEDULE
Program begins in Eucalypt Hall
• 10:30am Arrival & registration
• 10:45am MC Welcome
• Welcome to Country by Indigenous Muslim Elder Andrew Hassan Gardiner
• Opening Prayer by Mufti Aasim Rashid
• Mr. Fazeel Arain, Principal & Founder of Al Siraat College
• Lisa Thorpe – CEO of Bubup Wilam Indigenous Child & Family Centre
Ms. Gulhan Yoldas, President of Whittlesea Interfaith Network
Lily D'ambrosio
Inspector Geri Porter
Gurinder Kaur
• Interfaith Youth Engagement - student presentations
• Presentation of Plaques of Appreciation
Lunch & Prayer from 12:15pm to 12:40pm in Eucalypt Hall
Prayers in Lakeview Room upstairs
Program in The Yan Yean Theatre from begins 12:40pm
• Production Team presentation of Before 1770
• Screening of Before 1770 documentary
• Q & A
• Close
Professor Regina Ganter states, "That Makassan contact predates the arrival of the British on the Australian continent is not disputed..."
https://www.abc.net.au/radionational/programs/archived/encounter/islam-and-indigenous-australia/5602354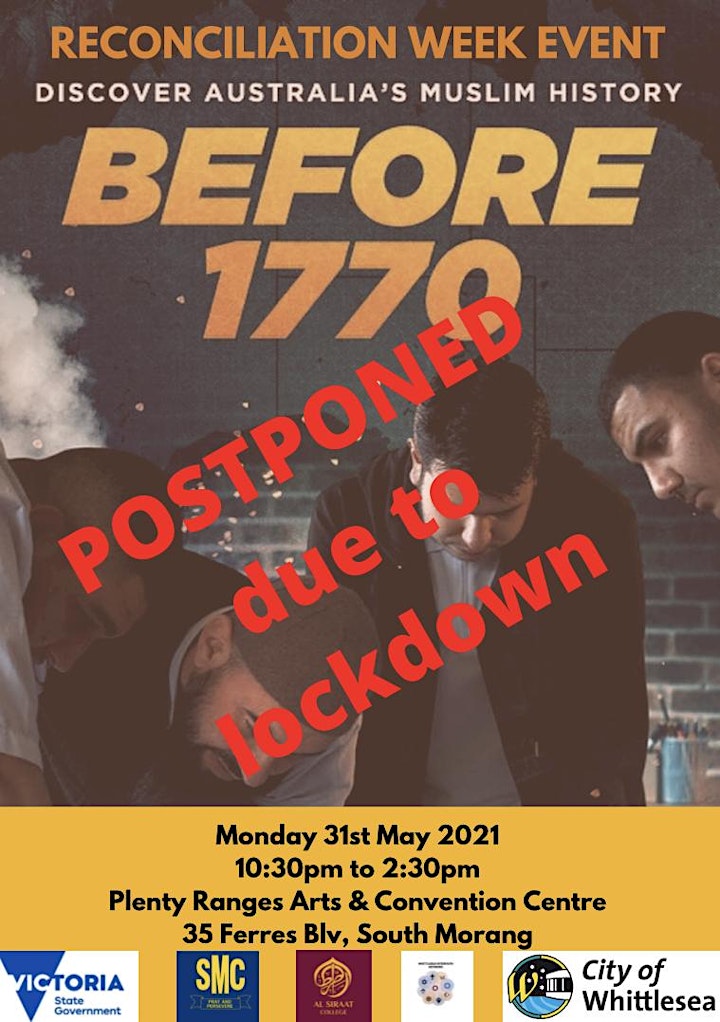 Organiser of POSTPONED!! Reconciliation Week Event & BEFORE 1770 Screening at PRACC
Al Siraat College is a co-educational independant Australian School in the Islamic Tradition offering classes from foundation through to year 12.  Established in 2009, Al Siraat College strives to be a transformative school community devoted to holistic education.  
Al Siraat College supports and promotes the principles and practice of Australian Democracy, including a commitment to: elected Government; the rule of law; equal rights for all before the law; freedom of religion; freedom of speech and association and the values of openness and tolerance.