Join us for this unique fundraising event - a scarf design workshop with local design legend Susan Dimasi.
About this event
***POSTPONED - New date to be announced***
Help raise funds for Duldig Studio in style with this exclusive design workshop with Material by Product's creative director and founder Susan Dimasi.
Are you frustrated that your clothes don't reflect your creative spirit? Do you feel that your style lingers in the background, even when you want to shine and celebrate special milestones? If you answered 'yes!', this is the workshop for you.
Drawing on your own collection of special keepsakes and items from the Duldig Collection and using an app on your mobile phone camera, this workshop enables you to design a unique scarf that expresses who you are. Join this workshop and boost your personal process of invention and expression, in the spirit of the woman inventor whose house we will create in, Slawa Duldig.
Scarves will be designed by participants, completed in collaboration with Susan Dimasi, creative director of Material by Product.
Time and date: Postponed, new date TBC
Tickets: $250, including a glass of sparkling wine, refreshments, a tour of the museum and your own custom-designed scarf
About Susan Dimasi:
Susan Dimasi is a fashion designer and artisan noted in Australian history through exhibitions and publications by the NGV. She has over 20yrs of expertise in delivering custom and bespoke solutions for unique women including international pop star Bjork and RBA board members.
Susan draws on her depth of experience to specialise in helping women entrepreneurs make their outside match their inside in a way that goes way deeper than just getting a more expensive dress. She works collaboratively with clients to draw on history, politics and sustainability principles to bring each individual's unique aesthetic into the foreground.
In this workshop Susan will help assemble an insanely powerful tool kit for dress that sets you on a path to never having to go shopping again while getting the results you've always imagined yourself enjoying with your success.
Image below: Susan Dimasi (on left) at Duldig Studio's 'Creative Women in Conversation' event.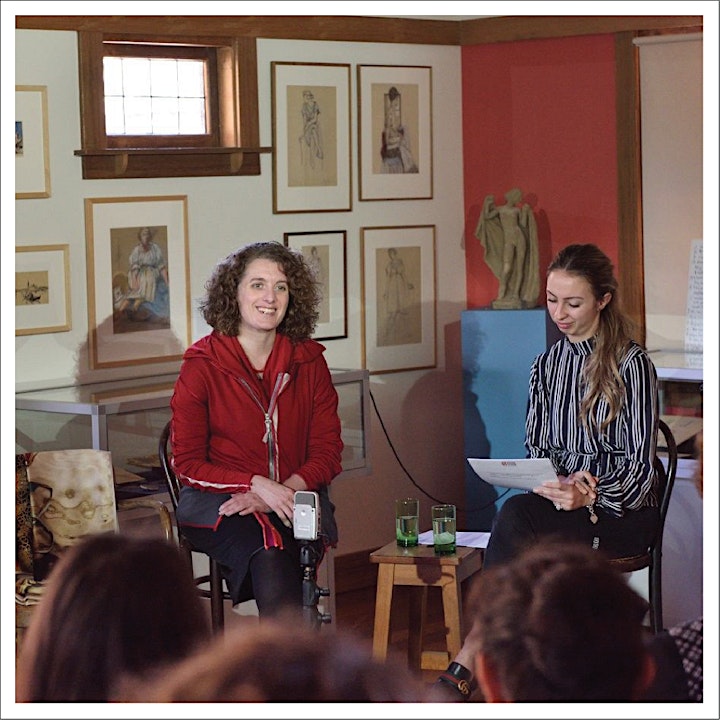 Organiser of *Postponed* Exclusive fundraising scarf design workshop with Susan Dimasi