Location
Reclaimed Factory
2 Chelmsford St
Kensington, VIC 3031
Australia
Beat Repeat returns to Melbourne for a Reclaimed Factory Rave. See You Soon .....
About this event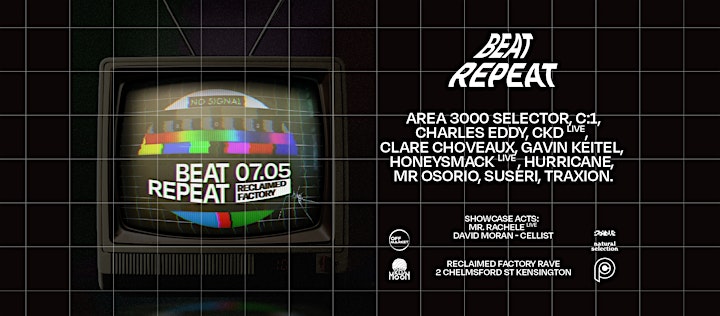 ▷ Live acts, electronic music & performative art
▷ Under 5kms from the CBD in the inner west
▷ Industrial warehouse space with 2 stages (indoor & outdoor)
▷ Market stalls & chill out space
▷ 90's rave acts paired with modern emerging rave acts
▷ Local street eats legends cooking and selling food on premise
▷ Community focused
▷ WHAT IS BEAT REPEAT ?
The rave movement created a communal rejection of ideologies pushed on what electronic music culture should be confined to. Exclusivity went out the window and DIY parties soared in regularity and popularity. Beat Repeat is here to deliver you the knowledge and culture that was around in abundance during the peak rave decade that was the 1990's.
▷ THE LOCATION (Coordinates -37.7975431317,144.932799339)
Off the back of our 2021 Street Rave, we set our sights on the infamous warehouse rave for chapter 2. The underground buzz of warehouse raves was loud in the 90's, with coordinates dropped via word of mouth and 2hr trips by foot to rock up at a smoke leaking door that excites and frightens you all at the same time. We took one look at the industrial district in Kensington and knew we'd found our next home, where you can feel at home.
▷ THE LINEUP
Gavin Keitel (SSU)
Honeysmack (live)
CKD (live)
Suseri
C:1
Traxion
Mr Osorio
Hurricane
Charles Eddy
Clare Choveaux
Area 3000 Selector
Mr. Rachele (live)
David Moran - Classical Cellist (live)
▷ TICKETS ON SALE NOW
Beat Repeat acknowledges the Traditional Custodians of the land of Australia, and pay respect to all Elders - past, present and emerging.
IG: @beatrepeatmelbourne
www.beatrepeatmelbourne.com