Description
Postcards
Peter Sculthorpe (1929-2014): Tabuh tabuhan (1968) for flute, oboe, clarinet, horn, bassoon and percussion
Ernest Bloch (1880-1959): Paysages (1925) for string quartet
Miguel del Aguila (b 1957): Salon Buenos Aires Op.84 (2005)
Pyotr Il'yich Tchaikovsky (1840-1893): Souvenir de Florence Op.70 (1890) for string sextet
Around the world in 80 minutes! The Ensemble will be sending postcards from Bali in Peter Sculthorpe's wonderful work for wind quintet and percussion Tabuh Tabuhan, as well as the streetscapes of Argentina in Miguel del Aguila's rhythmically-charged Salon Buenos Aires via more tranquil journeys with subtle Jewish inflections in Ernst Bloch's Paysages. The season ends on a festive note with Tchaikovsky's glorious string sextet Souvenir de Florence.
---

Music has the power to propel us to unimagined places and transport us to many states through myriad emotions. To this end our 2017 season, Voyages, ventures through a diverse array of such musical excursions, establishing a strong sense of place while enjoying the local colours and flavours of music from particular national schools. Our season of voyages moves through Russian folklore,sweeping us on to the New World and delights of America, and delving into the sounds of the cinema screen. We are immersed in Fantasy and Variation with quintets of Vine, Nielsen and Mozart, and the titanic Schubert Octet, concluding our year's travels with a sequence of postcards from exotic destinations, ending back in Europe with Tchaikovsky's Souvenir de Florence.
Join us in setting sail on our exciting musical Voyages in 2017.
---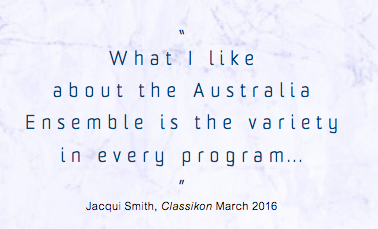 ---




---