Location
Diskin Life
181 Victoria Parade
Melbourne, VIC 3000
Australia
Description
How to make success a reality through your thoughts
Attendee Benefits:
Improve communication and connection with others through learning the importance of body language


Improved results through thinking positively

Increase awareness to identify and leverage opportunities for growth and attract success

Overcome stress and challenges such as procrastination and overwhelm

Be the leader to inspire yourself and others to success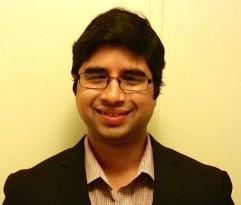 Arpan Roy
Arpan's purpose as a leader is to inspire others to realise their peak potential.
He has a corporate background with proven experience of leading teams of 20 or more spread across multiple locations. Arpan has extensive experience in managing team dynamics, analysing and solving problems, and mentoring team members to make them better leaders. He also has detailed experience in running and facilitating workshops to enable various stakeholders to reach their desired outcomes.
During his corporate career, Arpan recognised the value of leadership and the satisfaction he got by inspiring others to perform at their highest potential. This inspired him to start his business in Leadership Consultancy and Training called Arman Consultancy. Through his business, he collaborates with leaders in business to define productivity and profit and achieve accelerated business growth. Some of the key problems he addresses for his clients is lack of team engagement, low productivity, culture of reactive thinking within the team, and lack of clarity on how to inspire the team to realise their potential and seek growth. In addition, Arpan helps his clients enhance their personal leadership to overcome any limiting beliefs and improve their results.
Arpan specialises in various methodologies such as Values Pendulum®, Neuro- Linguistic Programming (NLP) and Deep State Repatterning®. Using these, he identifies the cause of unrealised individual performance and business growth and creates effective and sustainable models for change that empower his clients to achieve the desired results.
In addition to his corporate background, Arpan is also an MBA graduate, and has detailed understanding of key business functions, which enables him to assist his clients more effectively.