Sales Have Ended
Ticket sales have ended
Please contact us about dietary requirements
Sales Have Ended
Ticket sales have ended
Please contact us about dietary requirements
The Confidence to Speak As Others Do Presentation skills training for people who want to double their confidence.
About this event
It is possible to double your confidence and enjoy speaking from the front of the room. After all, others can do it so why shouldn't you?
The secret to being engaging from the front of the room is to focus on the areas of speaker, message and audience. When you do this, you build a connection with your audience in a manner congruent with what you believe and a currency the audience cares about.
Focusing on the speaker gives you the confidence to control any nerves.
Focusing on message gives you the structures to create engaging presentations.
Focusing on the audience gives you the framework to tailor your message to those in the room.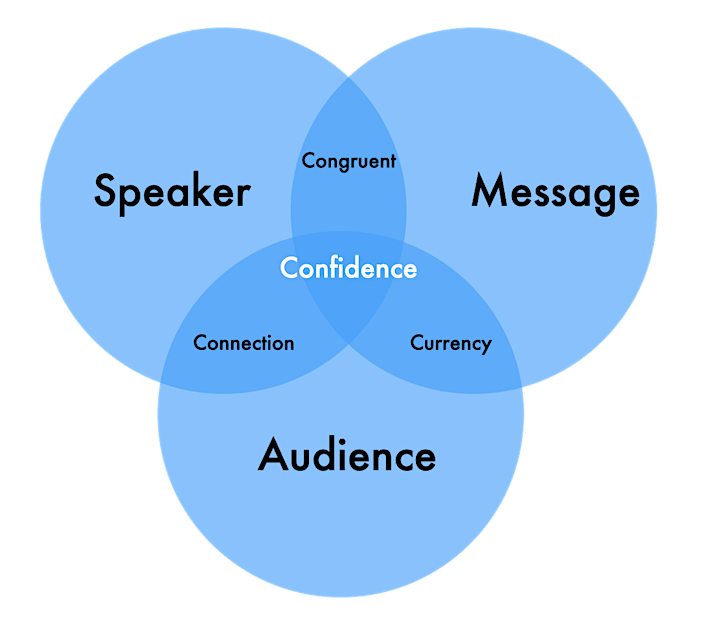 What This Program Will Give You:
Graduates of my program tell me they have doubled their confidence in their ability to speak from the front of the room. They also report:
The confidence to stop reading PowerPoint slides
Structures to create engaging presentations
A proven process to eliminate nerves
The confidence to speak up in meetings
The ability to go for that next job
The skills to present at conferences
A feeling of calm and control before speaking
An ability to articulate their message in a way that others 'just get it'.
And much much more.
How the Program Works
Taking advantage of online technologies, this program is delivered in a combination of face-to-face and online learning.
Day 1 is face-to-face with a maximum of 7 other people. I'll step you through the Speaker, Message, Audience methodology so you can speak with confidence you have always wanted.
At the end of the day you'll deliver a presentation with confidence and ease (yes you can, I've seen lots of people like you do it!)
Day 7 is live online, one-on-one coaching. We'll Zoom together and watch a recording of your Day 1 presentation. This is a deep and powerful session. You'll see your strengths so you can keep growing them, and I'll coach you through any other issues you have.
This is a great opportunity to ask questions without anyone else listening in.
Online Knowledge Nudges. From day 30 I'll send you monthly Knowledge Nudges. These short videos (less than 90 seconds) will refresh the content so it remains front-of-mind. I'll send the Nudge to you as a video, audio and text for ease of consumption.
Live online webinar. Every 6 months I conduct live online webinars, and as a graduate of my program, you will be offered a ticket. These webinars refresh the content we covered in the training. I also introduce my latest thinking on how you can build more confidence. There is always a lively Q&A at the end of these sessions that you can join.
Graduates Love This Program
Paul Ross - Resimac
Darren showed me how to bring boring data to life so people want to listen. They can now see what I see! AWESOME!!!
Katie Scott - NSW State Manager OBS
I now have greater awareness when I'm speaking and how to engage and influence the room.
Thanks Darren
Dr Adrian Tramontana - Western Hospital Footscray