Portraits of Practice: At Work in Architecture

Friday, 10 July 2015 from 6:00 pm to 8:00 pm (AEST)
Event Details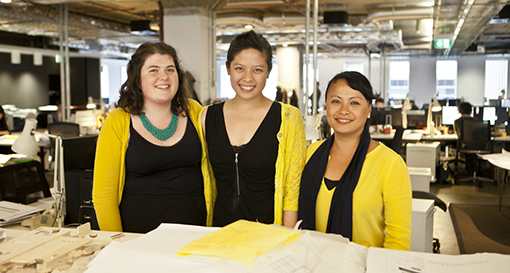 OFFICIAL OPENING NIGHT: FRIDAY 10 JULY, 6PM
Portraits of Practice: At Work in Architecture
Exhibition Dates: 10 July - 11 September 2015
Tuesday to Friday,  11am - 5pm
This exhibition honours women's contribution to architecture. It is presented by activist and advocate group Parlour: women, equity, architecture.
See their research come to life through two photographic series, which document architects and architectural workplaces.
Parlour Inc, a fast-growing, not-for-profit organisation that promotes gender equity in the architecture industry, will hold its first Sydney event here at the Faculty of Architecture, Design and Planning, University of Sydney.
The Tin Sheds Gallery will stage a photographic exhibition by Parlour, which captures women architects and the architectural workplaces of three major Sydney practices over a single day. A second series playfully examines visual markers of professional identity in architecture – exploring what an architect looks like.
For nearly three decades now, the proportion of female students graduating in architecture has been around 44%. Yet women represent only 21% of registered architects, suggesting that greater industry support for women architects is long overdue.
University of Sydney's Associate Professor Lee Stickells said: "We see many talented female graduates coming out of our Faculty.  While I also see many of our alumni enjoying continued success, career pathways for women architects could be substantially improved.  So this is an important initiative to support University of Sydney graduates and the industry for the long term."
Parlour developed from the ARC-funded research project 'Equity and Diversity in the Australian Architecture Profession: Women, Work and Leadership (2011–2014)', led by University of Queensland's Dr Naomi Stead, to investigate the low number of women progressing through the industry.
"Following our research, we saw the need to provide a space for women to speak, network and celebrate their work in architecture. We need to encourage all those working in the profession to exchange experiences and share constructive ideas for best work practices. This will support women coming through the industry, as well as make a better work experience for men in architecture," said Dr Naomi Stead.
Parlour co-founder and editor, Justine Clark, says that they have created strong online networks across Australia and internationally and are now delighted to be holding their first Sydney event.
"There is a thriving, online community of activists who are working towards greater equity for women in the Australian architecture profession. The exhibition is an important contribution to this, and provides a different view of the research that will help develop networks in Sydney.
The photographic exhibition Portraits of Practice: At Work in Architecture features around 300 images of women in the Sydney offices of Bates Smart, BVN Architecture and PTW Architects.
"It creates an interesting picture of women at work in architecture, working to increase their visibility, celebrate their achievements, and shift industry thinking to greater support of career pathways for women in practice," said Justine Clark.
Naomi Stead adds: "It gives visitors, including future architects, a better sense of what architectural work entails and offers a more realistic portrait of everyday life in an architectural office. It also shows positive female role models in the industry today."
The exhibition includes a second series of photographs that captured almost 100 delegates at the 2010 national conference of the Australian Institute of Architects. This series shows that practitioners are more diverse than the popular perception of a male-dominated industry, challenging stereotypes and clichés about who can be an architect.
Portraits of Practice: At Work in Architecture opens at Tin Sheds Gallery on 10 July and runs until 11 September. A series of talks and forums will be held during the exhibition's showing in Sydney. 
The exhibition is curated and designed by Naomi Stead (University of Queensland), Maryam Gusheh (University of NSW), Justine Clark, Fiona Young (BVN), Gill Matthewson (University of Queensland) and Catherine Griffiths.
When & Where

Tin Sheds Gallery
148 City Road
Darlington, NSW 2008
Australia

Friday, 10 July 2015 from 6:00 pm to 8:00 pm (AEST)
Add to my calendar