PORTABLE PRESENTS Susie Bubble Brisbane

Friday, April 27, 2012 from 3:00 PM to 5:00 PM (AEST)
Event Details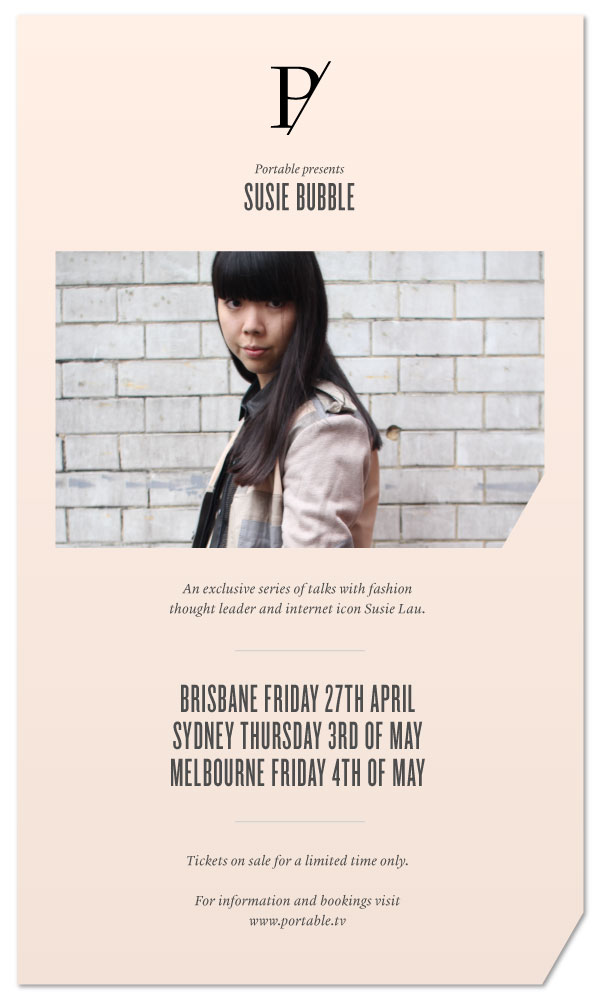 Portable is proud to present an exclusive series of talks with fashion thought leader and internet icon, Susie Lau.

London based Susie Lau pioneered the fashion blogging revolution in 2006 with the launch of her blog Style Bubble. Her daily posts featuring a highly articulate and intelligent approach to fashion trends, quickly caught the attention of the New York Times and the The Guardian, which helped to establish her as the leading voice in fashion blogging internationally.

Since then, Susie has cemented her place as one of the world's leading online fashion icons. Style Bubble is one of the most highly trafficked fashion blogs on the web and her expert knowledge of online publishing has landed her at the door of the world's biggest brands, helping the likes of Prada, Dior and Top Shop to become relevant online.

In this exclusive series of talks presented by Portable in Australia, Susie will explore the current fashion landscape in 2012, identifying how fashion designers and retail brands can position themselves globally by working with online publishers, bloggers and social media channels to create real connections with audiences. She will also speak generally on her trajectory as a professional blogger, exploring the challenges that all online publishers face in connecting with readers and creating an authentic voice in the noisy world of social media.

This is a must see event for anyone actively working within fashion, retails and online publishing. The is suited to creative professionals working within a wide variety of media related industries including online publishing, sales, brand management, public relations and technology. It consists of a keynote presentation and Q&A, followed by networking drinks after the event. Events will take place in Brisbane, Sydney and Melbourne and will coincide with Australian Fashion Week.

Portable Talks Brisbane will be held on Friday 27th of April at The Edge, State Library of Queensland.
The Portable Presents series tours the biggest influencers from the digital and creative spaces, and aims to foster innovation and risk taking in business. Running since 2006, Portable has toured Scott Belsky, Soraya Darabi of Foodspotting.com, Refinery29, YouTube Next Labs, Threadless and the very first internet phenomenon, LonelyGirl15.

Tickets for Portable presents Frank Chimero are also on sale now.

For more information please contact Madeleine Gasparinatos on +61 2 8212 4547 or email maddie@portable.tv



When & Where

The Edge - State Library of QLD
Stanley Place
South Brisbane, Queensland 4101
Australia

Friday, April 27, 2012 from 3:00 PM to 5:00 PM (AEST)
Add to my calendar
Organizer
Portable is an innovation and design company proudly based in Melbourne, Australia.

For over a decade, our purpose has has been clear and consistent: to use advances in design and digital technology to dramatically transform the lives of citizens and the wider public.
We respect the privacy of our community. By registering for an event you are consenting to your details being collected by us and any event partners. You are also consenting to receiving future email communications from us and any event partners. This information will not be shared with any third parties.
If you have any questions or concerns about our privacy policy, please get in touch at info@portable.com.au