Description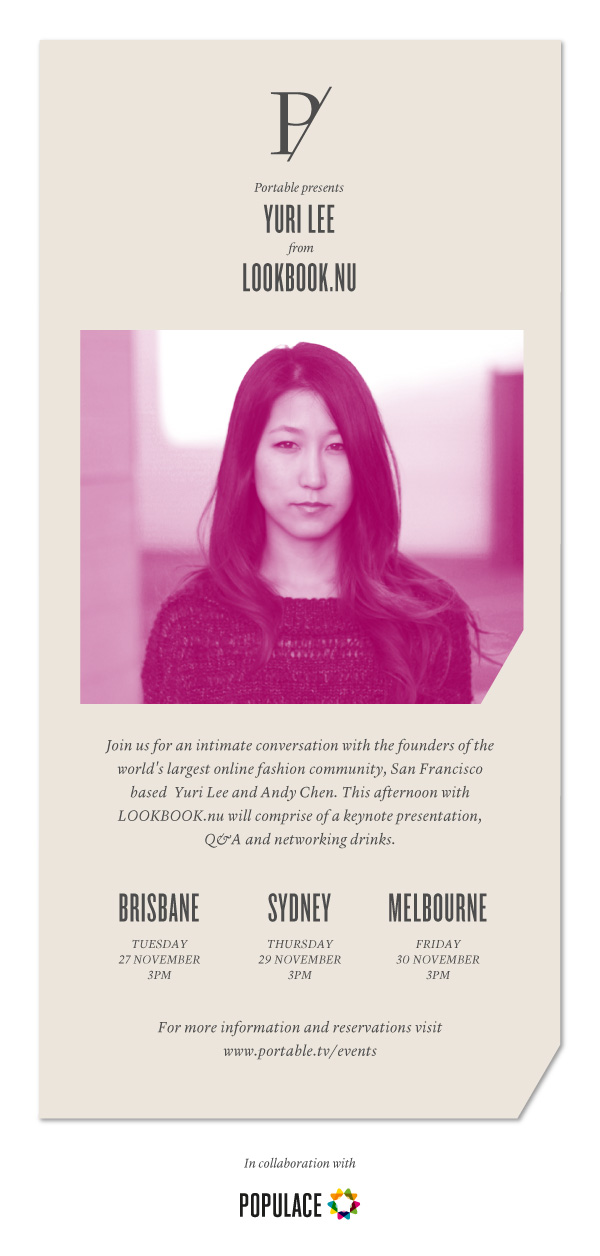 Portable is proud to present Yuri Lee, founder of one the fastest growing and most influential fashion and style platforms on the internet. Launched in San Francisco in 2008, LOOKBOOK.nu is today used by thousands of stylists, photographers, designers and fashion editors to shape and inform the global fashion industry.

Whether it's A.P.C., Helmut Lang, Phillip Lim or Acne, LOOKBOOK.nu provides brands and professionals with an instantaneous stream of style inspiration generated by over 4.4 million people every month. As founder and creative director, Yuri oversees the entire editorial process and is first to spot and share emerging trends in street style, beauty and fashion photography. She has emerged as one of the most informed and articulate individual in fashion and style trends online.

As part of a series of talks for Portable, Yuri will talk through the current and future evolution of online fashion, while articulating the latest trends that are shaping the world of fashion today and in 2013.

This is a must see event for anyone working professionally in fashion, styling, photography or design related industries and a rare opportunity into the workings of one of the most successful fashion platforms online.

Presented as an intimate conversation the event consists of a keynote presentation, Q&A and includes networking drinks. Events will take place in Brisbane, Melbourne and Sydney.
Tickets are on sale now.

Please note that previous tours have sold out so book early to avoid disappointment.
MELBOURNE
Friday 30 November, 3-6pm (including Q&A and drinks)
ACMI (Australian Centre of the Moving Image), Federation Square

The Portable Presents series tours the biggest influencers in the digital and creative spaces and aims to foster innovation and risktaking in creative professions. Running since 2006, Portable has toured influential speakers from a range of industries including Kirby Ferguson (film), Susie Bubble (fashion) Frank Chimero (design), Scott Belsky (design), Refinery29 (fashion), Cool Hunting (trends), Refinery29 (fashion) and many more including the very first internet phenomenon, LonelyGirl15.

For more information on sponsorship and media opportunities, please contact Madeleine Gasparinatos on +61 2 8212 4547 or maddie@portable.tv.

This event is presented in conjunction with POPULACE.
Organizer of Portable Presents LOOKBOOK.nu - Melbourne
Portable is an innovation and design company proudly based in Melbourne, Australia.

For over a decade, our purpose has has been clear and consistent: to use advances in design and digital technology to dramatically transform the lives of citizens and the wider public.
We respect the privacy of our community. By registering for an event you are consenting to your details being collected by us and any event partners. You are also consenting to receiving future email communications from us and any event partners. This information will not be shared with any third parties.
If you have any questions or concerns about our privacy policy, please get in touch at info@portable.com.au