Description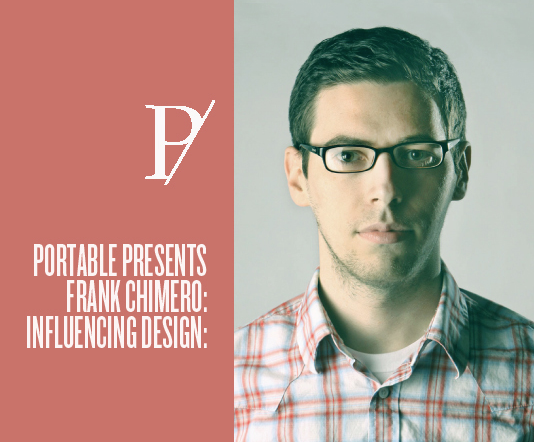 This June, Portable is proud to present Frank Chimero, one of America's most influential thinkers in the design industry.

Based in New York, Frank Chimero is one of America's preeminent thought leaders on design theory, practice and culture. He has worked as a designer, illustrator and strategist for brands such as the New York Times, Facebook and WIRED and his recent book The Shape of Design explores the notion that logic may not always to be the best way to solve design problems. His work often employs symbolism, concepts and storytelling simultaneously, creating pieces that both delight and provoke thought.

In this series of talks presented for Portable in Australia, Frank will explore and reveal his innate understanding of design and its role within larger systems, discussing the patterns of good design, choices that we make in design and how it can influence change.

The series is suited to creative professionals working within a wide variety of design related industries including graphic design, web design, fashion, technology and industrial design. It consists of a keynote presentation, Q&A, along with networking drinks after the event. Events will take place in Brisbane, Sydney and Melbourne.

Please note previous tours have sold out so take advantage of early bird tickets to avoid disappointment.

Portable Presents Brisbane will be held at The Edge, State Library of Queensland on Tuesday 5 June, 3pm.
The Portable Presents series tours the biggest influencers from the digital and creative spaces, and aims to foster innovation and risk taking in business. Running since 2006, Portable has toured Scott Belsky, Soraya Darabi of Foodspotting.com, Refinery29, 99designs, Halfbrick, YouTube Next Labs, Threadless and the very first internet phenomenon, LonelyGirl15.

For more information contact Madeleine Gasparinatos on +61 2 8212 4547 or email maddie@portable.tv