Description
POLY AT POLLY
Curious about open relationships, polyamory and swinging? Do you want to meet new lovers or friends, or learn from experienced poly people? Come mingle with likeminded others in a sumptuous, relaxed and private environment.
A meet and greet social event with a twist - Poly at Polly.
When: Thursday 28th March, 7.30pm until late.
Where: Polly Bar, 401 Brunswick Street, Fitzroy.
Entry: $20 including a free beer or glass of wine*. Tickets are limited to 120, and, to ensure discretion, only available online.
---
This month we have a couple of intriguingly sensual and beautifully kinky performances to share with you all.
We are so excited to introduce you to the highly respected and exceptionally talented, provocative and unique performances of Mama Boho (IG @NelMamaBoho) and Tonié Field (IG @toniéfield). Together they are bringing their intricately and intimately beautiful performance of BaroqueErotique to the Polly Bar. Entering the room in their personally hand-crafted baroque costumes they will amaze the Poly at Polly crowd as they sensually and gracefully glide through the bar immersed in the erotic connection of their intimate strip-tease.
---
Tonié Fields is a highly innovative and captivating non-binary gendered ARIA award-winning feminist performer, producer, model and guitarist who fiercely challenges stereotypes of gender and conservative performance practices. Hir awards include multiple international prizes for hir guitar performing and collaborations. Hir blend of social activism melding musical genres into queer narrative settings using burlesque theatricality, visual drama, movement, gender and fashion has forged Tonié a career as one of the most multifaceted artists you will encounter.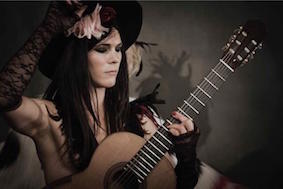 Photo credit: World of Claude
---
Mama Boho describes herself as a transgressive, exotic bogan, slutty non-confirming upstart who births art from her c_nt. She is breathtaking, raw, hilarious and indefinably unique. This queer feminist, intersectional Actorvist, Poet takes nothing less than everything, giving back excruciating pleasure peppered with glorious pain.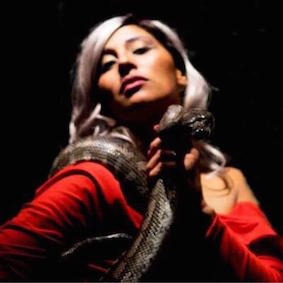 Photo credit: Suzanne Pheonix @photospunctuatemylife
---
With a lush, elegant interior that channels the Moulin Rouge in Paris—think red velvet, moody lighting, and vintage burlesque styling—Polly Bar is Melbourne's most well-known cocktail bar. Choose from their expansive range of cocktails, absinthe and cigars, or challenge the bartenders and design your own drink: "No request is too hard," they claim.
PolyFinda events info
Please remember these are social events and we are a consent-based community, which means always verbally asking an individual for their consent before initiating any form of physical touch. Whether it be a hug, kiss or even a touch on the arm—always ask first.
While most of our members are aged between 25-40, all people aged over 18 are welcome.We welcome all sexual identities and sexual preferences, but, as our ticketing system tries to support a balanced attendance of males, females and other identities —we have to warn you that some ticket-types sell out fast!
This is a meet and greet 'non-play' event.
Don't forget the small-print:
* Free drink is for those in the door by 9.00pm.
Please make sure you've purchased the correct ticket as we cannot grant you entry without it.
Tickets are not available for purchase at the door.
Tickets can be scanned straight from your phone or from a printout.
Contact admin@polyfinda.com at www.polyfinda.com for more information.
Event Photo credit: Ivan Kemp