Description
Aerial Performance this Poly at Polly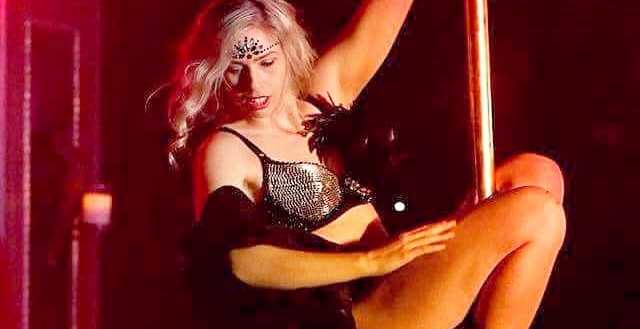 We're thrilled to announce that aerial performer, Elina Skye, and friends will be performing exclusively for us at the next Poly at Polly!
Connect with likeminded poly-curious others as Elina and friends, twirl and invert on poles and perform an intriguing celebration of burlesque, athleticism and eroticism.
Entry: $15—online only—including a free beer or glass of wine before 9pm.
With a lush, elegant interior that channels the Moulin Rouge in Paris—think red velvet, moody lighting, and vintage burlesque styling—Polly Bar is Melbourne's most well-known cocktail bar. Choose from their expansive range of cocktails, absinthe and cigars, or challenge the bartenders and design your own drink: "No request is too hard," they claim.
Downstairs, the lights and music are low—perfect for connecting with new poly pals. Enjoy a cocktail and a conversation with others—like you—who are curious about an ethically non-monogamous lifestyle.
Upstairs, at The Roy, the smoke machine is on, the lasers lights are firing, and the music is louder. It's time to dance, kick back and get close in a discrete, fun and laid-back space.
But don't forget: we are a consent-based community, which means always verbally asking an individual for their consent before initiating any form of physical touch. Whether it be a hug, kiss or even a touch on the arm—always ask first.
While most of our members are aged between 25-40, all people aged over 18 are welcome.We welcome all sexual identities and sexual preferences, but, as our ticking system ensures a balanced attendance of males and females—we have to warn you that some ticket-types sell out fast!
This is a meet and greet 'non-play' event.
Don't forget the small-print:
* Free drink is for those in the door by 9.00pm.

Please make sure you've purchased the correct ticket as we cannot grant you entry without it.

Tickets are not available for purchase at the door.

Tickets can be scanned straight from your phone or from a printout.

Contact admin@polyfinda.com at

www.polyfinda.com

for more information.