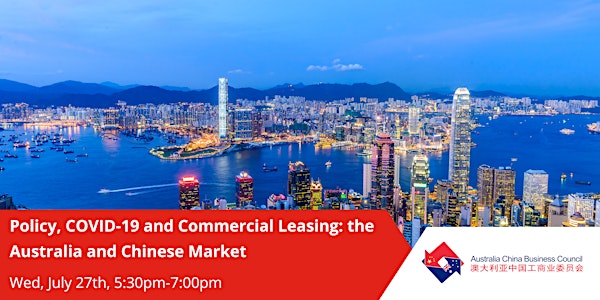 Policy, COVID-19, and Commercial Leasing: Australia and Chinese Markets
Location
Franklin Shanks
283-285 Clarence Street
#Level 5
Sydney, NSW 2000
Australia
An event on the leasing market between China and Australia, including the difference in commercial leasing activities and current trends.
About this event
About
This event is an exciting opportunity to learn all about the different leasing markets in Australia and China. It will cover what is happening in the market, specifically Asian businesses in Australia, different leasing processes and practices between Australia and China, different policies and institutions including the Australian FIRB and the Chinese Industry and Commerce Bureau, as well as the impact of COVID on things such as vacancies and market rates.
Date: Wednesday, 27th July 2022
Time: 5:30pm-7:00pm
Format: Drinks and canapés will be provided after a presentation and Q&A.
Cost: $30 (ACBC Members), $70 (General Admission)
Franklin Shanks
Franklin Shanks is a boutique tenant advisory and tenant representation with offices in Sydney, Singapore and Hong Kong, helping our global clients across Australia, New Zealand, Hong Kong, Singapore, the US and Asia procure the right commercial real estate for their current and future needs.
Their team of highly skilled professionals have taken their 'big firm' and industry experience and created a bespoke company that challenges market norms. They have spent years building relationships with property owners and their agents to ensure their clients are put first and benefit from a solid ongoing partnership following the completion of the project.
In a world of increasing globalisation and consolidation of real estate service providers, Franklin Shanks has aggressively maintained its independence. They don't act for landlords, and they don't manage buildings - they simply represent occupiers all day, every day.
Speakers:

Mike Franklin: Co-Founder
Mike Franklin is passionate about providing conflict-free, innovative and highly professional real estate advice to commercial and industrial occupiers. With over 30 years tenant advisory and tenant representation experience in Australian and overseas markets Mike has seen every twist and turn conceivable in commercial real estate and technology, allowing him to counsel his clients about trends and long-term vision. Occupier-focused advisory and transactional services have been Mike's specialty throughout his career.
As a qualified Chartered Surveyor, Mike worked for many years at Director level for larger, multi-national real estate service providers and identified a growing need for truly independent corporate real estate advice. Leading to the launch of Franklin Property Consulting in 2011. In 2014, to service the needs of a wide range of multi-national clients and to provide a comprehensive advisory service, Franklin Property Consulting and Chapman Shanks merged to create Franklin Shanks.

Kyle Hutchin: Director
One of the best things about a global career over the past 14 years has been the opportunity to work with clients in multiple industries and markets across 5 continents. As a result, Kyle believe it is crucial to understand the business model at an operational as well as a local and global market level in order to drive actionable insights about real estate via data-driven analytics and hands-on observations.
As a tenant-only advisor at Franklin Shanks, whether it's a transaction or a more complex question around how client's property aligns with their business strategy, his ultimate aim is always to be viewed as a trusted business partner.

Nathan Wang: Associate
Throughout Nathan's university studies and work experience, he has learned how important communication is. Nathan came to Sydney back in July 2016 to pursue a Master's Degree in Property Development at Western Sydney University. He completed his undergraduate studies in Supply Chain Management at Iowa State University, after moving to the USA at age 18.
With Nathan's background, he has a firm understanding of different cultures and is able to communicate well across multiple cultures and backgrounds.