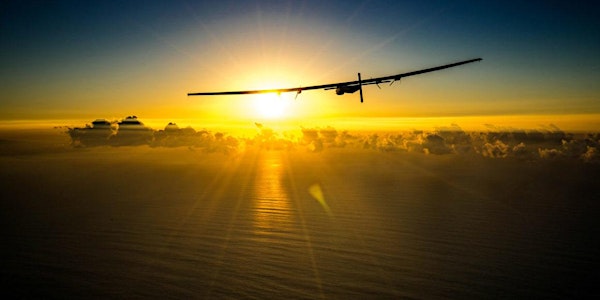 Point of No Return Film Screening and Panel Discussion
Location
The Joinery
111 Franklin Street
Adelaide, SA 5000
Australia
Description
Hosted by The Adelaide Sustainability Center, curated by Transitions Film Festival.
Your ticket price will be donated to Solar Citizens. https://www.solarcitizens.org.au/
Full schedule of films at https://www.transitionsfilmfestival.com/conservationsa/

POINT OF NO RETURN
Point of No Return takes you behind the headlines of the first ever solar-powered flight around the world — where two courageous pilots take turns battling nature, their own crew, and sometimes logic itself, to achieve the impossible. Not just to make history, but to inspire a revolution.
Thirteen years ago, Bertrand Piccard and André Borschberg began building what many experts said was impossible — a solar-powered aeroplane capable of flying day and night.
With the wingspan of a 747 jet and the weight of a car, Solar Impulse is extremely fragile. High winds or turbulence can snap the wings in two. But the dangerous and historic trip tests more than their technology. In an unheated, unpressurized cockpit, the solo flight across the Pacific Ocean becomes a feat of endurance unlike any other in history.
Technical failures, unplanned landings, and stormy weather put the entire mission in jeopardy and drain the spirits of the team. To succeed, both Bertrand, a psychiatrist and balloonist, and André, an engineer and jet fighter pilot, must set aside their differences and go against the advice of their crew.
Point of No Return explores what it takes to do something truly groundbreaking, and documents how their journey captivated people around the world.
It's a story of hope, courage, and perseverance that gets to the heart of what it will take to solve the biggest environmental threat humans have ever faced.
CLASSIFICATION: Restricted to persons aged 15 and over unless accompanied by an adult
Film followed by panel discussion with:
Mic Chapman, Owner of Micycles and TREV solar car racer Moscow to Switzerland
James Ward, Environmental Engineer - School of Natural & Built Environments, UniSA
Cathryn Hamilton, Renew (formerly Alternative Technology Assoc) and environmental and planning consultant
Seating at The Joinery is limited to 100 persons.
You are welcome to independently adjourn to the Franklin Hotel across the street for informal post-movie discussions.
We acknowledge the Kaurna People, Traditional Owners of the Adelaide Plains.
Made possible through funding from the Adelaide and Mount Lofty Ranges Natural Resource Management Board, with Conservation SA.