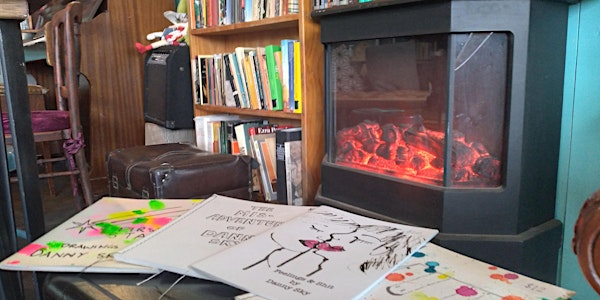 Poetry & Song Feat: Danny Sky, Immi Pokes, EJ & Florentina Pergoleto
Event Information
Location
Garden Lounge Creative Space
573 King Street
Newtown, NSW 2042
Australia
Refund policy
Contact the organiser to request a refund.
Eventbrite's fee is nonrefundable.
Live music and poetry featuring several guest performers and an open mic section
About this event
Join us for an evening of live poetry and music featuring special guest performers Danny Sky, Immi Pokes, EJ & Florentina Pergoleto. Open mic performers are welcome and encouraged to arrive early for sign up.
As always this event is free and open to all people of all ages.
Given current space limitations, you can pre-book a seat for $5 to guarantee yourself a spot inside for the show.
We are currently limited to 20 people in the building at any time. There is room on the footpath for additional audience members and our rear courtyard accommodates up to 6 more.
About the performers:
Florentina Pergoleto
Florentina is an artist and musician, living and loving on unceded Gadigal land. They play a mixture of original songs about masturbating, love and dinosaurs and will also serenade you with some covers.
EJ
EJ is a multidisciplinary artist living on stolen Eora land. They make work about moving through different spaces and sing covers of their favourite songs. They are the number one backing vocalist at Critter Cottage.
Immi Pokes
Immi Pokes is an artist living on stolen Gadigal-Wangal country. They make music about sex, revolution and that feeling when you crave jumping in a forest river but live in the city, without a driver's licence, all sung and written in an alt/folk/punk kinda way.
Danny Sky
Danny is an artist and poet who has had her heart broken so many times, she knows how to put it back together with her eyes closed. Words help the mending so she writes poetry about love, pain and her dog.
Statement on COVID-19 safety
Please note the following conditions of entry:
* Anyone with signs of COVID-19 symptoms will be refused entry
* Everyone must sign in before entering the premises (various methods available)
* All customers and staff aged 16 and over must be fully vaccinated and carry proof of vaccination
* All customers under 16 years of age must be accompanied by a member of their household who is fully vaccinated
* all customers and public-facing staff must wear proper masks indoors unless carrying proof of medical exemption. Masks may be removed for eating, drinking or to ensure you are understood
* Drinking alcohol indoors while standing is prohibited
* Singing is only permitted for designated performers (max 2 people at one time)
Garden Lounge takes the current health epidemic very seriously and we have implemented the following actions to minimise the risk of contagion:
* All staff are washing their hands frequently throughout the day and disinfecting tables, chairs, arcade machines, books etc on a rolling routine
* Customers are asked to use our hand sanitiser or handwashing station (near the counter) on arrival
* Our shop decor has been rearranged to maximise distance between individuals and increase the total seating space available
* Our concertina front windows and doors are ALWAYS open, as is the back door, so punters can listen and watch performances without remaining in the main room
* The microphone, guitar and piano are disinfected every time someone uses them
* We are making surgical masks and hand sanitsiser freely available for all to use (subject to supply)
* Customers feeling ill or displaying signs of illness are asked to stay home.
* Staff suffering any symptoms of illness will be sent home (with sick pay)
* Our COVID-SAFE plan includes a nominated Covid marshall onsite for events to ensure social distancing both in the venue and on the footpath outside.
* Any audience, staff or performers who disregard the safety of others will be asked to leave
Date and time
Location
Garden Lounge Creative Space
573 King Street
Newtown, NSW 2042
Australia
Refund policy
Contact the organiser to request a refund.
Eventbrite's fee is nonrefundable.