Description
Podcasts are not new – but in the wake of breakthrough series like Serial, they've never been hotter. Now it seems like everyone is getting on the bandwagon. So what does it take to start a podcast, and how can you adapt your existing storytelling and journalism skills to the specific quirks of podcast narratives? This workshop will explore the elements and planning required to launch a podcast, with particular focus on narrative structure and writing style. It all takes place in a relaxed discussion format, with trainer Bethany Atkinson-Quinton who is experienced at producing radio and podcasts.
The workshop will cover:
What do you need? Equipment checklist

Editing options

Setting out a budget

Setting a tone/theme – thinking about audience

Audio narrative structure

Writing for the voice

Consistency and timing

Uploading, hosting and promotion
This workshop won't include hands-on recording or editing, but rather an overview of the process of writing and making podcasts from idea to sharing the finished product.

Who should attend: Journalists and storytellers who want to learn how they might launch a podcast. No experience with audio recording or editing is required.

What you'll take away: An understanding of whether making a podcast is right for you. A plan for getting started, including a checklist for equipment and how to work with a producer. Please note this workshop will not include hands-on recording or editing.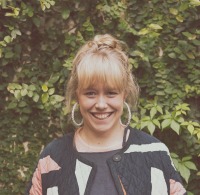 Bethany Atkinson-Quinton is a radio producer, presenter and creative audio maker based in Melbourne. Currently working across multiple audio projects for PBS, RRR, FBi and the Australian Red Cross, Beth is passionate about the power of storytelling to capture and present varied experiences and voices. Beth currently works part time at PBS as the Interviews Coordinator and a casual Radio Trainer, RRR as the Melbourne State Coordinator for storytelling radio show and podcast 'All The Best' and the Australian Red Cross as the Producer of the 'Life in Australia' podcast. She sits on the Community Broadcasting Association of Australia's Board as the Women's Representative, actively contributing to sector strategy at quarterly meetings. As a key member of the community broadcasting family in Melbourne, Beth has worked on air and behind the scenes at SYN, PBS, RRR, FBi and JOY, mentored budding radio makers and produced a podcast broadcast nationally via the Community Radio Network. She has spoken at numerous events about radio, podcasting and storytelling including giving the keynote speech at the 2015 Oral History Victoria Symposium on 'Innovation in Audio Storytelling'. Beth recently won 4 awards at the 2016 SYN Media Awards including 'Feature Of The Year' for a radio documentary exploring non-verbal communication.
This workshop is supported by our partners: