POCUS Archiving & Credentialing - Is There a Solution?
EMUGs presents this webinar series to inspire, educate and further your POCUS journey from the comfort of your home or workplace.
About this Event
EMUGs in conjunction with Fujifilm Sonosite presents...
POCUS Archiving & Credentialing - Is There a Solution?
An online panel discussion about the current issues around archiving, credentialing, reporting and billing for POCUS. What is the right workflow solution?
Moderated by Dr Vijay Manivel + guest physician panellists from Australia, New Zealand and the United States
When: Tuesday 17th November 2020
Time: 12:00pm AEDT (9:00am AWST, 2:00pm NZDT)
Duration: 90 minutes
This webinar will be recorded and the recording made available to those who are registered but unable to attend the live event.
PANELISTS FROM AROUND AUSTRALIA AND THE USA
Dr Vijay Manivel (NSW) MODERATOR
Vijay Manivel is a Sydney based Emergency Physician & Director of Emergency Ultrasound Training at Nepean Hospital and Sydney Adventist Hospital, an ultrasound enthusiast and a firm believer in bedside ultrasound being a part of clinical examination.
Vijay is also a Clinical Senior Lecturer at The University of Sydney, actively involved in teaching diagnostic & procedural ultrasound to clinicians and medical students. Vijay has also been actively engaged in research activities in the field of Emergency Ultrasound.
Stuart Nissell (USA)
Stuart Nissell is the Senior Manager of Medical Informatics at Fujifilm Sonosite. He has global responsibility for sales and implementation of Sonosite's workflow, credentialing and connectivity solutions. Stuart joined Sonosite in August of 2018 bringing with him 27 years of Healthcare IT experience. He has managed contracts, implementations and support activities at numerous large healthcare facilities for previous employers which include Cerner, Siemens and Shared Medical Systems. He has Bachelor's degrees in both Biology and Allied Health from Central Washington University.
Dr John E. Hipskind MD, FACEP (USA)
Ultrasound GME Director, Ultrasound Fellowship Director, Ultrasound Assistant Medical Director, Department of Emergency Medicine, Kaweah Delta Medical Center
Dr Justin Bowra (NSW)
Justin Bowra is an ultrasound tragic, based at Royal North Shore Hospital where he runs the POCUS special skills program with Dr Minh-Tu Duong. He is also a Professor for the Ultrasound Leadership Academy, former deputy chair of the ACEM ultrasound subcommittee, and past chair of the ASUM CCPU Committee. Justin is also a published author (Emergency Ultrasound Made Easy, Bowra and McLaughlin, 2nd ed and Point of Care Ultrasound for Emergency Medicine and Resuscitation, 1st ed) and is also a Medical Advisor to Echonous Pty Ltd. He is also the Founder and Medical Director of My Emergency Dr.
Dr Elissa Kennedy-Smith (VIC)
Elissa Kennedy-Smith is a Melbourne based Emergency Physician who works at Sandringham Hospital Emergency Department and The Royal Women's Hospital in their Early Pregnancy Assessment Service. Elissa has an avid interest in all Emergency applications of Point of Care Ultrasound, completing her CCPU in AAA, E-FAST and 1st trimester in 2012, and then going on to attain her Diploma of Diagnostic Ultrasound (Emergency) in October 2017.
Elissa enjoys teaching, especially Focused Ultrasound in the ED, and is currently the Ultrasound Lead for Emergency Medicine at Alfred Health, as well as being a Committee member for EMUGs Victoria.
Elissa also strongly believes in Focused Ultrasound being an essential part of Emergency training, and is currently the Chair of the Emergency Department Ultrasound Committee for ACEM, which is striving to progress this.
Dr Jonathan Theoret (NSW)
Jonathan Theoret was born and raised in Montreal, Canada. He attended medical school at McGill University and completed his Emergency Medicine specialty training at the University of Alberta in Edmonton, Canada. He subsequently completed a Point-of-Care Ultrasound fellowship at Denver Health Medical Centre, in Denver, Colorado under Professor John Kendall. Upon completion, Jon developed a Point-of-Care Ultrasound Fellowship at the University of British Columbia, in Vancouver, Canada prior to relocating to Australia in 2014. Jon has since been working at Gosford Hospital in New South Wales, where he is now a senior staff specialist and the Director of Point-of-Care Ultrasound in the Department of Emergency Medicine. Jon has been involved with EMUGs since 2017 and is now on the Board of Directors. His specific Point-of-Care ultrasound interests include ED echocardiography, regional anaesthesia, and of course credentialling, image archiving and quality assurance.
Dr Stuart Watkins (QLD)
Stuart Wakins is a senior emergency physician on Queensland's Gold Coast. He is the clinical lead in ultrasound, a member of ACEM ultrasound committee, the clinical director at the AIU, the chair of the clinical council at Gold Coast Hospitals and Health Service, a member of Queensland Clinical Senate, CCPU supervisor, ACEM SST in Ultrasound supervisor, chair of the ACEM fellowship exam - SAQ working group, a member ACEM Examinations Committee and the ACEM fellowship exam - standard setting panel, Ultrasound Pillar lead at Gold Coast Emergency Department research group and the founder of EMUGs Queensland. Stuart has a long history of POCUS practice as clinician and educator in NSW and QLD. Stuart has a unwavering desire for the highest quality POCUS practice and continue the development of this sub specialty of emergency medicine. The dream continues! Stuart believes in improving the quality of POCUS from image acquisition to the governance of the practitioners, and that every stage is equally important.
Dr James Rippey (WA)
Emergency Medicine ultrasound has been James' primary professional focus for the last 19 years. He Chairs the ASUM DDU Emergency Examination Committee and is heavily involved in ultrasound education, innovation, safety and quality, administration and research. Through the Sir Charles Gairdner Hospital Emergency Medicine Advanced Ultrasound Service he runs a 2 year DDU fellowship program that has now had 7 successful fellows including the DDU Dux in 2019. To have all Emergency Physicians competent in the basics of Emergency ultrasound, and to ensure a widely embraced and accessible pathway to advanced qualification in Emergency Ultrasound is his ultimate goal.
Dr Alistair Murray (SA)
Alistair is an emergency medicine physician and DDU graduate, originally from Ireland but now living in Adelaide. He is the Past ACEM ultrasound committee chair. Alistair supervises a special skills term in ultrasound. He is obsessed with ultrasound, making beer and motorcycles.
Dr Nadi Pandithage (NT)
Nadi is an emergency physician who has been working in Darwin for over 20yrs. She is the clinical lead for uss in Royal Darwin and Palmerston Regional Hospitals and the co-chair of EMUGs NT. Though a latecomer to board the POCUS train, she got mesmerised and now somewhat addicted and completed all 13 emergency related CCPUs and then embarked on a DDU. She is passionate about inspiring and sharing her enthusiasm for POCUS, and forging forward with improving its teaching, use and credentialing.
Dr Cris Zollo (NZ)
Cris is an ED Physician and Clinical Lead for Ultrasound at Waikato Hospital ED in New Zealand. Originally from England, Cris has experience working in emergency departments across New Zealand, Australia and the UK, but undertook most of her formal training at Waikato Hospital. She attained the ASUM DDU (EM) in 2018. Cris is a passionate advocate of increased POCUS availability, but acknowledges that this, like all other tests, should be used wisely, supported by appropriate training and credentialing.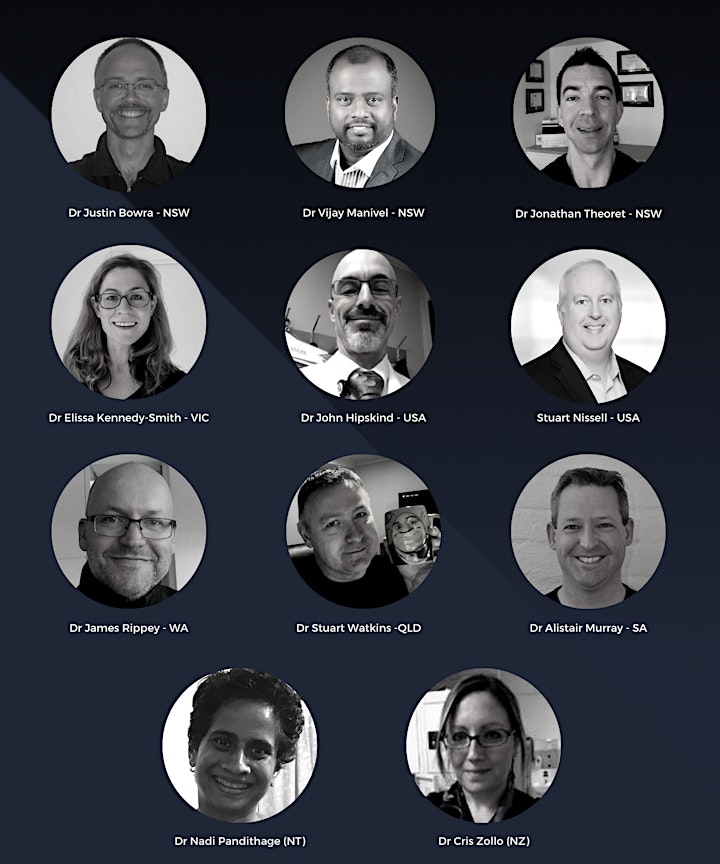 TICKET PRICING POLICY
EMUGs is a small not for profit organisation funded by ticket sales and the support of our sponsors.
EMUGs events offer a multi level ticket price structure to make POCUS education and community initiatives accessible for our whole community.
Full price ticket purchases make it possible for us to provide subsidised ticket options.
We make affordable ticket options available for some groups within our community; including Sonographers, Registrars, Medical Students and doctors in developing countries.
We aim to ensure ticket prices reflect the value of our events.
If you feel that you do not fit into any of the advertised ticket categories for a particular event, or are unable to afford the ticket price, please get in touch with us.
As EMUGs is a not for profit organisation we also provide the opportunity to make an optional tax deductible donation to EMUGs during the ticket purchase process.
Thank you for your support.
EMUGs is proudly supported by our annual sponsors...