PMI Chapter Morning Event - March - From Project to Operations - Bright Spa...
Description
Guest Speakers: Charbel Yamouni, Founder/Director of Bright Sparqe


Topic
From Project to Operations - Bright Sparqe Caring for our Community (NGO)
Agenda:
Arrive 7:10am to 7:25am for refreshments and networking
7:30am to 8:30am Presentation
Presentation Synopsis / Abstract
Bright Sparqe
Bright Sparqe is an Australian not for profit organisation that provides food, bottled water, clothes and toiletries to the homeless and underprivileged. It collects end-of-day produce from organisations, delivering them to partnered charities and directly to Melbourne CBD's rough sleepers (homeless). Bright Sparqe was founded on one key belief: that it is our duty as Australians to support those less fortunate than ourselves.
The presentation will outline Bright Sparqe's journey from its inception in April of 2014: it's planning, establishment and incorporation phases of Bright Sparqe and its eventual movement from a project and pipe dream to a fully operational not for profit organisation. I hope that throughout my presentation I will also be able to shed some light on the ever-worsening issue of homelessness and poverty that I am exposed to in my role as Executive Director and founder of Bright Sparqe.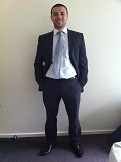 PMI Melbourne Chapter (PMC) Refund Policy for Chapter Events.