PMI Chapter Event - March - "MASTERMIND CREATIVE THINKING, the wake -up cal...
Description


Guest Speakers:
Sally Arnold, Creating Encores


Topic: MASTERMIND CREATIVE THINKING, the wake -up call for leaders

Agenda: 05:30 PM Refreshments for a 06:30 PM start
Presentation Synopsis / Abstract:
"Creative Mindset Thinking is the "New Market" Disruptive Innovation that is essential to Re-invent and Re-inspire You, Your Team and Your Business".
In this session Sally Arnold will unpack the essentials for the business world of Creative thinking, Designed and Leveraged from high end global performing arts companies. This savvy thinking is gathering traction world- wide as organizations and individuals realize they need to think Creatively, "out of the square" to stay competitive and current. So: -
Do you keep hearing the words Creative Mindset thinking is HOT but wonder how can I to apply this thinking to my business life?

Are you Stuck in your career or business and keep thinking this is the year for reinvigoration but don't know how?

Do you have smart professional ideas that you would love to add to your job but are not sure how to Leverage this knowledge into your organization?
In this session Sally will unpack the essentials of Creative thinking so that you will walk away feeling inspired, reinvigorated, understanding how to apply Creative thinking in your professional and personal life. And will include the following: -
Basics of Creative thinking leveraged for Innovative Business Performance,

How this thinking Opens and Visions new directions to Solve Challenges. First experienced by CEOs of Telstra and banks.

3D thinking to rediscover forgotten career expertise, and how to unpack into a Framework.

How to win the Mindset game, believe and articulate YOUR ideas

An Action plan to keep you accountable for months after this session.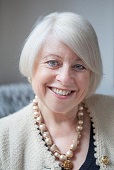 PMI Melbourne Chapter (PMC) Refund Policy for Chapter Events.