Pleasure presents the work of a diverse group of artists who use the body to celebrate joy, humour, flamboyance and the outrageous.
About this event
From decoration, embellishment and exaggeration to examinations of identity and beauty and its various interpretations, RMIT Gallery's provocative new exhibition Pleasure (29 November - 7 March 2020) explores how artists and designers have used the body as a personal, provocative and at times political canvas from the flamboyant 1980s to contemporary times.
WARNING: Adult themes and content in some of the gallery spaces.
Join us at the opening night party - which will offer many surprises and pleasures... including DJ, performances and prizes for best outfit...this is an end of year celebration of the arts not to be missed.
"One half of the world cannot understand the pleasures of the other" Jane Austen.
Artists including: Rose Agnew, Robyn Beeche, Holly Block, Queenie Bon Bon, Gavin Brown, Penny Byrne, Frances Cannon, Nicholas Chilvers, Keith Clancy, Kate Clark, Ray Cooke, Peter Ellis, Dita Gambiro, Gerwyn Davies, Kate Durham with Moira Finucane, Rhett D'Costa, William Eicholtz, Leah Emery, Tarryn Gill, Judith Glover, Gun Shy, Mella Jaarsma, Kate Just, Lillian Grace Lee, Ramesh Mario Nithiyendran, David McDiarmid, Louise Meuwissen, Misklectic, Mossy 333 & Misklectic, Ciara Murphy, John Pastoriza-Pinol, Robert Pearce, Mithu Sen, Laksmi Shitaresmi, Cop Shiva, Vipoo Srivilasa, Christian Thompson, Peter Tully, TextaQueen, Wayan Upadana, VERMIN with Jenny Bannister, Jim White, William Yang, Paul Yore, Ah Xian, Preston Zly.
Image captions: TOP Gerwyn Davies, Bomb, 2017. Image courtesy of the artist.
BELOW: Gun Shy, 'Circe de Merde AW18 "I'm Ready" Jacket', Photographer: The Furies. Model: Sam Carew-Reid; MUA/SPFX: Lou McLaren; Stylist: Rose Chong Costumiers; Accessories: Alexandra Blak; Model Undergarments: Bryn Meredith.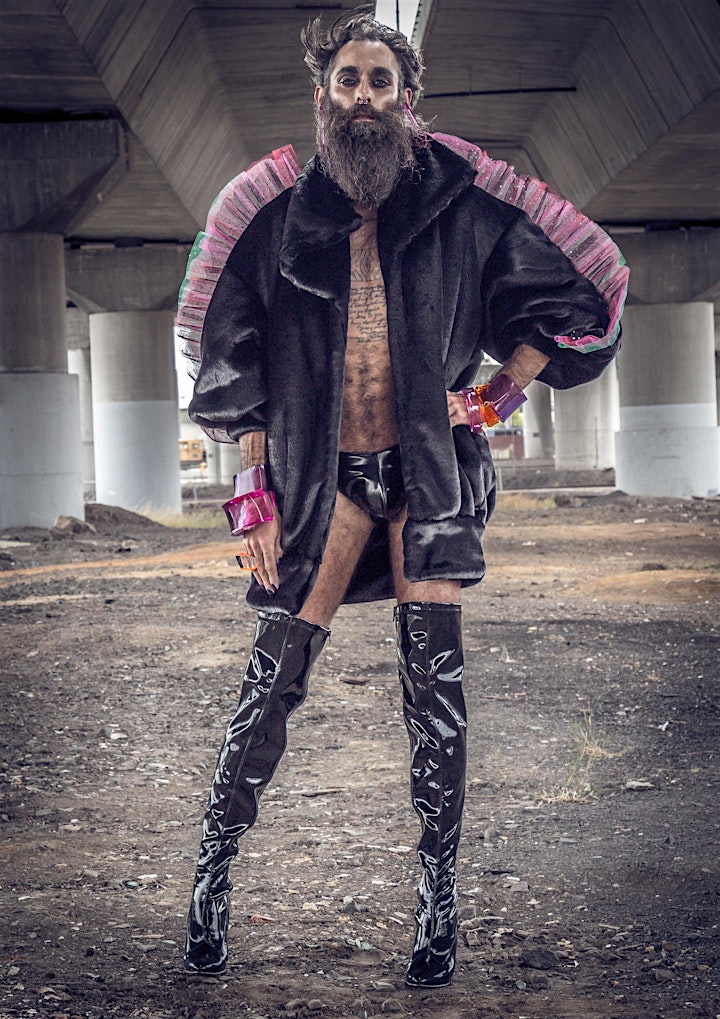 Organiser of 'Pleasure' exhibition opening & party
RMIT Gallery is RMIT University's premier exhibition space. It presents an engaging and thought provoking program of exhibitions and events; featuring emerging and established Australian and international artists working across visual art, new media, sonic art, design, fashion, technology and popular culture. RMIT Gallery is committed to showcasing RMIT research outcomes and cultural stories, and to presenting exhibitions and events that are relevant to the student population and experience. The gallery is centrally located at 344 Swanston Street, Melbourne, near the intersection with La Trobe Street.