Description
Across genre and platform, many digital games rely on religious conventions: priests, paladins, prayers and deities.
This religious fascination is odd, in the light of secularisation. What place does religion have in popular culture that it does not seem to have in modern public and private life? Moreover, while it prompts this specific post-secular question, it also allows us to ask more broadly 'What do players learn from engaging with new worldviews?' If we realise that players do indeed engage so freely and regularly with lifeworlds far outside their own, what do they gain – if anything – from doing so? And how does this relate to their own lifeworlds?
This talk sets out, on the basis of 93 analysed internet discussions and 20 interviews, the various ways in which players of digital games – atheists, agnostics or variously religious – engage with identities, lifeworlds and beliefs that are not their own.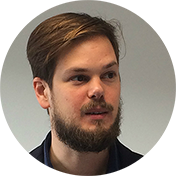 Lars de Wildt
Lars de Wildt is currently a visiting scholar at REDI as the recipient of a Belgium Research Council Junior Mobility Programme award. Lars is a Dutch PhD-student at KU Leuven, a university in Belgium, where he studies Games and Worldviews at the Institute for Media Studies. Lars' current research project focuses on the ways in which players and developers play with religion in a supposedly secular age. He is broadly interested in the role of cultural backgrounds in media use, in role-play as experimentation with identity and lifeworlds, and in general with play as a way of 'trying on' knowledge and experience.