Mechanical Bull, Shot on Arrival, Axe Throwing, Jumping Castle AND Retro Games = FUN!!!
About this event
Mechanical Bull Riding 🐮
Sumo Suit Wrestling 😂
A Bouncy Castle 🥳
Party Night Drinks and You! 🍷🥂
Book your ticket - includes Entry and a Shot on Arrival 🍷🍺
(Must arrive between 5pm and 7:30pm to claim your shot)
That's right, you're looking at the HOTTEST 🔥 Event in Melbourne
Book your ticket - includes Entry and a Shot on Arrival 🍷🍺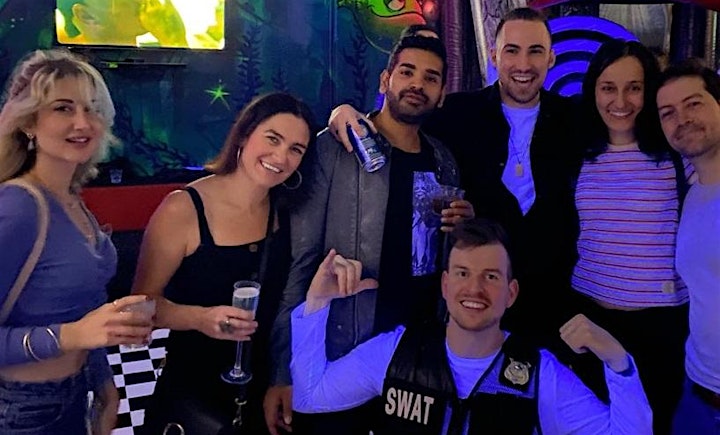 RSVP for Party Games 🥳
Mechanical Bull & Axe Throwing?
Yes! And I'll tell you why...
These social events are designed to get you out and easily talking to new friends. Going to a loud packed nightclub is HARD. Now picture naturally socialising at this event, enjoying your complimentary drink while playing pingpong with some new friends.
Party Activities Break the Ice 🧊
Now you're having the time of your life on the Mechanical Bull, Speeding along the Horizontal BUNGEE Jumping Castle, and trying your hand at Inflatable Axe Throwing Too 🪓
You'll have the hottest stories on social media 🔥
Want to Easily Meet Someone, enjoy a complimentary drink 🥂 or have Fun making new Friends?
Maybe you're tired of lockdowns, frustrated with online chats or just want to be part of a great friendship group 😊
Book your ticket Now - includes Entry and a shot on arrival 🍷🍺
Come to our social event and let me and our friendly hosts break the ice for you 😎
Most come alone or even bring a Friend :)

Still Unsure?
It's tough meeting new people, and hard making small talk with strangers. But what if it felt natural? 👍
Our Social Meetup Events are the Easiest Way to Meet New People
Let me and our friendly hosts break the ice for you. 👌
EVERY RSVP brings you more conversations, building your social circle and confidence. Why not take your first step, RSVP and smile 😊
Stop waiting, it's a NEW YEAR with New Beginnings; after all the time you've thought about it, now's the time to RSVP, start the year positive with something for you. ❤