Planting the Seed - Edible Gardening Webinars
Planting the seed webinars, hosted by Food for All. Free online workshops presented by Sustainable Gardening Australia.
About this event
Planting the seed series of webinars.
When registering, please take note of the workshop number and date as the workshops all have different themes.
Food for All Swan Hill Region is working to support home, school and community gardens and is working with Sustainable Gardening Australia (SGA) to deliver a number of online workshops. They are free to attend and are geared towards beginner gardeners but experienced gardeners are welcome too. These are coming online in time to support the opening of our very own Seed Library based at Swan Hill Regional Library. These webinars have been made possible through a grant from Foundation Rural and Regional Renewal.
The workshop webinars will be online allowing you to participate in the comfort of your own home. If you cannot make the online time on the night but are still interested in the workshop, please register and an online recording will be made available for 4 weeks at the conclusion of the event. If you don't have access to the internet workshop 3,4,5 &6 will also be screened at the Swan Hill Regional Library - Please contact the library to register for this.
Workshop 5 – Wednesday December 8th 7pm – Building Healthy Soil for garden health
Healthy soil is full of life and fundamental to the health of our gardens, in supporting biodiversity and maintaining a stable natural environment.
There are many simple ways to improve the soil in our gardens and the paybacks can be huge, improving our local environment, supporting bio-diversity and maintaining a productive and beautiful garden.
This workshop will introduce participants to the science of soil, and provide tips on how to protect and improve soil in an environmentally beneficial way.
Workshop 6 - Thursday December 16th 10.30am - Water Smart gardening
Gardens are important to us, our health, our community, the environment and biodiversity and with some water smart techniques we can keep them beautiful and productive, even when water is scarce.
Water is critical to a garden's success but gardeners need to be mindful about how it is used. Australia is the driest habitable continent in the world and water availability has always been constrained, but as the climate changes we need to take even more care with how we capture and use water. The more steps we can take to conserve water, while maintaining healthy and productive trees and gardens, the more secure our sources of water will be into the future.
Registrations: Registrations are essential. Upon registering, you will receive a Zoom link for your chosen workshops. This will be forwarded again on the afternoon of the session.
About Sustainable Gardening Australia:
Sustainable Gardening Australia (SGA) are passionate about the natural environment and know that through gardening all of us can help achieve our mission of a healthy, biodiverse planet and vibrant, sustainable communities.
For more information or assistance with bookings:
Contact Food for All Swan Hill Region:
Via email: kgermaine@shdh.org.au
Via telephone: 50 339 337
Note recordings are available of all the webinars the day after they are run. if you would like to access these please contact Kristi Germaine kgermaine@shdh.org.au or phone 50339337
RECORDINGS AVAILABLE
Workshop 1 - Compost and worms = Black gold
Using compost, worms, bokashi or chooks to turn kitchen and garden waste into black gold for your garden.
Kitchen and garden waste are a large portion of what many households throw into the home garbage bins. This workshop will teach you how to take these simple and free raw materials and turn them in to beautiful "black gold" to feed the garden and help the environment.
Workshop 2 - Gardening in small spaces; Pots, courtyards or balconies
From Small Plots to Productive Pots: A Sustainable Garden can fit anywhere.
Being space constrained is not a barrier to have a beautiful, productive and functional sustainable garden. There are many tips, tricks and simple solutions to make your garden seem bigger, to overcome constraints and grow a garden that is good for you and the environment.
Workshop 3 - Tuesday November 23rd 10am - Active aging through gardening
Changing how we garden means we can continue enjoy all the health and environmental benefits of a garden as we age or our physical circumstances change.
Why is that when we finally have time to work on our gardens, our bodies tell us to slow down or our physical circumstances change? Changing a gardens' design and some of our gardening practices means we can continue to enjoy all the physical, emotional and spiritual benefits from a garden even as our own capability changes.
Workshop 4 - Wednesday December 1st 7pm - Attracting bees and butterflies to your garden
Native Bees and butterflies are great pollinators and beautiful additions to any garden and there are many things you can do to attract them to visit you and maybe even set up residency in your garden.
This webinar / workshop will introduce you to the wonderful world of native bees and butterflies, their role in nature as pollinators and as an important player in the food web. This is all in addition to the splash of colour, movement and beauty they bring to a garden.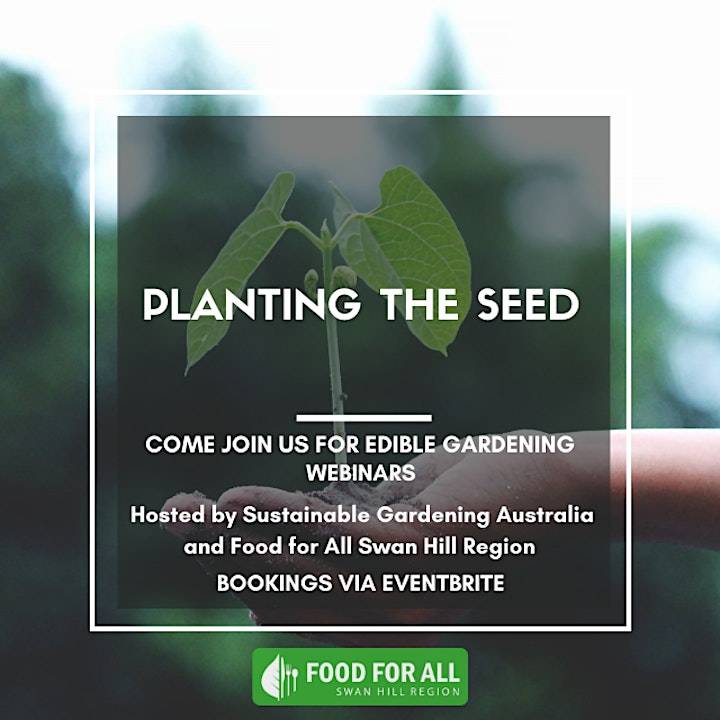 Organiser of Planting the Seed - Edible Gardening Webinars