Pitching - how to deliver a winning pitch for introductions, ideas, sales,...
Description
If you have ever watched Shark Tank you'll know that it is obvious that some people have been coached to present their pitch and others haven't. Designing and presenting a winning pitch is both an art and a craft. And while you can get some great ideas from books and Google, you really need to practice and polish with an experienced coach - it's just like a sport - top sports people have a coach, so do top presenters.

The essence of this program is to harness your skills, knowledge, experience and your uniqueness to craft and mould your winning pitch. It is totally practical - no fluff or irrelevant theory.
This program is for anyone who needs to deliver a pitch to sell a product or service, concept or idea. It is also for people who need to pitch to influence a decision. It is for any skill or experience level and is totally practical.
At the end of the program, you will have the tools to design and build a pitch as well as knowing the do's, the don'ts and cautions when delivering your pitch.
You'll learn! You'll laugh! You'll learn some more!
This program can be run in-house and tailored for your organisation
www.davidprice.com david@davidprice.com
https://youtu.be/I-I69Hft_9gTestimonial:
Testimonial: https://youtu.be/I-I69Hft_9g
https://youtu.be/aDYsjxz7_N4
https://youtu.be/JrKH9GkPcik
*****************************************************************
"David showed me how to "sell" in such a subtle way when I speak that no-one knew I was selling - but I sold out of product completely! I can see why they call him "The Master". He cuts to the chase and gets straight to the point when he coaches. I feel confident enough now to speak to any size audience." Dana Steddy, CEO - Envirocare Holdings.

"David is like a laser. He has the rare ability to get right to the core of issues and focus on what really matters. He is the master of the metaphor and the segue and his ability to design presentations that have an impact, is, in my experience, unique. How he does it I don't know, but he can make things that are really complex sound so simple." Jani Murphy, Jani Murphy & Associates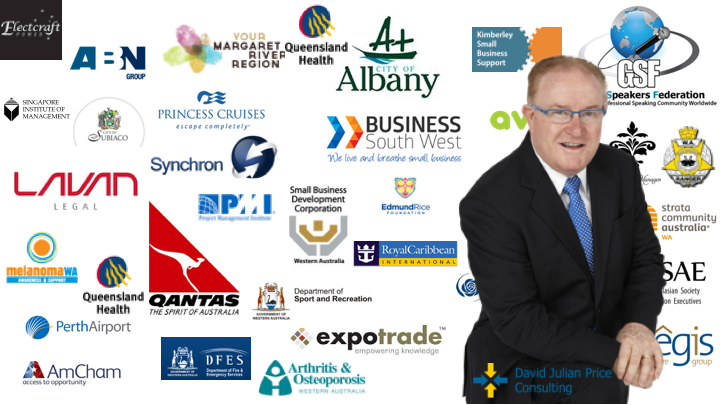 Date and Time
Location
Refund Policy